Talented fifth-year option guys like Watt, Newton still await paydays
Will J.J. Watt, Cam Newton and Patrick Peterson all head to camp underpaid? Welcome to the limbo of fifth-year players whose leverage for big paydays is limited by the CBA.
• 5 min read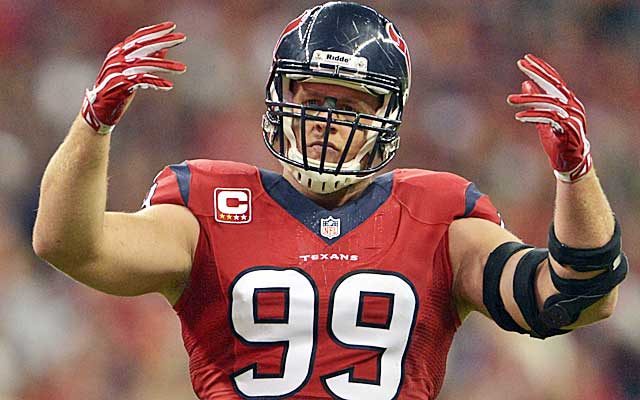 More NFL offseason: Prisco's Top 100 | Kirwan's Top 100 | Latest news, notes
For all the talk of all the money spent this year in free agency -- ignoring the caveat that a precious small percentage was fully guaranteed at signing -- there sure do seem to be a lot of excellent young players about to head to camp grossly underpaid.
More than two months have passed since the deadline for teams to exercise fifth-year options on the 2011 first-round picks, and, what do you know, shockingly, there has been almost no progress on getting them new deals. No flood of press releases announcing their long-term contracts. Pretty much nothing at all. 
And, after taking the temperature of the negotiations (or lack thereof) involving several top players from that draft, it comes as no surprise that teams are generally taking an agonizingly slow approach to doing new deals for them. In almost all cases the fifth-year option creates significant leverage for teams. It's another hurdle players must overcome in pursuit of fair-market deals, having been handcuffed by the financial realities of the entry-level compensation system in the current CBA.
The reaction from agents trying to get new deals for players facing fifth-year options has been largely the same. "We're going nowhere," is how one agent put it. "I don't think anyone is making real progress," said another. "If you saw what they were offering you'd either laugh or cry -- I'm not sure which," another agent said.
Will a few of these guys get deals before the regular season opens? Sure, the odds would say so. In all, 21 of the 32 players taken in the first round in 2011 had their options picked up, and with the teams having no reason not to exercise them (they are not fully guaranteed, anyway, and in general a bargain price), I'd expect at least two-thirds of them to be exercised every year moving forward. So I can't imagine that come September we're 0-for-21 on long-term deals for this highly decorated crop of elite young talent.
But as it stands now, with training camp creeping up, I'd be surprised if more than a handful were able to agree to terms on a new long-term deal. This is a new quirk in negotiations; no team seems to be intent on being the first one out there. Several of the negotiations are made murky by off-field issues (Aldon Smith, Von Miller, Marcell Dareus, Mike Pouncey), and as much as players and agents would love to get big-time money flowing into their hands, some realize waiting until the true top-of-the-market guys establish new pay thresholds might make the most sense.
I'd expect the Jets and Muhammad Wilkerson, for instance, to make some headway during training camp. But until someone like J.J. Watt sets the market for those sort of defensive linemen, is there a risk of locking in long-term too cheap? I guess there is, though these players still must mitigate the risk of injury, and the opportunity to get real signing bonus money today always will have a certain siren call. If anything the stoic nature in negotiations has had a chilling affect on the market.
Here's a look at some of the players stuck in contract limbo, starting with Watt.
J.J. Watt, DE, Houston Texans: Many are eagerly awaiting to see what Watt -- the best player in that 2011 draft and arguably the NFL's best non-quarterback -- ends up getting from the Texans, but that negotiation doesn't seem fast-tracked at all. Watt could rightfully claim to be not only the highest-paid defensive player in the league, but perhaps the highest paid non-quarterback as well.
Cam Newton, QB, Carolina Panthers: Cam Newton, the No. 1 pick in 2011 who has an arguably unparalleled skill set, is in a tricky spot with the Colin Kaepernick deal more complicated than many thought and the Panthers still trying to fully recalibrate their cap situation. I don't see any way around the Panthers making Cam another $20 million-a-year quarterback, but certainly this fifth-year option allows them to delay that until 2016 if they so choose.
Patrick Peterson, CB, Arizona Cardinals: To this point, the Cardinals and Patrick Peterson may have made the most progress. Those sides have been exchanging proposals, and the corner market already came into focus with offseason deals for Richard Sherman and Joe Haden. However, the great chasm between actual guaranteed money going to those two at the time of signing creates some obstacles to negotiating a deal like Peterson's as well. Still, I'd say there remains ample reason to believe this likely is one of the few situations where the player is signed before the start of the season even with a fifth-year option hanging over his head.
Julio Jones, WR, Atlanta Falcons and A.J. Green, WR, Cincinnati Bengals: Likewise, the receiver market, though it has dipped a bit in free agency the past few years, is pretty well set. The Falcons (Julio Jones) and Bengals (A.J. Green) have to realize the kind of money players of their caliber merit. And their import to their teams -- and their young quarterbacks -- is beyond reproach.
Tyron Smith, OT, Dallas Cowboys: If Jerry Jones isn't spending his money reinvesting in Tyron Smith, than I don't know what he's doing with it. That's one that should get nailed down in the next few months as well, and if it does, the hulking left tackle won't come cheap. He looks like an All-Pro for years to come. The Rams and Patriots have done a good job of wrapping up their best young players long-term, and I would expect that to continue with Robert Quinn and Nate Solder.
   In the end, it will be quite telling to see how many of these players actually play all of 2014, and perhaps all of 2015, before getting a hefty new deal. It very well may end up being more than half. When will the pendulum begin to swing in a particular direction? This dance is being done for the first time, and to this point prudence and pragmatism is all the rage. Will, for instance, someone from this first-round class, like Nick Fairley or Adrian Clayborn, end up getting a big-time second contract before many of their peers who had their options picked up? Time will tell us the implications of these first-time decisions. And, trust me, moving forward those will be weighed heavily by teams.
And the closer we get to actual football being played -- and the threat of serious injury cropping back up -- I'd imagine a few players opt for the bird in hand. And we'll see if players like Watt and Newton become among the top-five or top-10 highest paid players in the game despite the looming option years. Either way, it looks like a waiting game so far, where patience is a virtue.
The former Jets and Giants quarterback wants to know whether you think the Earth is round

Zach Ertz is one of the NFL's best tight ends but Philadelphia could lose his backup to free...

Second-year coach Sean McVay says his players know exactly what the expectations are
Steelers didn't trade Bryant then and they aren't looking to move him now

It had been rumored that the Jaguars might cut ties with Bortles, but instead he'll stay in...

Dez has struggled with injuries over the last few seasons