The 2012 draft class looks to have more jumpers, less slumpers
The 2012 draft class will have 83 starters on the field in 2013. While that may seem low, Pat Kirwan says it's impressive given how difficult it is to crack NFL starting lineups.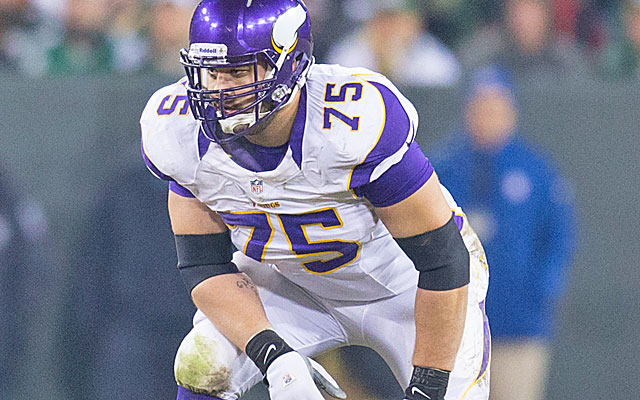 June is the time of year that personnel departments usually get some projects done that lend some insight into trends around the league. When I worked in personnel, I always looked back at the draft class that finished up its rookie season. I wanted to examine how those players looked heading into their second season to see who was primed for a sophomore slump or a jump. Taking stock of the class of 2012, it looks like a solid group of second-year players with more jumpers than slumpers.
There was no doubt that the quarterbacks of 2012 made a big impression on everyone in the football community. Eleven quarterbacks were drafted and five became solid starters in their rookie season. That's 45.4 percent of the 2012 drafted quarterbacks starting all the games they were healthy enough to start.
The trend to play rookie quarterbacks right away really started in 2008. Among the 32 starting quarterbacks last year, the guys drafted prior to 2008 were handled a lot differently. Only two of the 14 were full-time starters as rookies: Peyton Manning and Ben Roethlisberger.
The Steelers didn't really anticipate playing Roethlisberger right away but had to after a three games, so really only Peyton Manning was handed the keys to the car by design. Since 2008 there has been a complete turnaround with 13 of the 17 starting quarterbacks getting the green light right away. The trend says we will see more than one rookie starting quarterback this season for the whole season.
The draft class of 2012 has made solid inroads into the starting lineups around the NFL but it just proves how hard it is to unseat veteran starters across the board. Here's a look at the probable number of starters by position from the class of 2012 as they enter the 2013 season.
The offensive linemen are projected to be a successful draft class in back-to-back seasons. The class of 2011 had 41 offensive linemen drafted and by the second season there were 16 starters. That's 39 percent of the linemen drafted. The 2012 class looks just as good with 17 linemen projected to start this year from a class of 44 drafted (38.6 percent).
Here's a look at the total class of 2012 now in starting lineups. When you factor in the 13 undrafted players from 2012 that either start or hold down positions as kickers, punters, long snappers, or returners, the draft class of 2012 will have 83 starters on the field in 2013.
If you want to look at just the 22 starting positions and not the specialists the 2012 class will have 68 starters or just under 10 percent of the 704 NFL starters, which drives home the point that it is tough to start in the NFL. Ten percent may appear low, but it is a decent number. 2012 looks like an exceptional class for quarterbacks, offensive linemen, running backs and linebackers.
Who is starting from the 2012 draft class
Position
No. of starters/No. drafted
Percentage of class starting
QBs
5 of 11 drafted
45.4 percent
OL
17 of 44 drafted
38.6 percent
RBs
7 of 19 drafted
36.8 percent
LBs
10 of 33 drafted (one undrafted)
30.3 percent
Safeties
4 of 19 drafted
21 percent
CBs
6 of 31 drafted
19.3 percent
TEs
2 of 11 drafted
18.1 percent
DL
7 of 44 drafted
15.9 percent
FBs
1 of 2 drafted
50 percent
Here are the starters by position group from the 2012 class:
QBs: Andrew Luck, Robert Griffin III, Russell Wilson, Ryan Tannehill, Brandon Weeden
OL: Matt Kalil<player>, <player idref=, Mike Adams, Jonathan Martin, Cordy Glenn, Bobby Massie, Peter Konz, Lamar Holmes, Kelechi Osemele, Gino Gradkowski, Amini Silatolu, Kevin Zeitler, Mitchell Schwartz, Riley Reiff, Brandon Brooks, Tony Bergstrom, Trevor Robinson
RBs: Trent Richardson, David Wilson, Doug Martin, Alfred Morris, Lamar Miller, Vick Ballard, Daryl Richardson
LBs: Luke Keuchly, Bobby Wagner, Dont'a Hightower, Nick Perry, Lavonte David, Whitney Mercilus, Zach Brown, DeMario Davis, Nigel Bradham, Vontaze Burfict
WRs: Justin Blackmon, Michael Floyd, A.J. Jenkins, Mohamed Sanu, Brian Quick, Josh Gordon, Stephen Hill, Alshon Jeffery
Safeties: Mark Barron, Harrison Smith, Josh Bush, Tashaun Gipson
CBs: Stephon Gilmore, Dre Kirkpatrick, Morris Claiborne, Janoris Jenkins, Alfonzo Dennard, Josh Norman
TEs: Coby Fleener, Dwayne Allen
DL: Michael Brockers, Dontari Poe, Derek Wolfe, Josh Chapman, Chandler Jones, Fletcher Cox, Quinton Coples (may go to linebacker)
FB: Bradie Ewing
When you look at how tough it is to break into the starting lineups a year after the draft, and the reality that just under 27 percent of the 2012 draft class will be starters by their second season, it's no wonder there is a rookie wage scale.
Owners figured out that too much money was spent on draft classes and now it is set up to reward the 25-35 percent of the class that makes it to a starting lineup -- and let the rest of the class fall by the wayside. If things go well this season for the 2012 class and there aren't any career-ending injuries it is possible there could be 35 percent of the draft class starting in 2014 -- which would be a very successful draft class.
After 2014 the starting group from the 2012 draft class starts to shrink again because of the pressure from the class of 2013, 2014, rising contracts demands and injuries.
Smith says the NFL's ratings decline cannot be ignored

The former Jets and Giants quarterback wants to know whether you think the Earth is round

Zach Ertz is one of the NFL's best tight ends but Philadelphia could lose his backup to free...
Second-year coach Sean McVay says his players know exactly what the expectations are

Steelers didn't trade Bryant then and they aren't looking to move him now

It had been rumored that the Jaguars might cut ties with Bortles, but instead he'll stay in...