Tony Dungy thinks Irsay was trying to provoke Manning; Favre weighs in
Former Indianapolis coach Tony Dungy believes that Colts owner Jim Irsay was trying to provoke Peyton Manning with his recent comments.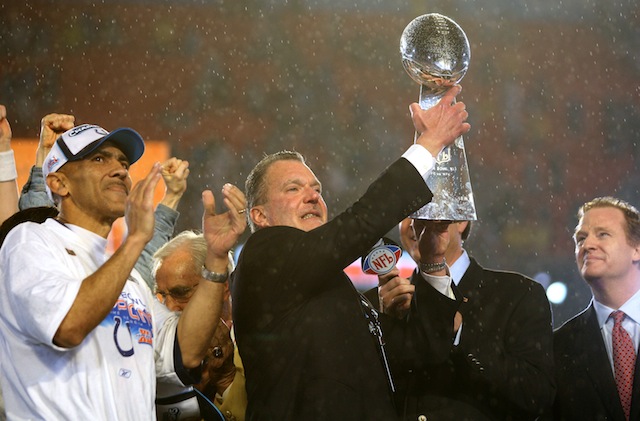 If you've lost track of where we are in the Peyton Manning-returns-to-Indianapolis drama, let me rehash it for you: earlier this week, Colts owner Jim Irsay defended his decision to dump Manning and basically said he was disappointed he only won one Super Bowl with Manning. Irsay felt the team should've won more. 
That was followed by former Colts coach Tony Dungy saying that Irsay probably regrets getting rid of Manning. Dungy's Tuesday comments were followed later on Tuesday by Broncos coach John Fox saying that Irsay sounded 'ungrateful and unappreciative' of his time with Manning.
Hold on, not done yet, there's more.  
Fox's comments about Irsay being 'ungrateful' led to Irsay backtracking and clarifying his Manning remarks on Wednesday. 
In the midst of all this, former Colts general manager Bill Polian admitted to being baffled by Irsay's comments. 
After hearing all of the comments by everyone, Dungy thought he should weigh in -- again. In a text to ESPN.com, Dungy says he believes Irsay was deliberately trying to provoke Manning, "I think that's what he's trying to do," Dungy said in the text. "Have him make it such a big game he doesn't perform well. I can't figure any other reason to go this way."
Dungy was the Colts coach for seven years, so he probably knows Irsay as well as anyone and he seems stunned by Irsay's comments, "Jim is making this personal," Dungy said. "I'm surprised."
Manning was asked to comment on his relationship with Irsay on Wednesday and offered a terse five-word response, "I can't and I won't."
Just when you thought there was no one else to weigh-in on the Manning situation, along comes Brett Favre. The former Packers quarterback has some experience returning to a city where he spent most of his career. Favre returned to Lambeau as a member of the Vikings in 2009 and 2010.
"Not that [Peyton] needs any advice, but for me, I had never been more nervous and anxious before a game as I was then," Favre said. "So being able to think clearly, as my emotions were running high, was a monumental feat. But he will do fine."
If you're scoring at home: Favre, Polian, Fox, Dungy and Irsay have all now weighed in on the situation, with Dungy and Irsay weighing in twice. And it's only Wednesday.  
It had been rumored that the Jaguars might cut ties with Bortles, but instead he'll stay in...

Dez has struggled with injuries over the last few seasons

Cohen started last season red-hot before falling off dramatically but he has a ton of tale...
Beckham got injured during the 2017 preseason and then fractured his ankle after just four...

The Eagles were one of the most aggressive teams in the NFL in 2017, and it helped them win...

The ex-Dolphins offensive lineman was detained over a threatening social media post