While Saints move on without Payton, officials will leave empty chair in his honor
We figured the Saints would try to use the year-long suspension imposed on coach Sean Payton by the NFL as some kind of rallying cry this season. But the latest revelations by the New Orleans Times Picayune strike me as over the top.
• 2 min read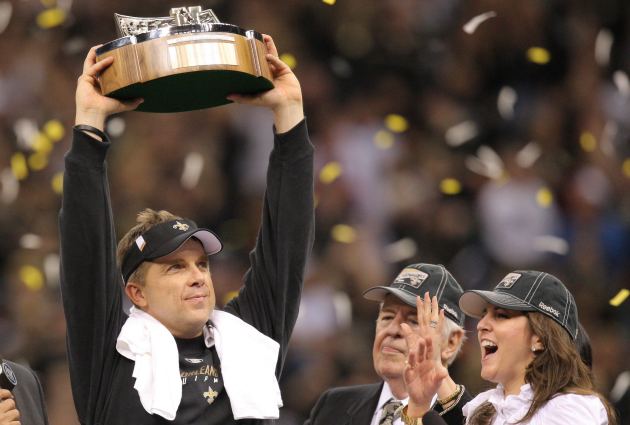 If New Orleans wins the Super Bowl without Payton, will the team, still trying to honor its absent coach, not allow anyone to hold up the Lombardi Trophy? (US Presswire)
We figured the
Saints
would try to use the year-long suspension imposed on coach Sean Payton by the
NFL
as some kind of rallying cry this season. You know, "The whole world is against us" type thing.
But the latest revelations by the
New Orleans Times Picayune
strike me as over the top.
Though New Orleans obviously will continue on in Payton's absence (it helps that six assistants have been with the franchise since Payton started, and they're well versed in how Payton likes the organization to be run), the Saints seem to be going above and beyond in painting themselves as martyrs.
As the T-P writes, "To honor their absent leader, team officials have purposefully left vacant the chairs in the draft room and team meeting rooms. They'll do the same with his seats on the team bus and plane during the season."
As many have pointed out on Twitter, it's not like Payton is dead. He's still around -- he's actually rented an office in nearby Benson Tower, though he had to get the NFL's permission -- and if he wants to talk to a member of the organization about a non-football matter, he has to do so in the presence of team counsel.
But if the Saints coaches who are left behind want to motivate the team by making its members believe that the franchise has received a royal screwing from the NFL, I guess those are the tricks they'll have to pull.
Not that Payton's absence won't be missed. Of course, he will be. Not just with his leadership but with his game-planning and in-game coaching.
"We miss everything we know about him," assistant Pete Carmichael told the paper. "He's special. He has some magic to him."
Adding to the mystique is what interim coach Joe Vitt said: "How would
Pittsburgh
react if Chuck Noll was gone? Or how would
Dallas
react if Tom Landry wasn't there? Or
San Francisco
without Bill Walsh? Sean's put those kinds of numbers up. He has that kind of recognition in the league. Nobody can take his place. ... We recognize the challenge we are facing."
Aside from the ridiculousness of placing Payton among all-time coaches like Noll, Landry and Walsh, Vitt makes a valid point. The Saints WILL face challenges this year without Payton. The least of which is that somebody is going to have to stand an extra-long time during meetings and plane rides because Payton's empty chair is being used as a symbol.  
For more NFL news, rumors and analysis, follow @EyeOnNFL on Twitter, and subscribe to our Pick-6 Podcast and NFL newsletter. You can follow Josh Katzowitz on Twitter here: @joshkatzowitz.
R.J. White, who nearly won the Las Vegas SuperContest, locks in his pick for the NFC Championship...

Mike Tierney has owned NFL totals and has a strong pick for the AFC Championship Game

The Saints coach wasn't in the mood to answer questions about Drew Brees on Tuesday
This is footage that you'll definitely want to see

It wasn't the matchup that we expected, but the Jaguars would argue that's everyone else's...

The Eagles quarterback and the Vikings quarterback have paths that have crossed many times