With the Florida Panthers' shocking 2-1 overtime loss to the New York Islanders in Game 6 Sunday night, their season is over. So, too, is the resurgent campaign put forth by 44-year-old future Hall of Famer Jaromir Jagr.
The Legend had a season for the ages, even if the ending didn't go so well. Jagr finished the six-game series against the Isles with two assists. He hasn't scored a goal in the playoffs since 2012 while with the Philadelphia Flyers.
One of the reasons Jagr himself got shut down is that the Isles were able to really key on Florida's top line. The lack of depth showed more in the Panthers' series because they spent part of the time without Vincent Trocheck, who was dynamic in the regular season. As soon as he got back, they lost Nick Bjugstad to an injury in Game 5. Those are big lineup gaps that put more pressure on Jagr and linemates Aleksander Barkov and Jonathan Huberdeau to produce.
Despite the disappointing end, this was an unforgettable for Jagr and anyone that's been watching him for the past 26 years. No player aged 43 or older had ever come close to the level of production Jagr enjoyed in 2015-16 and he climbed up a bunch of the NHL's leaderboards.
It has been as if he discovered the Fountain of Youth with the Panthers. Now Jagr has to decide what to do for next season. He signed a one-year extension with Florida last summer. With that set to expire, he could test unrestricted free agency where there would undoubtedly be a market for him, or he could stay with the Panthers and see if they can give it another go. Playing alongside Barkov and Huberdeau again has to be enticing.
But that's all ahead. Let's take a look back at what turned out to be an unforgettable season for one of the greatest players ever to lace them up in the NHL.
Here are the most memorable moments of the Year of the Jagr
1. Jaromir Jagr passes Gordie Howe to become the NHL's third all-time leading scorer
There were so many milestones this season for Jagr, but the most significant was the one that moved him past "Mr. Hockey" Gordie Howe for third on the NHL's all-time points list.
It wasn't pretty, but this Jagr assist represented his 1,851st point.
He is going to have a good shot at moving up to No. 2 next season, assuming he comes back as planned. Jagr trails Mark Messier by just 19 points for second on the all-time list. Wayne Gretzky holds the record, but he has 2,857 points. Nobody is catching that guy.
2. Jagr passes Brett Hull to become the NHL's third all-time leading goal scorer
Five days after he turned 44, Jagr was in a history-making mood against the Winnipeg Jets. The Legend scored his 741st goal early in the game. Then, with the Panthers up 2-1 already, Jagr got another chance in tight and decided to scoot past Brett Hull that very night.
Here's goal No. 742 that moved Jagr past Hull:
Most goals in NHL history
1. Wayne Gretzky: 894
2. Gordie Howe: 801
3. Jaromir Jagr: 742https://t.co/yFARDnJUie

— #StanleyCup Playoffs (@NHL) February 21, 2016
3. Jagr is elected Atlantic Division captain for the NHL All-Star Game against his wishes
Jaromir Jagr's popularity among fans remains strong. It might even be stronger than ever now. There was no better indication of that when Jagr was elected as one of the four captains for the NHL's All-Star Game tournament this year.
He really didn't want to go, hoping to rest, and begged fans not to vote for him.
Fans-I appreciate your votes for All-Star game, but 3 on 3 would kill me,and i don't want to die yet:)Thank you for understanding. Too old:)

— Jaromir Jagr (@68Jagr) December 2, 2015
They didn't listen. He went and the event was so much better for it.
Jagr ended up being the second-most popular guy there, if not for big John Scott. P.K. Subban had the best tribute as he became Jagr for his attempt during the breakaway challenge during the skills competition.
It was funny:))) I didn't know he's going to do it. P.K.-my little brother :) pic.twitter.com/XFvVjbigWh

— Jaromir Jagr (@68Jagr) January 31, 2016
4. The Return of the Mullet
Panthers goalie Roberto Luongo vowed to get Jagr to bring back the look that he made his own during the 1990s. Everyone had mullets back then, but no one had one quite like Jagr. So Luongo wanted to see the flowing locks again.
I will make it my mission this year, work 24h around the clock 2 get Jags to bring this puppy back! It's gonna happen pic.twitter.com/NcAiEzmtmU

— Strombone (@strombone1) September 16, 2015
Jagr obliged and started growing it out. Though he would never match the volume of his early-1990s coif, the locks brought him strength.
Here's what it looked like in November:
IT'S GROWING! Here's today's #JagrsMullet update. #FlaPanthers mullet tracker: https://t.co/wpPJTVkjZS pic.twitter.com/V7qxI0iK45

— Florida Panthers (@FlaPanthers) November 20, 2015
Here's what it looked like at the end of the season: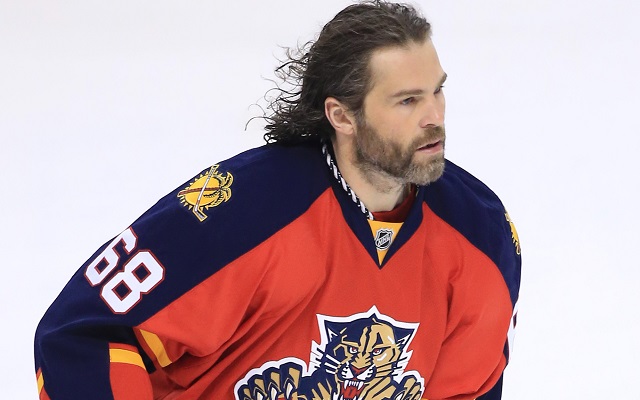 Legendary.
5. Jagr kicks absurd coffee habit, proceeds to go on a tear
In an interview with the Wall Street Journal, Jagr revealed that he decided to give up his 10-cup-a-day coffee habit for Lent. The fact that any person can put down 10 cups a day is crazy enough, but an elite athlete? Come on. That can't be healthy.
Maybe it wasn't. Jagr had 20 points in the 21 games during Lent.
6. Jagr gets his teeth knocked out, handles it with humor
Jaromir Jagr went a lot of years with most of his original teeth. He got hit in the mouth a few times, including right before the Christmas break. Here's how he reacted:
Dear Santa, can I get a new teeth for Christmas :) it's going to be tough to eat-good -at least I don't get fat :))) pic.twitter.com/mifGcolCdP

— Jaromir Jagr (@68Jagr) December 23, 2015
There goes the male modeling career...
7. Jagr shows he can still dominate at 44
The best play Jagr made all season came on an assist to Aleksander Barkov. First he picked New Jersey Devils defenseman David Warsofsky's pocket, streaks down the ice for a 2-on-1 break, freezes everyone with the fake shot and drops a perfect backhand pass to Barkov for the goal.
Guys his age aren't supposed to clown the young guys like that.
8. Real Jagr meets the "Traveling Jagrs"
The Traveling Jagrs are a group of fans, most of whom hail from Alberta, that get to a few games a year. All of them dress in the many uniforms Jagr has worn over the years, complete with the necessary mullet wig.
The Panthers hosted the traveling band of legendary misfits at a few games earlier this season and finally arranged a meet and greet with No. 68 himself.
How's this for a wrap up party? @FlaPanthers @FlaPanthersPR @NHL @PR_NHL #DreamsDoComeTrue #Legend #Playoffs2016 pic.twitter.com/E3uqDlgM2a

— The Travelling Jagrs (@68isgr8) April 3, 2016
9. Jagr finishes the season with 66 points
Jagr didn't seem to like people making a big deal about his age, but it was a big deal because he had a season unlike anyone we've seen at 43 or 44 years old. Not only that, he had such a remarkable year when scoring in the league was really difficult.
The legendary winger only missed three games all season, which is a feat in itself, and put up 66 points. That was 21st in the entire NHL and fell just one point shy of Jagr's high since returning to the NHL after his three-season stint in the KHL.
There have been only 15 seasons played by skaters (does not goalies) aged 43 or older. Five of them belong to Chris Chelios. Either way, Jagr had the most productive season of any of those players by a long shot.
Mark Messier had 43 points in his final season in 2003-04. That was the previous high for a player aged 43 or older. Jagr beat it by 23 points. It was also the eighth most productive season for a player aged 40 or older and there have been a lot more of those.
Age is only a number when it comes to No. 68.
10. He's coming back next year
Here's the one thought you should keep in your mind as summer approaches. When the NHL returns next fall, Jagr expects to return right with it. He told Harvey Fialkov of the Sun Sentinel that he wants to play next season "for sure." Now we'll have to see if that's in Florida or elsewhere.
As long as it's in the NHL, most hockey fans will be happy.