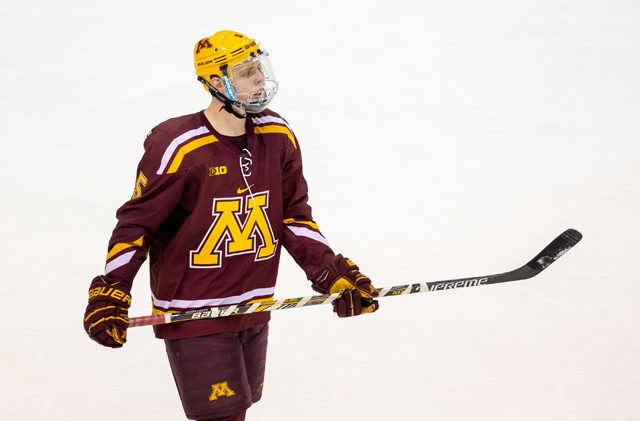 Free agent defenseman Mike Reilly, a fourth-round draft pick of the Columbus Blue Jackets in 2011, did not sign with the team before the June 15 deadline on which his draft rights had expired. Though he is still eligible to sign with the team, Blue Jackets GM Jarmo Kekalainen said he was informed Wednesday that Reilly has ruled out signing with the club.
The CBA gives a team four years to sign a drafted prospect so long as he remains a bona fide college student over that span. Once a player either graduates or leaves school after those four years are up, the team has 30 days after the NHL is notified a player is done with school to get that player signed. If that player goes unsigned, he becomes an unrestricted free agent.
Reilly is only a junior, but played in the BCHL the year after he was drafted. So his draft rights clock started ticking before he reached the University of Minnesota, where he starred as an offensive defenseman. He officially left school in May.
That means Reilly is now able to sign with any of the NHL's 30 clubs. However, it sounds like Reilly's list has already been narrowed down to two or three teams according to Kekalainen, who told this to BlueJackets.com:
"He exercised his right in the CBA to talk to other teams," Kekalainen told BlueJackets.com. "He narrowed his list down to two or three teams, and we're not one of them. We did everything we could, but we have to make other plans now. He was a good prospect for us, but we have to move forward."

"This was something that we were waiting for. This effects the decisions we make from this point on (in the offseason), and now we have to make other decisions accordingly."
Blue Jackets forward Ryan Johansen was less diplomatic in his reaction to Reilly spurning the team:
We didn't want him anyway

— Ryan Johansen (@RyanJohansen19) June 17, 2015
Reilly was granted permission by the Blue Jackets to speak with teams during the NHL's scouting combine, which took place two weeks ago in Buffalo. According to NHL.com, Reilly met with nine teams including the Chicago Blackhawks, Los Angeles Kings, Minnesota Wild, New York Rangers, Pittsburgh Penguins, Edmonton Oilers, Detroit Red Wings and Montreal Canadiens, as well as the Blue Jackets.
According to Aaron Portzline of the Columbus Dispatch, Reilly is believed to be down to the Blackhawks, Kings, Wild and Rangers. So it appears the rich will get richer. Three of the four teams have made it to at least one Stanley Cup Final in the last three years and the Wild are both Reilly's hometown team and the club his father holds a minority stake in.
Reilly is a highly-regarded prospect as his offensive instincts, skating and high skill level make him one of the most sought-after commodities available to NHL teams. Everyone seems to be looking for mobile defensemen that can move the puck and contribute offensively. Defensive stoppers are becoming more of a rarity with such a premium put on speed and puck possession these days.
The reason he's so sought after aside from his skill set, and why many of the best teams in the league want him, is that he can only sign the maximum deal under the entry-level system, meaning his cap hit will be under $1 million over the next two seasons. That makes him an easy call-up if he doesn't make the big club's roster out of camp. Reilly's deal would also be extremely cap-friendly if he's a full-time NHLer right away.
He showed during the Men's World Championship this spring while playing for Team USA that he's ready to make the jump to pros. He helped the U.S. earn earn a bronze medal while playing decent minutes for Blue Jackets head coach Todd Richards.
Reilly posted 89 points over three years at Minnesota including 42 in 39 games in his junior season. He is a two-time All-America selection and he finished in the top 10 for the Hobey Baker Memorial Award as college hockey's best player last season.
The Blue Jackets seemed like a good fit due to their lack of depth on defense both at the NHL level and in their prospect system, but Reilly is in the unique position of being able to pick where he wants to go. He's not exploiting a loophole or anything. This is how the CBA was designed to work. The Blue Jackets tried to sign him last summer and then this year, but with the opportunity to pick his own team, it's hard to fault Reilly for exploring his options.
It's a loss for Columbus, no doubt. Reilly would have helped. Drafting and helping develop a player over a course of time and exhausting all options in recruiting him to play for the team only to lose him is beyond frustrating. It does happen to the best of 'em though.
Kevin Hayes opted not to sign with the Blackhawks last year in order to sign a UFA deal with the Rangers. Defenseman Justin Schultz spurned the Anaheim Ducks for a deal with the Oilers.
Players won't get this opportunity often, so when they get it, it's hard to pass up. And it's hard for their drafting teams to compete with.