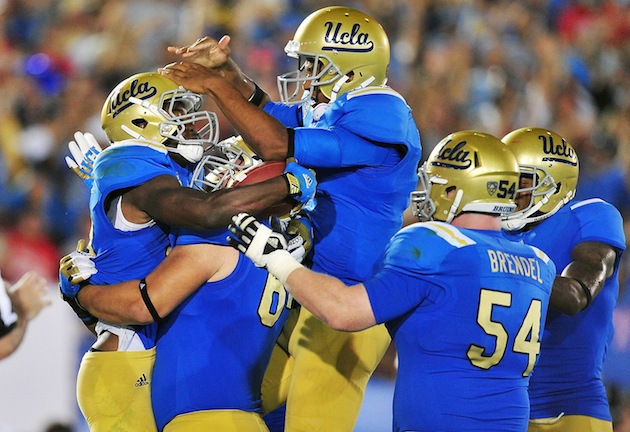 Fischer says UCLA's win isn't the upset of the day but might have made the biggest impact on national TV.
PASADENA, Calif. -- You'll have to forgive Brett Hundley for falling to the ground and doing a flip out of the victory formation. You'll also have to give the dual-threat quarterback a pass for not knowing how to slide after he injured his ankle on a scramble.
You see, UCLA -- and their redshirt phenom behind center -- haven't been in a position to run the victory formation too often the past few years. On a humid night at the Rose Bowl though, the big play offense combined with a tightened second half defense to send No. 16 Nebraska packing 36-30 and inspire optimism from the home crowd for the first time in a while.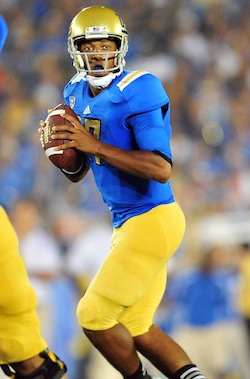 "I probably need to get the slip and slide out at practice," said Hundley with a large grin on his face. "I'll learn, I'll learn, I'm not really used to sliding yet. And taking a knee? Yeah, it didn't go well."
At times during this weekend, it appeared that things wouldn't be going well for the Pac-12 as a whole either. Coming into the night games on Saturday, newcomers Utah and Colorado had taken losses to a WAC and FCS team, respectively. Several ranked teams had ventured West for a pair of nationally televised games and a number of the league's teams were home underdogs.
It could have been a disastrous week for commissioner Larry Scott, who came in beaming after the announcement that DISH would be distributing the conference's new networks to give them four of the five major distributors in the country. Call it supreme confidence or a lucky feeling while making a rare appearance in casual attire -- a just-out-of-the-packaging Pac-12 polo -- but the former pro tennis player seemed to have an inkling that despite the new additions faltering, things would work out for the league.
"I want all of our teams to win all of the time. Coming into the season I feel good at where we are with two top-five teams," Scott said. "Early in the season I know there have been some disappointing loses for a couple of our teams. But it's real early and I still feel confident that our conference stacks up with any other."
And as if on cue, struggles seemed to be a thing of the past. California started to roll after looking average against Southern Utah. Mike Leach picked up his first win at Washington State, USC and Oregon cruised to comfortable wins and scrappy Oregon State used a bit more of, well... whatever Mike Riley has for ranked teams coming to Corvallis and knocked off No. 13 Wisconsin.
The Pac-12 may not have looked good, but most of the old Pac-10 did its part.
"They played their hearts out today and I'm so proud of them," Riley said of his upset. "It's unbelievable. They just played like crazy to win that game."
There are still underlying concerns with many of the teams but the wins are nevertheless encouraging for a league that Scott said he'll put up against any given how tough their non-conference slate is. In many respects, it was a banner weekend thanks to a 6-1 record against BCS conference schools with the lone loss by Washington on the road at No. 3 LSU.
UCLA's win wasn't the upset of the day but may have made the biggest impact on national television. Early on it looked like both teams were in for a shootout with the offenses combining for 705 yards and nearly nine yards a play by halftime. The Bruins defense, in contrast to years past, set the tone early in the second half with a fumble recovery on the very first snap and seemed to come up with a play whenever it was needed.
"I think our coaches did a nice job with the adjustments at halftime and I thought our players really adjusted well. We came up with big plays at the right time," Jim Mora said. "It means we're 2-0. It means we beat Nebraska and we're 2-0."
The head coach, picking up his first home win, still looked tense following the game as if he had just escaped with a victory that the football gods were going to hand over to his opponent. In past seasons when the game was close, the Bruins tended to make mental mistakes and fold at the same time they were pushing all their chips in the middle.
This year? It looks to be a different story through their first two games.
Tied to begin the 4th quarter, punter Jeff Locke had pinned the Cornhuskers deep in their own territory. With the game teetering either way, defensive lineman Datone Jones ignored a play action fake to nail quarterback Taylor Martinez in the end zone for a safety that awakened the crowd clad in baby blue.
It never seemed close after that as tailback Johnathan Franklin made a couple of big plays on offense to finish with 217 rushing. He caught a short touchdown pass to ice the game with just over two minutes and was a key cog in a revamped offense that had five freshman or redshirt freshman playing key spots late in the 2nd half.
"What makes this offensive line different from the ones we've had in the past is that they work each and every day and they're humble," Franklin said of the three underclassmen blocking for him. "They keep each other accountable. Everybody's equal and not bigger than the next guy. They push each other. I'm blessed to have an offensive line like this one."
"We just have a different mentality," said Hundley. "We're focused and ready to play. Coach Mora and this new staff have done an amazing job with this team and getting us ready for this game so we're ready to go out and compete."
Though there's plenty of flash on offense (more yards in two games than their final three last season combined) and defense (it took UCLA seven games last year to get the six sacks they have so far in 2012) with this team, the narrowed focus the Bruins have on playing football and not much more is what's notable. In a change from previous coaches at the school, Mora didn't address the crowd on the P.A. following the game and looked like he wanted to breakdown film instead of revel in a win.
When asked what a win over a Big Ten contender would mean for the team and the conference, the direct coach gave a simple answer.
"With regards to the landscape of the Pac-12," said Mora, "I don't care. I'm worried about the UCLA Bruins."
Fortunes will change but as the night grew long out West there was much more optimism for the Pac-12 than there was earlier in the day. Things looked different, sounded different and with the 'W' marks in the left-hand column, really were different.