Quick Hits: Texas Tech 49, West Virginia 14
Instant analysis of the Red Raiders' upset over the Mountaineers.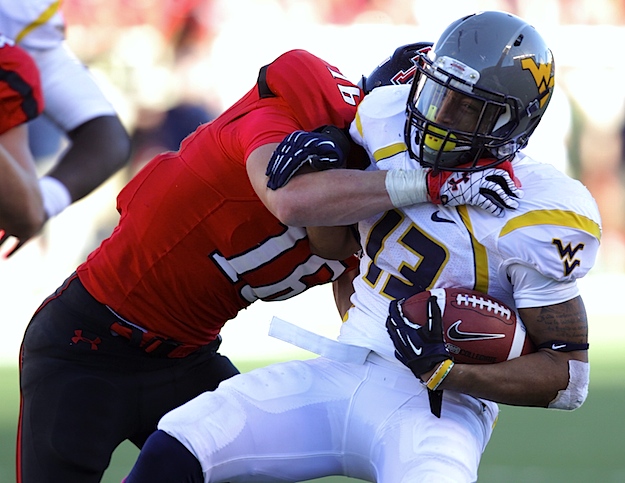 TEXAS TECH WON. The Red Raiders lit up the West Virginia defense and held the Mountaineers' Geno Smith –- Heisman front-runner, scout favorite -– to his worst game of the season in an impressive upset in Lubbock, arguably the most validating win of Tommy Tuberville's tenure as head coach. At 5-1 with a blowout win over the Mountaineers, the Raiders have forced their way into the thinning pack of relevant teams in the Big 12 race.
WHY TEXAS TECH WON: It was no secret after its wild, record-breaking shootout with Baylor two weeks ago that the West Virginia secondary was prone to bursting into flames at any time, and so it did again Saturday. The spark this time was the right arm of Texas Tech quarterback Seth Doege, who torched the Mountaineers for 499 yards and six touchdown passes, capping extended scoring drives of 75, 69, 82, 86, 69 and 98 yards. Eleven Tech receivers caught at least one pass, 10 of them covering at least 20 yards -– vintage "Air Raid."
But even more credit may be due the Red Raiders defense, which justifies its improbably lofty position in the NCAA rankings by making the most prolific passer in the country look like just another guy. Through five games, Smith was completing an FBS-best 81.4 percent of his passes; Saturday, he connected on 52.7 percent. He was averaging 399.2 yards per game on 9.8 yards per attempt; Saturday, he went for 275 on 5.0 yards per. He had thrown for 24 touchdown passes, with at least three in every game; Saturday, he had one.
Even without registering a sack or a turnover, the Raiders managed to force four punts and five turnovers on downs, and hold arguably the most explosive offense in the nation to barely one-fourth of its season scoring average.
WHEN TEXAS TECH WON: Trailing 14-7 in the second quarter, West Virginia missed a golden opportunity to tie (or at least close the gap) when it failed to convert a fourth-and-3 at the Red Raiders 18-yard line. On the next play, Doege hit Jace Amaro for the longest play of the game, a 61-yard reception that set up Doege's third touchdown pass two plays later. From there, Tech scored another four touchdowns in a row before WVU finally got on the board again in the dying minutes of the fourth quarter.
WHAT TEXAS TECH WON: It may be too soon to anoint the Raiders legitimate contenders in the Big 12 –- it was about this time last year that they stunned undefeated Oklahoma, and proceeded to lose their last five -– but clearly they belong among the great mass of teams in the conference that can conceivably beat any other team on any given weekend. The defense is for real. We'll know a lot more after back-to-back road trips to TCU and Kansas State, but for now, they've bought themselves a chance.
WHAT WEST VIRGINIA LOST: The Mountaineers' national championship ambitions may not be dead, officially, but they are weakly calling for last rites. Smith's Heisman campaign suffered an obvious (though not necessarily fatal) setback as well, buoyed mainly by the fact that he still hasn't thrown an interception this season. In the Big 12 race, the blow is not as severe, considering first-place Kansas State has to come to Morgantown next week, and suddenly surging Oklahoma will make the trip on Nov. 17. Where any championship is concerned, though, the margin of error is now zero, and the secondary has a lot of work to do.
A magic trick turned into a scholarship surprise for this Texas lineman

Michigan's notorious secrecy is getting called out again

Key was named a 2017 CBS Sports Preseason All-America selection this week
Our bowls expert looks at the toughest -- and weakest -- nonconference schedules in the na...

The new uniforms will be worn on Oct. 28 at Kyle Field vs. the Bulldogs

Kiffin's Owls have added myriad troubled players since he took over in Boca Raton