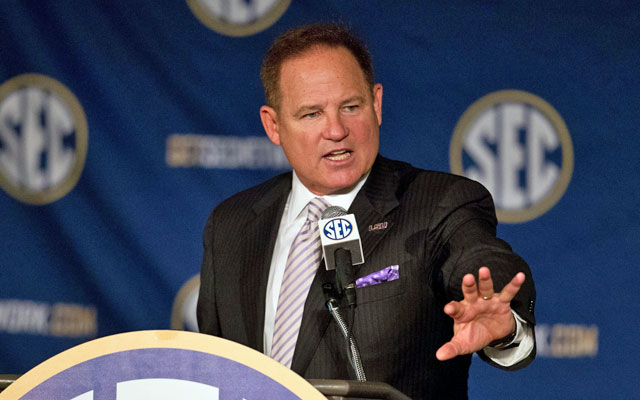 DESTIN, Florida -- By nature, football coaches can be a distrusting group of people. Now multiply that 10-fold in the SEC, throw in new money for players that in some cases will differ by a couple thousand dollars between schools, and you get skeptical SEC eyes over cost of attendance.
To be clear: SEC coaches want players to have extra money in their pockets and are glad it's happening. But many wonder how some of their rivals' financial aid offices calculated their numbers based on federal guidelines, and how it's going to work for individual students when they petition their school for more money.
Alabama coach Nick Saban even called for a cap on cost of attendance, similar to the NFL's salary cap. He apparently did not realize that legally it's impossible to do that now. A federal judge's ruling in the Ed O'Bannon case allows in part the NCAA to cap the amount of new money that FBS football players and Division I men's basketball players receive in school, but the cap cannot be an amount less than the athletes' cost of attending school.
For years, athletic scholarships have not covered the individual numbers school lists as the full cost of attending college. That changes this year when athletic scholarships can include not only the traditional tuition, room, board, books and fees, but also incidental costs of attending college.
Those numbers vary by school. Within the SEC, Tennessee, Auburn and Mississippi State all offer more than $5,000 per player, and schools such as Georgia, LSU and Florida are under $4,000. Although no one knows how much of a factor cost of attendance will have in a recruit's decision, coaches with high numbers are promoting them as an advantage.
"You don't want to have a system that sort of enhances people having any kind of fraudulent behavior that would create an advantage for themselves," said Saban, whose school has not released its cost of attendance number yet publicly. "I think it's really important that we all have the same criteria and nothing can be used to create an advantage, and I guess the best way to do that would be transparency."
The SEC has spent time at its spring meetings this week discussing transparency. Future SEC commissioner Greg Sankey said the ideas are similar to legislation the SEC introduced nationally, meaning schools would report to the SEC office any cost variances resulting from players winning individual appeals at their schools. Some schools provide individualized assessments of cost of attendance figures.
"We also had a conversation about methodology reporting and how that's determined, but people have observed that's being done in financial aid offices in accordance with federal regulations and the discussion is whether or not that's needed," Sankey said.
On Friday, the SEC passed rules to provide transparency on how its schools handle cost of attendance. Each year, schools will provide to the SEC office a report identifying the value of their "other expenses" related to cost of attendance and the methodology used to determine the value, including any miscellaneous amounts. Schools will also report to the SEC after each semester any individual variances provided to athletes for cost of attendance.
LSU athletic director Joe Alleva said the basic components of cost of attendance should be the same at each school, such as the cost of a laptop computer for an athlete or the number of trips provided home for an athlete. LSU's cost of attendance average number is around $3,100.
"I think the more things we can define and all agree upon, I think it would narrow down the scope of that cost of attendance number so it wouldn't be such a great difference between schools," Alleva said.
In January, the SEC unsuccessfully attempted to pass a proposal through Power Five autonomy that would require schools to regularly file a report to the NCAA explaining individual cost of attendance variances. SEC officials still don't understand why the vote failed to pass.
"I think most of the people that were not in favor of it were not necessarily opposed to the concept, but were more opposed to how the document itself was crafted," Texas athletic director Steve Patterson said. "There's going to be a lot of variables for full cost of attendance -- food service, where you're located, what you pay for parking, what you pay for transportation. I don't think anybody felt the way it was structured was representative of the holistic actual cost of attendance. It's not as simple as the documents you sign when you get a mortgage for the house."
Many variables for cost of attendance
The SEC isn't alone in trying to wrap its hands around cost of attendance. But because no conference distrusts its own members over competitive issues quite like the cutthroat world of SEC football, there's some heightened tension in the SEC. It's something other conferences have even recognized.
"There are some SEC schools that have a really high cost of attendance, even though they're in a relatively small town so I'd like to see the formula that they're coming up with," Arizona coach Rich Rodriguez said. "… That's a frontier that has some coaches concerned. I'm not going to bitch too much about it because it's still extra money for the student-athlete."
Pac-12 commissioner Larry Scott said there's virtually no concern of fudging numbers within the Pac-12.
"In our conference it's just unfathomable that an athletic department would be able to have influence over the financial aid office to amend the policy," Scott said. "Having said that, everyone recruits nationally. If some school is gaming the system and trying to get an economic benefit, even if it's in a different part of the country, some of our coaches would be concerned. I think we're going to support the idea of transparency."
Auburn has one of the SEC's highest cost-of attendance averages at $5,586. However, even that figure is not a one-size, fits-all calculation and can vary based on whether the student is in-state or out-of-state and whether there are other personal needs provided to the financial aid office, Auburn athletic director Jay Jacobs said.
"If you live in Birmingham and I live in Auburn, if I go through the financial aid process, my number could be lower than yours because I live closer to Auburn," Jacobs said. "But if I have a child, then my child care could increase and you may not. Ours is an average number so it could fluctuate."
Mississippi State has an average cost of attendance figure of $5,156. Bulldogs athletic director Scott Stricklin supports SEC schools sharing within the league who's getting cost of attendance exceptions, how much those exceptions are worth, and how often players receive them.
"To me, that's helpful to know," Stricklin said. "If our campus is rewarding on average four to six appeals per semester and all of a sudden our student-athletes have 40 to 50 winning appeals, I'd think if I'm another school I'd want to know that."
Many SEC coaches certainly want that information and more, including the methodology for the average numbers.
"I'm curious to know how they get to their numbers," said Georgia coach Mark Richt, whose school's cost of attendance average is $3,221 for in-state students and $3,746 for out-of-state. "I'm sure a lot of people are curious about that. Do you (reporters) want to know? You got open records law? Can you all ask and find out?"
South Carolina coach Steve Spurrier said he changed his mind over concerns about cost of attendance after listening to SEC commissioner Mike Slive explain that federal guidelines help determine numbers. The Gamecocks' average number is $4,201.
"If one school can give $5,000 a year, another $4,000, hell, that's just the way it is," Spurrier said. "If they can out recruit you because of that, maybe a school with a new indoor facility can out recruit another one. Who knows the reason a young man picks a school?"
LSU coach Les Miles said he will "trust until somebody proves to me that they're doing (cost of attendance) in a fraudulent manner. … If you're a crook, you're a crook, and if you're not, there's no reason for me to believe this will be done in a disproportionate fashion."
More pressure on financial aid officers?
Here's the thing about cost of attendance numbers: There is considerable leeway and subjectivity over how schools determine their figures. Still, they're numbers that for years have been determined by financial aid offices through federal guidelines that must be followed.
The higher the cost of attendance number is for a public university, the more it could turn off a prospective student in the general student body that needs a loan. But in return, it could mean more public funding for the university and now it may mean a competitive advantage in athletics. Cost of attendance has always been a number used by financial aid offices with no correlation to athletics until now.
Some schools use surveys of students to calculate cost of attendance. Some schools use what the Department of Education describes as other "reasonable methods" to figure out a number.
Justin Draeger, president of the National Association of Student Financial Aid Administrators, believes the new NCAA rule could apply additional unprecedented pressure based on athletic competition. He plans to collect data anonymously from financial aid officers.
"It's a serious concern," Draeger said. "I haven't heard anybody argue about giving athletes additional money. I think the concern is we're finding all of these ways to get athletes more money without talking about the real issue on the table: Shouldn't we just compensate student-athletes for the millions and millions of dollars that some of them bring to institutions and the real risks health-wise they go through?
"It would be naive to think schools aren't going to look at other institutions in their conference, see what those schools are offering, and compare the two and apply pressure to say we need to offer our students more money. Financial aid offices have always felt this type of pressure, but it's not pressure that's come from athletic departments that are multi-million dollar enterprises."
Last December, the National Association of Student Financial Aid Administrators conducted a survey of national financial aid officers about cost of attendance. More than 25 percent of the respondents said they had felt pressure from athletics or other university interests to adjust the figure.
Of that group, more than a third indicated that someone outside of financial aid wanted the cost of attendance to be lowered and more than 40 percent felt pressure to increase cost of attendance. Among those respondents, 35 percent said the influence exerted was meant to serve enrollment management purposes and/or give an advantage over competing schools.
Notre Dame athletic director Jack Swarbrick believes there needs to be disclosure statements to recruits and their families explaining all of the elements in a proposed scholarship.
"Forget the differences (in cost of attendance figures); people have no understanding of how it's done," Swarbrick said. "It's much more complicated than people think, especially with multi-year scholarships and all of the equivalency sports. Like when you buy a car, there ought to be a simple federally mandated disclosure form that says here's what it is.
"One reason cost of attendance numbers are different is because figures embedded in other elements of the scholarship are different. You could have a different meal plan. If I only provided you 10 to 12 meals a week, your cost of attendance is higher. If you provide a 17-meal plan, it doesn't impact your cost of attendance."
Purdue athletic director Morgan Burke had pushed for a different way to handle the new money. He wanted a group of financial aid officers and athletic administrators to specify what exactly could be included in the cost of attendance figure and then have the NCAA apply a cost-of-living indicator with higher or lower values depending on the school's location.
"It didn't get any traction," Burke said. "I wouldn't be surprised if in a few years we don't come back to that. That way you can really tell everybody the items in the basket are all the same."
For now, there will be eyebrows raised over cost of attendance numbers, and nowhere more than in the SEC.
"I think it's too early to tell if there are any complaints," said Jacobs, Auburn's athletic director. "I know this: In February, every recruit that I visited with in football, they never mentioned cost of attendance. It wasn't on their mind. I think when we get a couple years into it, we'll actually see what this is."