Stanford at top of its class in winning at elite academic schools
Dodd: Stanford has shown high admission standards don't have to be a barrier to winning big. And, with Northwestern, Vandy and Duke rising, the Cardinal are not alone.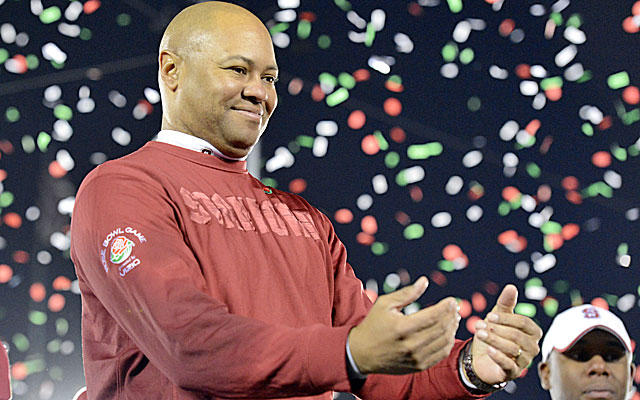 It all changed for David Shaw in 2007 at the LA Coliseum. That would be six years before Stanford was a legit national championship contender entering 2013.
Long before the Cardinal had played in three consecutive BCS bowls. Four years before Shaw was not only the Cardinal's head coach but the leading advocate for his program, going forth to spread the word apostle-style into the football countryside.
"Changing perception is like turning a cruise ship," Shaw said. "It's not going to be a tight turn. It's going to take a while. Sometimes I get a little smile on my face when someone says, 'Gosh, I can't believe you guys are still doing well.'"
Stanford, it seems, is no longer worthy of a nice-try pat on the head. In this age of the finesse up-tempo, zone read, the Cardinal run a pro-style offense. They are intimidating on defense, have won as many games as Alabama the last three years (35) and -- as their coach proudly says - "we have multiple guys who run 4.4 now."
The Cardinal also start the season ranked in the top five. That should not surprise. If the College Football Playoff, which begins in 2014, had been in effect the last two seasons, Stanford, at worst, would have been in the conversation for a playoff bid.
It also should not surprise that Stanford is at the leading edge of a revolution of brainiacs. As we roll out the annual Coaches' Hot Seat Rankings, Shaw is among those who don't have job security as a concern. Already a hot name in NFL circles, he signed a long-term extension in December. Shaw -- like peers at Northwestern, Duke and Vanderbilt -- has made college football an academic's dream.
At least what the game was always supposed to be.
Turns out you can win big and educate players.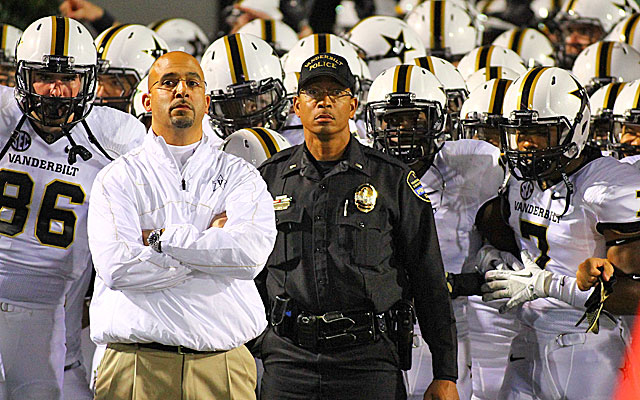 Vandy coach James Franklin calls it the 20/20/20 club. The Commodores -- along with Notre Dame -- finished in the top 20 of U.S. News and World Report university rankings, the 2012 coaches' poll and in 2013 recruiting (Rivals.com).
That's after Vanderbilt came off a nine-win season for the first time in 98 years. If Franklin stays above .500 at Vandy -- he's currently 15-11 in two seasons -- he would be only the second coach to leave the program with such a record since 1952.
Northwestern's Pat Fitzgerald is such an institution that he is second in seniority in the Big Ten. The Wildcats are coming off their first bowl win since 1949 and just won 10 for the third time in its history. Duke is coming off its first bowl in 18 years.
The four schools have employed a total of 24 coaches in the last 25 years. Seldom has job security at the "brain" schools been less of an issue for their head coaches.
Shaw saw it change that night six years ago against USC. He was Jim Harbaugh's offensive coordinator before replacing the current 49ers coach following the 2010 season. Members of the Twitter generation may not even remember Stanford 24, USC 23 that night at the Coliseum. The Cardinal, 41-point underdogs, pulled off one of the biggest upsets in college football history.
"I call that the beginning of the program," said Shaw, who is 23-4 heading into his third season as head coach. "Thankfully, the game was on when it was on."
On Oct. 6, 2007, most of that day's games were completed. That night became a commercial for what now has to be regarded beyond a renaissance of Stanford football. We are living through the greatest era of Cardinal football.
"For a brief moment in time, it was the only game on," Shaw recalled. "People who were in their postgame shows, they went to the Stanford-USC game. This lowly Stanford team coming off a one-win season. We got seen by everyone in the country."
Shaw's phone vibrated that night with calls from friends and family before the term "blew up" had been coined.
"They blew it up, almost literally," he said. "That [USC] game kind of got Stanford's name in different places."
Not that it made much difference. Stanford players still have to be admitted before the recruiting process can proceed. That narrows it to a microscopic academically-qualified recruiting pool. But before that night, Shaw got questions like, was it Stanford for Samford?
After that night, Harbaugh was no longer just a loud, cocky coach who wore his old Colts warm-up jacket to the office.  He was on the edge of brilliance. Shaw carried the torch that to an even higher mountaintop.
When asked if his school can win a national championship, CBSSports.com All-American guard David Yankey said, "I don't know if they [outsiders] believe that. Luckily for us, that doesn't really matter. We have to believe that we can."
It's strange. We are in an era when one dominant team (Alabama) in one dominant conference (SEC) is dominating the game. But somehow that traditionally small and traditionally losing collection of academic schools has found a way to play at the highest level.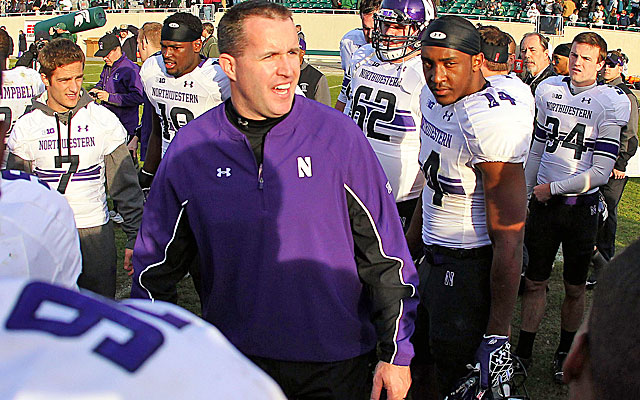 A lot of it has to do the forces of nature who hired to run those programs. Fitzgerald might as well be Mr. Wildcat, a two-time Butkus Award winner (best linebacker) at Northwestern and already a member of the College Football Hall of Fame at age 38.
Duke's David Cutcliffe has both Eli and Peyton Manning on his resume. Quietly, he added Blue Devil Sean Renfree to his list accomplishments. The Duke quarterback became the school's first NFL draftee since 2004.
Franklin has been refreshing for the media, engaging fans on Twitter and engaging a certain Alabama coach, calling him "Nicky Satan."
"God forbid having some personality and enjoying yourself," Franklin said. "I can see how people turn into boring interviews and people turn into robots because you have to be very, very careful with what you say."
Franklin and Vanderbilt recently had dealt with real-world issues more common at football factories.
Four players were kicked off the team in the offseason and were subsequently charged with raping an unconscious 21-year old woman in her dorm. All four pleaded not guilty.
At each school, admissions plays as much a role as recruiting. These schools are chasing scholars more than players. SI.com reported that Stanford has less than a 6 percent acceptance rate. Vanderbilt's is just under 12 percent.
Former Stanford AD Bob Bowlsby once told CBSSports.com that the program has a qualified pool of 250-300 players nationwide it can recruit.
"That's probably even high," Shaw said. "I like to say we're recruiting against geography. There is no one school that we recruit against all the time."
All the mentioned coaches have to become experts at roster management. Going back to his father's day -- Willie Shaw was a Cardinal assistant -- David said Stanford was adept at switching players from one side of the ball to the other. Vanderbilt's quarterback is Wyoming transfer Austyn Carta-Samuels.
Penn State's John Urschel is a different, convoluted Stanford transfer story. The current All-Big Ten guard qualified for Stanford out of high school in Williamsville, N.Y. He chose Penn State because, "I would have been hard-pressed to find a better combination of academics and athletics."
Today, he has both undergrad and graduate degrees in math. A year ago this month, though, Urschel could have continued to chase that dream at Stanford. When the Penn State sanctions hit, Urschel had a standing offer from the school for "a full scholarship … along with a sizable stipend."
By then, his emotional involvement with Penn State was too deep. That Shaw vaguely recalled Urschel during a recent interview showed how invested the school is in academics and football. No hard feelings, but two years ago Stanford had landed a talented deep (admitted) class of offensive linemen.
"I know what I would have done," said Shaw, a Stanford alum. "The fact that Stanford is looking at your child means you've made great decisions. Now here comes the biggest one. Why in the world would you leave that up to that 16- or 17-year old?
"When you're young, there's two big [decisions], where you go to school and who you marry. You can't screw up. You've got to be 2-for-2 there."
Gyree Durante of Albright College was dismissed after he kneeled during the national anthe...

Week 8 in the SEC provides a sneaky fun matchup in Oxford and a traditional rivalry in Tus...

Penn State's star rusher loves to argue, just not about whether he's the nation's best pla...
The Fornelli 50 ranks teams based on nothing but their performance in 2017

Find out which of your favorite team's players are among the nation's best midway through...

Anybody can rank the best college football teams, only we rank the worst each week