AL Cy Young Watch: Max Scherzer's win-loss record has him in lead
Time for our bi-weekly look at the AL Cy Young race. Right now an 18-1 record would mean it's an easy vote for many.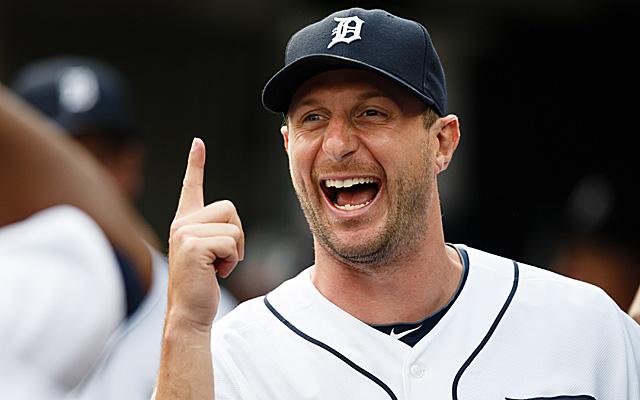 Awards Watch: NL MVP | AL MVP | NL Cy Young
As we take our snapshot in time of how the AL Cy Young award voting would go down if it happened right now, an important reminder is needed. These aren't my picks. This is how I believe the vote would go down if it happened now by the BBWAA voting body. Because while I hate win-loss record as a primary indicator of judging a pitcher's effectiveness, it's still very mainstream and cannot be ignored.
Max Scherzer , Detroit Tigers : The funny thing is, Scherzer has a very good case if you ignore win-loss record. He leads the AL in WHIP (keeping guys off base) and hit rate (only 6.11 allowed per nine innings). He's fourth in innings pitched, sixth in ERA and fares very well in several advanced metrics (he's tied with King Felix for first among AL pitchers in Fangraphs.com WAR, for example). But none of that really matters. The voting body right now would be blinded by the 18-1 record and Scherzer would win the award with ease.
Yu Darvish , Texas Rangers : He's 12-5 with a 2.68 ERA and 1.03 WHIP on a team in contention. His top selling point is missing bats, though. He leads the majors in strikeouts (214) by 27 heading into Tuesday night. He leads strikeouts per nine innings by more than two Ks (11.96 to A.J. Burnett 's 9.93) among starters. If Scherzer gathers a decent amount of losses the rest of the way while Darvish gets up close to 300 strikeouts, he could make this thing close.
Felix Hernandez , Seattle Mariners : He's the best pure pitcher in the American League. He's second in ERA, seventh in WHIP, third in strikeouts and leads in innings pitched. Despite playing for a poor team, his 12-6 record doesn't look bad. My guess is right now he'd finish second behind Scherzer (these are listed alphabetically, not ranked) due only to Scherzer's record. Throw record out, and Felix is your top dog.
Bartolo Colon , Oakland Athletics : He's 14-5 with a 2.97 ERA and 1.19 WHIP on a contending team. I do think his PED suspension last season -- that bled into this season for a few games -- means he has a serious uphill battle.
Hiroki Kuroda , New York Yankees : While win-loss record is most important to some, ERA is the most important stat for a pitcher for many. And Kuroda leads the AL with a mark of 2.41. He's also fourth in WHIP.
Greg Holland , Kansas City Royals : The diminutive closer is 34-for-36 in save chances with a 1.47 ERA, 0.90 WHIP and an outstanding 77 strikeouts in 49 innings (a rate of 14.1 per nine). He leads the AL by striking out 41.8 percent of the batters he's faces.
Joe Nathan , Rangers: Playing for a first-place team, he's converted 36 of 38 save chances with a 1.63 ERA and 0.93 WHIP. He'll be able to garner some votes.
Chris Sale , Chicago White Sox : The 9-11 record means he won't be winning, even though it's due to something he can't control. The White Sox average 2.96 runs per Sale start, the worst run support in the majors, just topping Stephen Strasburg by a nose. Scherzer leads the majors in getting run support at 6.04 runs per start, by the way. Anyway, Sale is the best lefty in the American League this season and ranks fifth in ERA, fifth in WHIP, fourth in strikeouts and leads in complete games.
Anibal Sanchez , Tigers: He can't win, considering Scherzer is his teammate, but he warrants mention. He leads the AL in ERA+ and home run rate (meaning he allows home runs at the lowest rate).
Chris Tillman , Baltimore Orioles : Thanks to the third-best run support in the AL, Tillman boasts a 14-4 record, and that will surely have him on the radar for the old-school crowd. He does, however, rank 22nd in ERA, 20th in WHIP and 20th in strikeout rate among qualifiers.
Maxwell joins a growing movement across sports

The Yankees punched their ticket to the playoffs with a win over the Blue Jays on Saturday

Sabathia's stance seems to be an increasingly popular one among athletes
Plus the A's and Brewers have hope, Giancarlo goes deep again, and much more

Matt Chapman and Matt Olson give the A's hope

Despite an awful month, the Dodgers are again NL West champions