Alfonso Soriano clears waivers and can be dealt; how about the Giants?
Soriano told the Cubs before the deadline he didn't want to go to the Giants. But sometimes players change their minds, as the Cubs well know.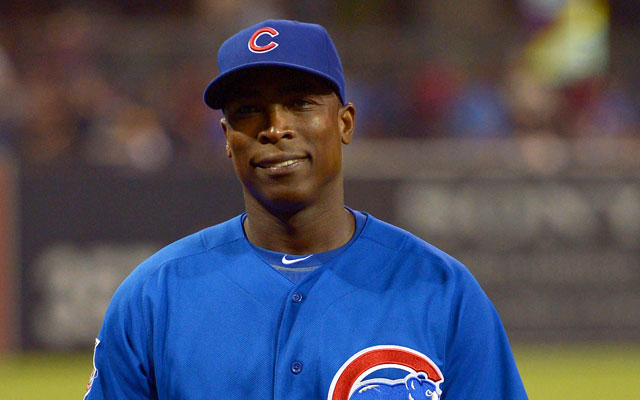 Alfonso Soriano could help a team in need of an outfield bat for the stretch run.
(US Presswire)
Cubs outfielder Alfonso Soriano has cleared waivers and is eligible to be traded anywhere (provided he gives his approval), sources tell CBSSports.com.
Maybe the San Francisco Giants, suddenly in need of another corner outfielder, should make another play for him. But if Soriano still declines to go to San Francisco, he should still be able to help someone. The Tampa Bay Rays have long looked like a good fit for Soriano, at least to outsiders.
The Giants and Cubs were said by sources to be moving toward a deal sometime before the trade deadline when Soriano told his Cubs bosses he would reject a trade to the Giants, as is his right as a 10-and-5 player. Of course, sometimes players change their minds, as ex-Cubs pitcher Ryan Dempster originally was thought willing to go to the Braves and unwilling to go to the Rangers -- though Soriano told Paul Sullivan of the Chicago Tribune (@PWSullivan) he's unlikely to accept a trade to San Francisco because he doesn't like the weather.
The Giants' need for a left fielder is greater today with the suspension for the remainder of the season of outfielder Melky Cabrera, who tested positive for testosterone and is ineligible to play for them until five games into the Giants' postseason.
The Giants have acquired outfielders Hunter Pence, Angel Pagan and Gregor Blanco, in addition to Cabrera, within the last year.
Soriano loved his time as a Yankee and believed to prefer the East Coast. He is said to have told the Cubs before the July 31 deadline that the Dodgers were the only West Coast team he'd consider.
Soriano could help a number of teams. He is hitting .264 with 21 home runs and 71 RBI, with all of the homers coming since May 15.
He's still a productive player, one competing GM said, noting, "It all comes down to how much the Cubs are willing to pay his contract down. If they'd pay him down to $1 (million) to $2 million a year, I'd think a lot of teams would be interested.''
One source suggested before the deadline the Cubs offered at least one team to pay Soriano's $18-million salary down to $3 million. Soriano's contract runs through 2014.
Carlos Marmol also has cleared waivers.
The projections continue to favor an Astros-Dodgers World Series

The story centers around a building in Chicago, where Billy Jurges was shot by a jilted lo...

From 1 to 25, the L.A. Dodgers have the squad to overcome the pitfalls of October baseball
After Tuesday night's win over the Cubs, the Dodgers are now 6-0 in the 2017 playoffs

Los Angeles beat Chicago once more in Game 3 of the NLCS in Chicago

The 2017 World Series begins Oct. 24