Cubs' plan -- position players over pitching -- is intriguing
In light of the Tommy John epidemic, should more teams follow what the Cubs seem to be doing and just beef up on position players?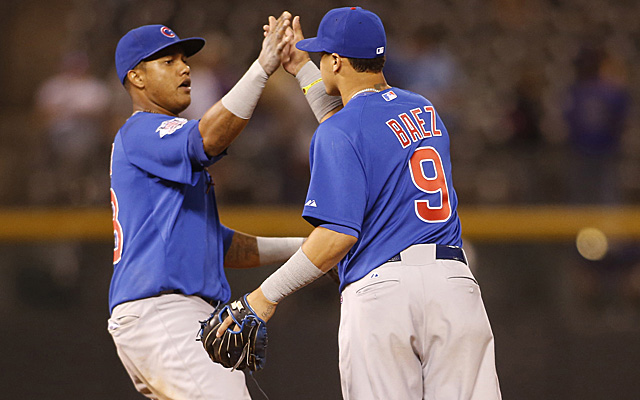 More MLB: Power Rankings | Expert Picks | Latest news & notes | Fantasy news
Chicago Cubs prospect Javier Baez got the call Tuesday and announced his presence with authority. He will likely soon be joined by the likes of Jorge Soler (I'll guess September) and Kris Bryant (I'll guess April), and then later Addison Russell and Albert Almora. He was preceded by Arismendy Alcantara . The Cubs' first-round selection this year was Kyle Schwarber, and he has already been promoted twice. The two Cubs All-Stars this season were Anthony Rizzo and Starlin Castro . 
All of those guys have something in common: None of them are pitchers.
In fact, only one of the Cubs' top nine prospects at the midseason update by MLB.com was a pitcher (C.J. Edwards, No. 7).
This information has caused many fans and media alike to treat the Cubs' future like that of Venus de Milo:
THEY HAVE NO ARMS! WHO IS GOING TO PITCH?
This line of thinking blatantly and quite conveniently ignores the ability to add via free agency ( Jon Lester ?) or trade in the future, of course. Think about the wonders the Cubs have worked on Jake Arrieta , Jason Hammel and Scott Feldman after acquiring them on the cheap, on one hand. On the other, they still have Arrieta and Kyle Hendricks looks like a quality starter as well. I don't think two years ago that many would have believed the Cubs would be able to say that Arrieta and Hendricks were a definite part of the future core, so why should we make the leap to say that the Cubs won't have pitching two years from now? The logic doesn't add up.
Maybe pitching guru Chris Bosio makes something out of Felix Doubront and/or Dan Straily . Maybe the Cubs sign Lester or someone else. Maybe they trade from position-player strength for a stud pitcher. Maybe they just continue to find guys on the cheap like they did in Hammel and Feldman, only keeping them through the season if and when they're in contention.
In my mind, it's far more important to take note of what the Cubs appear to be doing. Whether it was accidental or by design initially, I believe it's an obvious plan now to stockpile position players. In light of the Tommy John epidemic, putting a lot of stock in guys like Jose Fernandez , Matt Harvey , Jarrod Parker , Matt Moore , Patrick Corbin , Kris Medlen -- sigh, this is depressing, isn't it? -- et al means the possibility of having a lost season. In light of second surgeries for Parker, Medlen, Brandon Beachy and Cory Luebke , careers can be altered. By focusing on just throwing together a lineup of mashers and picking your spots with pitching, the risk is thereby minimized.
This isn't to say that the Cubs won't miss on a few position players. Of course they will. Prospects bust. But make no mistake, the Cubs are lining things up all over the diamond with veritable insurance policies. Let's take a stroll around the diamond and look at the options:
C: Schwarber? Many think he can't stick behind the plate and will instead end up in the outfield. So they acquired Victor Caratini from the Braves, who was a second-rounder last season and is playing well in Class A. And, really, Welington Castillo is 27 and he's not awful.
1B: Rizzo. There isn't much need for a backup plan here, but there is Dan Vogelbach down the road.
2B: It looks like Baez. Alcantara is also an option, just as Russell could be.
SS: Castro, though Baez, Alcantara and Russell could all take over if needed. Just for fun, I would like to point out how embarrassing it is to see some people, who have been writing about baseball for decades, be so ignorant in mockingly asking things like, "How many shortstops do they need?" after the trade for Russell. Dustin Pedroia , Manny Machado , Billy Hamilton , Alcantara and Baez -- among so many others throughout history (Ryne Sandberg!) -- were shortstops in the minors.
3B: Bryant is playing third in Triple-A. If he's moved to the outfield, as many believe he will be eventually, Russell, Castro or Baez might slide here. Alcantara has already proven to be plenty versatile, too.
LF: Bryant? Schwarber? Soler? Don't forget about Billy McKinney, a 2013 first-round pick who was acquired along with Russell and Straily in the Jeff Samardzija -Hammel trade. He's hitting .308/.394/.451 with High-A Daytona since the deal.
CF: Alcantara is the plan until (if?) Almora is ready.
RF: Same discussion as left field, though Soler has to be the favorite here, due to arm strength.
This isn't even getting into minor-leaguers who aren't top prospects and could pan out. This isn't including something like a Chris Coghlan (.292/.371/.475 right now)/ Justin Ruggiano (.274/.333/.416) platoon for 2015. It's not including useful pieces like Luis Valbuena or the recently traded Emilio Bonifacio . It's not discussing potential outside-the-organization additions in the future. It was just a quick snapshot of the overwhelming depth the Cubs have coming in the near future.
The bottom line is that president Theo Epstein and general manager Jed Hoyer have lined up their chips all over the diamond and appear very ready to pounce with a strong offense here in the next few years. There are multiple, sometimes lucrative insurance policies at every position in case of underperformance.
Obviously, the Cubs will need starting pitching to complement the offense, but they have money to spend in free agency and could eventually deal from position-player strength. Look at the trade deadline to see what big-league position players landed in pitching as an example.
Most of all, though, loading up on position-playing prospects instead of tying their fate to possibly fragile arms seems the safe, smart thing to do, in light of today's climate. It'll be interesting to see how it unfolds moving forward, and if it works, to see how many teams follow suit. While it might not be likely, it's at least possible this is the start of a movement.
Despite an awful month, the Dodgers are again NL West champions

The record of 38 previously belonged to Hall of Famer Frank Robinson

The report also says that Jeter had outgoing president David Samson do the firing
This wasn't a traditional hidden ball trick, but the Blue Jays pulled it off

The Tigers essentially fired Brad Ausmus on Friday, but things are going to be ugly for a...

The club made the announcement on Friday