Dodgers' financial reach now extends to Zack Greinke
This is not as simple as transitioning from Mannywood in 2009 to the Zack Attack in 2013. Not with Dodgers ownership transferring from a charlatan huckster to the U.S. Mint over the past 12 months. Zack Greinke is joining the Dodgers' rotation, and the meaning of it all is sending shudders throughout the industry. ...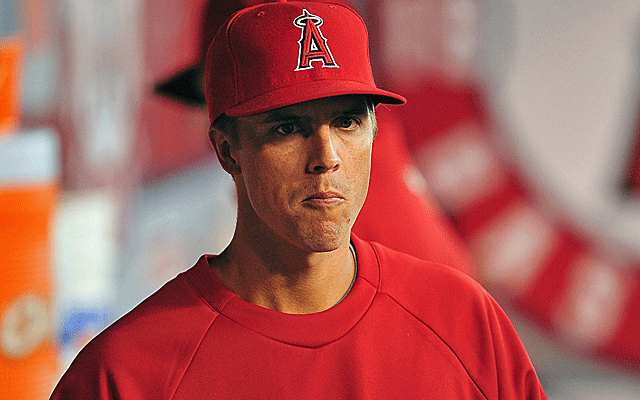 Does Zack Greinke put the Dodgers on the short list of title contenders?
(US Presswire)
This is not as simple as transitioning from Mannywood in 2009 to the Zack Attack in 2013. Oh, no.
Not with Dodgers ownership transferring from a charlatan huckster to the U.S. Mint over the past 12 months.
Zack Greinke is joining the Dodgers' rotation, and the meaning of it all is sending shudders throughout the industry.
More on Greinke deal
Related links
At a time when even the Yankees are reeling things in, the Guggenheim Dodgers are so flush with cash they can name any president you want not from the history books or Google, but simply from pulling a wad of bills from their pockets and looking.
"The entire economic landscape of this game is about to explode because of the Dodgers," a rival executive was saying amid the gaudy Christmas decorations late the other night in the Opryland Hotel's Cascades lobby. "Look at Angel Pagan and San Francisco [the two agreed on a four-year, $40-million deal last week.]
"Teams are going to start to do things like that because of the TV money, both local and national, and LA will be leading the way.
"LA used to look for nickels under the cushion. Now, they can't turn the tap off."
Saturday, it was Greinke holding his bucket underneath that faucet, spurning the Texas Rangers and the Los Angeles Angels in the process.
The ace right-hander agreed in principle to a six-year, $147-million deal less than four months after the Dodgers added a staggering $260 million in salary obligations when they acquired Adrian Gonzalez, Josh Beckett and Carl Crawford from the Red Sox in late August.
Though the midseason remake in Los Angeles failed to even earn the Dodgers a spot in the playoffs, the addition of Greinke behind ace Clayton Kershaw and a full spring training to sort things out likely will catapult the Dodgers past the World Series champion Giants as NL West favorites entering 2013.
Greinke, 29, won the American League Cy Young award while with the Royals in 2009 and will be reunited with his manager that season, Trey Hillman, who is the Dodgers' bench coach.
In 34 starts for the Brewers and Angels in 2012, Greinke went 15-5 with a 3.48 ERA. He fanned 200 and walked just 54 hitters over 212 1/3 innings pitched. His career strikeouts-to-walks ratio of 3.51 ranks ninth among active pitchers.
There is every reason to expect those numbers to become even better with this move to the pitcher-friendly parks of the NL West. Those in Los Angeles, San Francisco and San Diego all favor pitchers, and Colorado's Coors Field isn't the haven it once was for hitters since the introduction of the humidor.
With Kershaw, Greinke, Beckett, Chad Billingley, Aaron Harang, Chris Capuano and Ted Lilly, the Dodgers are deep in starting pitching. They also continue to negotiate with Korean free-agent pitcher Ryu Hyun-jin and have a deadline of 5 p.m. ET Sunday to sign him, else return him to Korea.
Before leaving Nashville on Thursday, GM Ned Colletti acknowledged that the Dodgers' newfound largesse under the Guggenheim group likely affects how outsiders view the organization "a lot."
"I don't know it for a fact," Colletti said. "I know we have someone in our office who reads all the trade rumors, and sometimes it's like, 'Hey, guess who we're in on now? Cool.' "
Colletti added: "It's better than the other way. I'd rather play with a full deck."
You can say the Dodgers' deck is absolutely stacked now. Not only with the additions of Hanley Ramirez from the Marlins in July, and Gonzalez, Beckett and Crawford in August, and Greinke now … but in what they remain positioned to do.
Sure, it didn't work immediately upon the arrival of Gonzalez and Co. from Boston at the July 31 trade deadline, but the possibilities remain limitless, especially with a little time and a chance to jell under skilled manager Don Mattingly.
As Colletti noted in Nashville, the Dodgers are still "a little bit in transition. The game is not, 'You play one season with this team, and then put them all aside and build another team.' You don't do that. … It's not like we started fresh. We added to what we had."
What they already had included Matt Kemp, recipient of a $160-million extension last November, and Andre Ethier, who was awarded an $85-million extension in June. The Dodgers are expected to easily bankroll the game's largest payroll in 2013.
Colletti joked that colleagues with rival teams "try to buy me more drinks" but noted, seriously, that since Dodgers ownership changed hands last May 1, he has fielded many more calls from clubs looking to rid themselves of pricey players.
It's not as if the Dodgers are overloaded with young position players they're eager to ship away. But they are among the first stops now of clubs looking to unload contracts.
The Red Sox and the Marlins hit the jackpot with the Dodgers.
So, too, does Greinke, albeit by taking a different route.
Look at the Dodgers now, out of the bankruptcy circus and into the swanky aisles of Neiman Marcus.
And loving every single minute of it.
Is there more pressure swimming in the deep end of the pool?
"Not at all," Colletti said. "Actually, far less.
"I've always held myself accountable to a high standard. When you're restricted, there's nothing you can do.
"You've still got to be accountable. You've still got to be expected to win.
"They can talk all the Sabermetric stats in the world. There's one number that counts, and that's wins."It's exciting, it really is."
With Greinke's "yes", it just became even more exciting in Los Angeles.
And the thing is, many, many more checks remain in the organization's checkbook, too.
The Nats will host the All-Star Game in 2018

The Orioles are looking to trade Machado heading into his walk year

The Cardinals have been linked for a while to the Baltimore star
Gallardo spent the first eight years of his career in Milwaukee

MLB revenues are at a record high right now, but teams aren't spending it on players

Chicago added Tyler Chatwood earlier this offseason but might not be done adding to the ro...