Futures Game highlights 2011 draft class
A total of eight pitchers taken in the first round of 2011's draft were on display in Sunday's Futures Game, less than a year into their professional careers, with one, Baltimore's Dylan Bundy, picking up the win.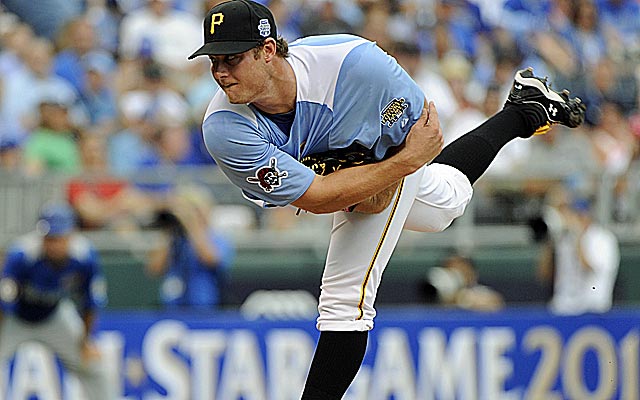 Gerrit Cole was the first overall selection in the 2011 MLB draft.
(Getty Images)
KANSAS CITY -- Just over a year ago, Gerrit Cole, Danny Hultzen, Dylan Bundy, Jose Fernandez, Chris Reed, Matt Barnes and Alex Meyer were drafted. On Sunday, all seven were already at the All-Star Futures Game at Kauffman Stadium -- and a eighth member of the Class of 2011, Trevor Bauer, would have been here if he weren't already in the big leagues.


More on Futures
Related links
"It's pretty incredible to see all the names that had their name called along with mine last year, it's pretty cool to be around this kind of talent," said Meyer, who was taken 23rd overall a year ago by the Washington Nationals, and threw six pitches in his 2/3 of an inning on Sunday, with all four fastballs at 98 mph or better.

In 2011, a total of 19 pitchers were taken in the first round of the draft, including the first four picks. Sunday's U.S. team featured 10 pitchers, half of whom hadn't signed their contract on July 8, while the World team had two pitchers from last year's draft.

"It has the chance to be one of the all-time great drafts and it was especially deep in pitching," said Jim Callis of Baseball America. "You had the three college pitchers at the top (Cole, Hultzen and Bauer) and then Bundy, who was fourth overall, who was essentially a college pitcher. You had two power arms in Matt Barnes and Alex Meyer who went 19th and 23rd overall. Many other years, Archie Bradley (sixth), would have been the first overall pick."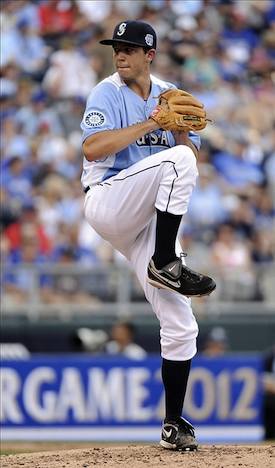 Bundy, one of just two high school pitchers from last year's draft in the game, picked up the victory in the 17-5 U.S. victory, allowing three hits, but no runs in his lone inning of work. Bundy, taken fourth overall by the Orioles last season, didn't allow an earned run in his eight starts at low-Class A Delmarva before being promoted to high-Class A Frederick on May 23. Since then, he's gone 4-2 with a 3.58 ERA. In all, he has 74 strikeouts in 62 2/3 innings.

"I pitched against Bundy one game. He's extremely polished. For a 19-year-old kid coming out of high school, he's extremely polished and anyone who knows the game can see that," said Boston's Barnes, who has also been promoted from low-A to high-A this season. "He's got a great fastball and other plus pitches. I just noticed how polished he was for a 19-year-old kid, you're more likely to see that from someone who has been in college."

The fact that five of the seven here from last year's draft were college pitchers isn't surprising, since most college pitchers are more advanced at this point. In addition to Bundy, Fernandez, taken 14th by the Marlins, was in high school last year. While Bundy's gotten more attention, Fernandez is 8-0 with a 2.12 ERA in 16 starts this season between low-A and high-A. He worked one inning on Sunday and gave up a hit, while striking out two. In all, the Class of 2011 pitched seven innings in the game, recording seven strikeouts, two walks, while allowing five earned runs on 10 hits.

One more pitcher from last year's draft, Bauer, was selected to be here. He's made two starts in the big leagues.

"I can't say I'm surprised. I knew how good Trevor was," said Cole, who was taken first overall.

Bauer may be the first from last year's first round to make the big leagues, but he won't be the last, and he may not even be the last to debut this season. There's even been talk of Bundy being called up for late-inning work if the Orioles are the running late. One reason is because young players are cheap and even learning at the big-league level, they can produce some value.

"Those guys are such money savers, that's the way of the world right now," one scout said. "If you can bring a guy up and have him in your four hole (in the rotation) instead of paying a guy four or five million for a fourth starters. That gives you another piece. Funds are not endless, that's why a young player has so much value in the big picture. In their first year, they're almost free."

An appearance in the Futures Game doesn't guarantee anything, but it did highlight some of the game's top young arms -- with an emphasis on young. In addition to the class of 2011, the US team also featured two 20-year-olds in Arizona's Tyler Skaggs and Pittsburgh's Jameson Taillon, and 19-year-old Taijuan Walker of the Mariners.

"You hear about these guys on TV, you read about them, but it's cool to see that these guys are living up to expectations," said Hultzen.

Barnes, who went 19th overall to Boston, noted many other years he would have gone higher than 19 and gotten a bigger bonus, even though the Connecticut native is more than happy with being a Red Sox (and the feeling is mutual, has he's gone 7-2 with a 2.44 ERA in two levels).

"I knew last year's draft was pretty loaded in terms of pitching, so I'm not surprised at all to see this many guys here," Barnes said. "All the guys have great work ethics, which you could see not just form the schools they went to, but also where they were drafted and the kind of numbers they've put up this year so far."
Reed gave up four runs (two earned) on Sunday, but he's also been impressive so far, not allowing a run in five starts at Double-A Chattanooga.
And then there's Cole, the No. 1 pick las tyear, who came in and hit 100 on the radar gun in his one inning of work.
"Last year was a talented group -- a mix of many types of talent," one scout said. "Cole is power, Hultzen had the stuff with pitchability, Bauer has deception with stuff and Bundy stuff across the board with a delivery, arm action and power stuff. It's a unique group in the fact that each did something that could have made any one of them the first overall pick."
For more baseball news, rumors and analysis, follow @EyeOnBaseball on Twitter, subscribe to the RSS feed and "like" us on Facebook.
The Twins have already fortified the bullpen with Addison Reed, and now they want to address...

The Orioles likely want pitching, and the Indians have plenty of it

Halladay died in a November plane crash off the coast of Florida
The power-hitting outfielder is headed to Toronto

Martinez could add some power to a Boston lineup void of it

It's almost that time of the year again, time for the Tebow madness to return