Kemp's agent Stewart on trade talks: 'Sometimes change is good'
The Dodgers are calling teams to see if there's a market for Matt Kemp. So far, five have shown at least a modicum of interest. But it won't be easy.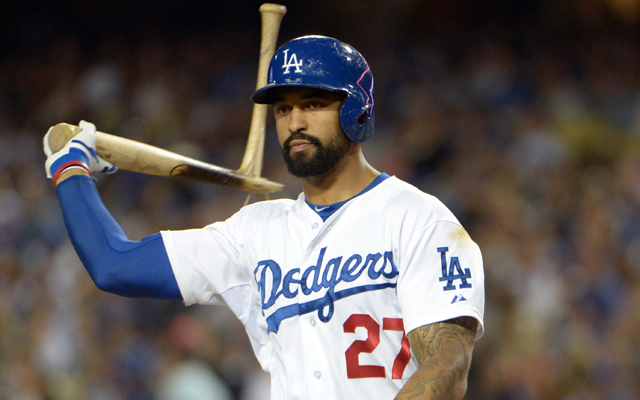 More MLB: Power Rankings | Expert Picks | Latest news & notes | Fantasy news
The Dodgers, after somehow fitting five players into three outfield spots for more than a year now, are trying to alleviate a numbers crunch that's become a problem for Matt Kemp (and could become one for manager Don Mattingly and the team, too), by finally seeking a new team for Kemp. The Dodgers are making calls, and rival executives have the feeling the Dodgers are ready to move on, if possible.  And Kemp, an LA guy as an Oklahoma product could ever hope to become, apparently is ready to go, too.
"Eight years is a long time to be in one place," Kemp's agent Dave Stewart, the former star pitcher, said by phone. "Sometimes change is good. This might be the time to change."
Stewart hinted at that a week ago, first expressing an openness for Kemp's to be dealt to another team, preferably one that would play him in center field, a proclamation that mostly surprised Dodgers folks for its timing; he had played 42 of the past 44 games at the time.
Well, the trade talks are on, and if anything, the rhetoric has been bumped up a bit.
It's clear things aren't going the way Kemp sees them. It's just as clear the Dodgers are starting to see it his way in terms of the possibility of a trade; they are no longer saying they won't deal Kemp (or any of the other four established outfielders), and they are mentioning his name to potentially interested teams, as baseball writer Danny Knobler first said on Twitter.
Five teams are said to have shown interest, or at least talked to the Dodgers, and you can be sure L.A. will keep in touch with those teams.
There's little question Stewart is right. It's probably time for Kemp to go.
Everything you hear out of LA suggests the five-for-three situation is finally starting to weigh on some of the principals, two whom make $20 million a year and one who makes close to that. Mattingly has done a superb job keeping all the egos happy for a year, with perhaps an assist from timely injuries here or there. Yet, it's becoming clear that Kemp plus Andre Ethier, Carl Crawford, Yasiel Puig and Scott Van Slyke (with top prospect Joc Pederson to come) is still a lot of talent for three spots.
Kemp is a gamer but he has an edge ("he can be tough" is the way a friend put it), and things are getting sticky. Stewart likened it to a marriage that has its rocky moments. This is quite apparently one of those moments.
Word going around the game is that things are deteriorating between Kemp, and the field staff. "I don't know if it's deteriorating ..." Stewart began in answer to a question. He put it this way instead, "It's been up and down his whole career. It's never been smooth. Some of it's the player, some of it's the situation. It's not the player, it's not management, it's both. It's never smooth."
Neither, presumably, will a sale of Kemp go smoothly at this point.
This isn't 2011, when Kemp should have been the NL MVP. Kemp isn't a star center fielder at the moment (though he clearly thinks can still be one), as he isn't either a star or a center fielder, at least not at this very moment. He is a disenchanted left fielder (or right fielder when Puig is out) with so-so offensive numbers and bad defensive metrics, metrics that leave him with an overall WAR of -1.5 despite league average offensive numbers (eight homers, 38 RBI, .268). That puts him third worst among active players, ahead of Domonic Brown and Michael Choice, two players who never put up MVP numbers.
The Dodgers don't want to look desperate here. But it's pretty clear they understand their outfield alignment has finally hit overload. Though the quartet of Puig/Crawford/Ethier/Kemp has been healthy and available for only 41 of 219 games together, the potential for problems is being made obvious now.
Word is, via FOXsports.com, which first suggested Kemp's openness for change, is that they've checked in with the Mariners, Rangers and Red Sox to gauge interest. Two other teams, one in the NL, is said to have shown interest. Yet, it may not be so easy. He has $117 million to go through 2019.
One rival executive asked about Kemp suggested he wouldn't touch what's left of that $160-million contract, which seemed very reasonable at the time despite being the largest ever in the NL when it was signed, and another executive said he's getting "mixed" reports about Kemp's play and recent persona. Both executives noted that they had heard Kemp and the field staff aren't seeing eye-to-eye.
The Dodgers do not seem anxious to discuss the sideshow. GM Ned Colletti declined comment altogether. Mattingly, very professionally, texted back, "Matt has been fine. He looks good in right field, and is competitive at the plate. I have no problems with him at all."
Of course, he hasn't been the best he can be (he's had 39 homer runs in the years since hitting that very number in 2011), and Stewart further points out Kemp has never "backpedaled away from the fact he hasn't played as well as he can." But Stewart asserts that that will change by next season, and whoever takes the chance will benefit. He said he just needs a little more healing time.
"One year from now," Stewart said, "he will be back."
There is that risk for the Dodgers, of course.
Kemp is still only 29 years old, and after two-plus years of pain and suffering, it's very possible he only needs a full winter to heal from all the ankle, knee, shoulder and hamstring trouble that surely triggered this regression, But at this point, the Dodgers need to take that chance. He is the disgruntled one in the five-man outfield, and he's the one willing to say so.
"He's busted his ass. He's run into walls. At some point, you do something good for the player," Stewart said.
What that was, he quickly made clear. "Whether you play him in center field, or you trade him, you do something," Stewart said.
Well, it's become pretty clear they aren't playing him in center field, whether it's the injuries that limited his speed and cutting ability, or whether it's about defensive metrics that put the former Gold Glove winner at the bottom of center field chart this year, or Mattingly's own eyes, he is a left fielder for the Dodgers. ("Statistics, what do really mean?" said Stewart, raising a fair question at least about the value of defensive numbers).
Kemp declared a week ago to the Dodgers writers, "I'm a center fielder." Which triggered this response from Mattingly, who said, "That's fine. He can view himself however he wants. I'm playing him in left."
Kemp hasn't responded to Mattingly's brief assessment that may have seemed to border on blunt. But Stewart said, "That's typical Mattingly. That's showing authority that need to be shown. That's different than Joe Torre or Tony La Russa. They knew they had the pen (to write the lineup card).  They didn't have to talk through the newspapers."
Mattingly, via text, responded, "I did not mean to sound harsh about left (field). All I meant was that we as an organization thought that was best for now." Mattingly said he also has no issue with Kemp's comments.
Some might even suggest Kemp is actually better off in left field, where there's less running, and potentially less wear and tear. But Stewart doesn't see it that way. "What took a toll on him was running into a wall and tearing up his (knee and shoulder). The wall hurts just as much in left field and right as it does in center," Stewart said.
Folks can say Stewart and Kemp are wrong about this, that Kemp is better off in left or right field, and that at least the 2014 team is better off with him there. They can say Mattingly is only doing what he and the organization thinks is right. They can say even that he wisely realized early Kemp and the team would be better off if he's in left field until he's 100 percent back, and that Kemp is still playing a vast majority of the time. They can further point out: If anyone should question or complain, maybe it's Crawford, who makes the same $20 million and isn't playing most times.
They can say what they want about all of that, but Stewart is right about at least one main thing. Maybe it's time for Kemp to go.
Eight years is plenty. It's the right time for divorce. The Dodgers have too many starting caliber players, and too many highly-paid ones to make it work long-term. Too much has happened in LA, and Kemp needs to go somewhere else now.
CBS Sports HQ Daily Newsletter
Get the best highlights and stories - yeah, just the good stuff handpicked by our team to start your day.
Please check the opt-in box to acknowledge that you would like to subscribe.
Thanks for signing up!
Keep an eye on your inbox for the latest sports news.
Sorry!
There was an error processing your subscription.
Plus the Rockies are trying to stay hot and everything you need to know about Saturday's MLB...

SportsLine's Mike McClure, a DFS pro with nearly $2M in winnings, gives optimal lineup adv...

Because enough things aren't going wrong for the O's this season
Keep up with all the latest trade rumors around Major League Baseball

Stephen Oh has a three-way parlay that could pay off huge on Saturday

Health problems continue to be subplot in Cespedes' otherwise excellent career