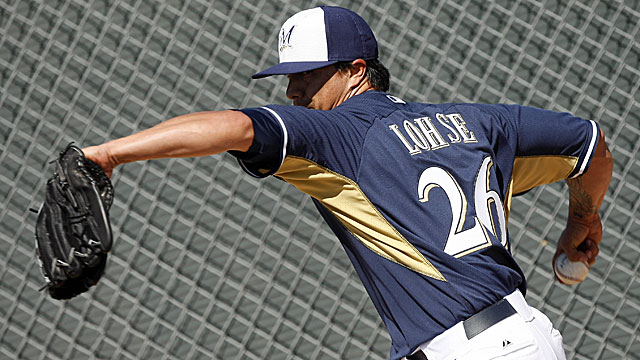 MORE: Spring Training | Scoreboard | FA tracker: position players | Pitchers
MARYVALE, Ariz. -- Before there was Ervin Santana, there was Kyle Lohse.
Their situations were similar indeed, very good pitchers and free agents coming off very good to exceptional seasons. Both in their early 30s, both right-handers who'd waited a long time for free agency, both expecting something very different. Neither found a job very quickly.
Coincidentally, both pitchers spent their springs working out in Scottsdale, in the east valley here. Lohse started at Grand Canyon College, then moved to Scottsdale Community College, before finally signing, on March 25, with the Brewers last spring. Santana isn't far away, working out in Scottsdale, waiting and wondering where he will wind up.
Both pitchers were saddled with qualifying offers they rebuffed, and the promise of a lost draft choice for whichever team signs them. In both cases, it changed their free agency dramatically.
"It wasn't fun," Lohse recalled the other day before a spring start. "It wasn't what you'd hope would happen off the year I had, and the last couple years I had."
Lohse sympathizes.
"As you can see, it wasn't just a fluke," he said. "It affected the last five guys (including Ubaldo Jimenez, Nelson Cruz, Stephen Drew and Kendrys Morales) pretty harshly, and three guys are still out there. You think you have the opportunity to go where you want when you're a free agent. But in reality you don't."
Lohse waited deep into spring training to sign after going 16-3 for the Cardinals with a 2.86 ERA, winning Cy Young votes (he finished seventh) while having a career year in his walk year. Santana, similarly, had a very nice walk season, going 9-10 with a 3.24 for the Royals.
There were small knocks on both players, but nothing serious, nothing to think they'd have trouble in free agency. But in an environment where the draft picks are coveted, and the draft money is even more coveted, small knocks can become big ones.
In Lohse's case, he was 33, not a hard thrower, and his best years had come with the Cardinals, who seem to be able to squeeze the best out of players. In Santana's case, he gave up a league-leading homer total two years ago (before he rectified the issue with a repertoire change).
Nobody thought Lohse should take the $13.1 million qualifying offer in the initial year of the system that's become a real drag to some of the better free agents going. And as it turned out, he did sign for $33 million over three years, a nice sum considering the lack of interest or movement, but only got the deal because Brewers owner Mark Attanasio overruled GM Doug Melvin. The Rockies were the runners-up, offering about $20 million over two years guaranteed, plus vesting options for a third and fourth years.
Santana is drawing varying degrees of interest from about five teams, believed to include the Orioles, Mariners, Rockies, Rangers and Blue Jays, but seems frustrated enough by the process to consider an agent switch, as first reported by FOXsports.com's Ken Rosenthal. He's been seeking a payday like the other top pitchers on the market this winter -- Jimenez, Matt Garza and Ricky Nolasco, who all got about $50 million for four years (though Garza and Nolasco had the advantage of not having the draft choice attached to them by virtue of midseason trades that precluded the possibility of being extended a qualifying offer). And while execs will concede Santana is a comparable pitcher, the qualifying offer is badly limiting his market
"The market goes from 30 teams to like two or three," Lohse recalled of his own experience. "I don't think that's the idea of a free market."
It is, as Lohse called it, a "screwy" system whereby being part of a bad team (which triggered their midyear trades and precluded the possibility of qualifying offers), as Garza and Nolasco were, monumental benefits to the player. Meanwhile, being part of a good team like Santana was with the Royals and shortstop Drew certainly was with the world champion Red Sox, is a detriment. Had Nolasco been saddled with a qualifying offer, there's no reason to think he'd have received anywhere near $49 million he got from the Twins.
"It seems screwy to change the system that drastically to where teams are staying away from guys who could definitely help them," Lohse said.
Lohse doesn't blame the agents or the players but wonders about the bigger deal, the CBA itself. He said he doesn't believe MLB knew the rule would be quite as "penalizing" as it turned out to be.
"You give up stuff, that's the reality of it. But there were some oversights in the last deal, and this is one of them," Lohse said.
Of course, he wound up making the right call by turning down the $13.1-million qualifying offer. But he doesn't blame the others who rejected this year's $14-million qualifying offer, either.
"People are going to say, well, 13 million. But that's a one-year deal. In my case I waited 11, 12 years," Lohse pointed out. "Why am I backed into a spot to take a one-year deal?
"Some may look at as it's a terrible human being to turn down 13 million," Lohse continued. "I don't want to seem insensitive; it is a lot of money, more than a lot of people will see in a lifetime."
Lohse understands how fortunate he is to be a baseball player, and a good one at that. But there should be a fairness to it.
As things stand now with this current rule, there is an unacceptable randomness about it. The union has vowed to address it after the CBA is up in 2016, though presumably there may be another giveback to offset the happy excising of a bad rule.
Nolasco, who got $49 million, isn't as good a pitcher as Santana is.
Yet he is in camp with a big contract while Santana, unfairly, waits.
That isn't right.