Prospect spotlight: Astros 2B Delino DeShields Jr.
Former Astros' first-round pick Delino DeShields Jr. already has 58 stolen bases this season and is shooting for 100.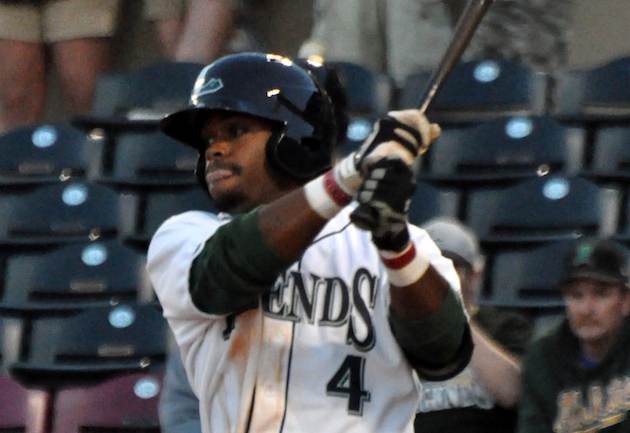 LEXINGTON, Ky. -- On Baseball-Reference.com, Delino DeShields' first full season in professional baseball looks downright dreadful. The Astros' first-round pick in 2010 spent all of 2011 at low Class-A Lexington and hit just .220/.305/.322 with 118 strikeouts in 119 games. By all measures, that's not what you'd like to see from a guy who was taken eighth overall, five spots ahead of Chris Sale, and given a $2.15 million signing bonus.

But that's not how DeShields sees it. Not at all.

"Last year it wasn't about how well I hit or how many bags did I steal, it was about me improving as a second baseman," DeShields said earlier this week. "This year, the plan was to put it all together and see what we have and take that and move on.

"For me, [2010] was a [success]. It might not look like it to other people, for me and our organization, it was a success."

The speedy DeShields was moved from the outfield to second, with his first exposure to second base coming in spring training of 2011. He went from spring to full-season Lexington and learned a new position as one of the youngest players in the league.

"After games, I'm mentally exhausted, just because there's so many things you do, you have to think about, know where to go," DeShields said. "Last year was hard, because I didn't know what I was supposed to do. Now it's like second nature. Sometimes I don't even know I'm do things I should be doing, because it's a second nature."

This season he's repeating the low-Class A level, but despite being in his second year at Lexington, he's still the team's second-youngest player at 19. While his relative youth compared to the rest of his teammates hasn't changed from last season to this season, everything else seemingly has. Through 79 games, he's hitting .276/.384/.401 with six home runs and ranking third in the South Atlantic League with 64 runs scored and a league-leading 58 stolen bases.

Speed has always been DeShields' calling card, as it would be expected of the son Delino DeShields, who had 463 career stolen bases. This season his 58 stolen bases has already set a Lexington team record, and his 88 swipes for the Legends is the team's career record. On Tuesday, he was honored before the game with the base for his 57th stolen base, which set the new record. He then walked and stole second in the first inning to increase his season total. You can see his 58th stolen base of the season here:



Most seasons, DeShields' 58 stolen bases would be the best in the minor leagues, but he just happens to be in the minors at the same time as Cincinnati's Billy Hamilton, who stole his 100th base of the season on July 2 and has 101 going into Thursday's games for high-Class A Bakersfield.

"I think what I've done is pretty good, but, 100 bags?" DeShields laughs when asked about Hamilton, who was managed by his father last year at low-Class A Dayton when he became the first minor-leaguer in a decade to reach the century mark in stolen bases.

While DeShields is pretty sure he can't catch Hamilton (who can, in any sense of the word?), he's still eyeing 100 for the season.

"It's really cool. Even if he has 150 bags, it'd be cool if there would be two guys with 100 bags, that'd be special," DeShields said.

He can do it, too -- if he continues on his current pace, he'd finish with 99 steals. He's been caught 10 times, but his .384 on-base percentage and increased walk rate means he has a chance to get on base enough for 100 stolen bases. He needs just one more walk to match his walk total of all of last season.

"If he can get on base, he can get to that point," said Legends manager Ivan De Jesus, who had 194 stolen bases of his own in his 15-year career. "He can get to that point with walks, knowing the strike zone better. I think he needs to get better contact, but I think he'll get there. he's got a quick bat, he can wait for the ball longer. We can expect a lot for him because it's only his second year. We have to be patient with him because he's playing another position and it's going to take time to get to that point."

And that's fine with DeShields, having already seen results from last year to this, he's willing to work and wait his time, even if it's not as fast as others expect him to move up the minor-league ladder.

"Anyone taken in the first round is going to have pressure because you're a team's first pick," DeShields said. "I'm always going to have pressure on me, because of my dad too. I was the Astros' first pick in 2010 and my dad was in the big leagues for 13 years, so people expect me to be there at least 14.

"I've always had pressure, always. I think I've handled it well. I've had people say that I'm not good enough, all that stuff. That's just people talking and that doesn't have anything to do with me. You can say what you want to say, but I know what I can do. And it doesn't matter what anyone else thinks."

Prospect talk

• In 11 games since coming back from a 50-game suspension for testing positive for a drug of abuse, former top overall pick Tim Beckham is hitting .326/.404/.500 with two home runs for Triple-A Durham. Beckham, 22, was hitting .204/.290/.278 in 13 games before his suspension.

• With the start of the short-season leagues, we can finally see some numbers from one of 2011's most talked-about draftees, Kansas City's Bubba Starling. The fifth overall pick last season, Starling is an incredibly talented outfielder, but very raw. However, he's been pretty good in his first six pro grams, hitting .360/.484/.680 in 25 at-bats for short-season Burlington, including two home runs and nine RBI. While he has seven strikeouts, he does have five walks.Starling hit two homers on Monday.

• After a slow start, Giants outfielder Gary Brown is on fire, with hits in 18 of his last 20 games. Over that stretch he's hitting .388/.447/.518 with a home run and seven stolen bases. That's helped his overall line improve to .273/.346/.368. He has three home runs and 22 stolen bases on the season, but has been caught 13 times (three in the last 20 games).

• Baseball America came out with its Midseason Top 50 prospects list, with Orioles right-hander Dylan Bundy atop the list. He was followed by Rangers shortstop Jurickson Profar, Royals outfielder Wil Myers, Mariners right-hander Taijuan Walker and Mariners lefty Danny Hultzen rounding out the top five. Two players highlighted on the CBSSports.com Prospect Spotlight made the top 50, Cincinnati's Hamilton (27) and Cardinals second baseman Kolten Wong (44).
For more baseball news, rumors and analysis, follow @EyeOnBaseball on Twitter, subscribe to the RSS feed and "like" us on Facebook.
Maxwell joins a growing movement across sports

The Yankees punched their ticket to the playoffs with a win over the Blue Jays on Saturday

Sabathia's stance seems to be an increasingly popular one among athletes
Plus the A's and Brewers have hope, Giancarlo goes deep again, and much more

Matt Chapman and Matt Olson give the A's hope

Despite an awful month, the Dodgers are again NL West champions