Court Vision: Heat, Spurs keep rolling along, 5/8
What we learned from Thursday night's games between the Heat and Nets, and the Spurs and Blazers.
by

Eye on Basketball staff

• 5 min read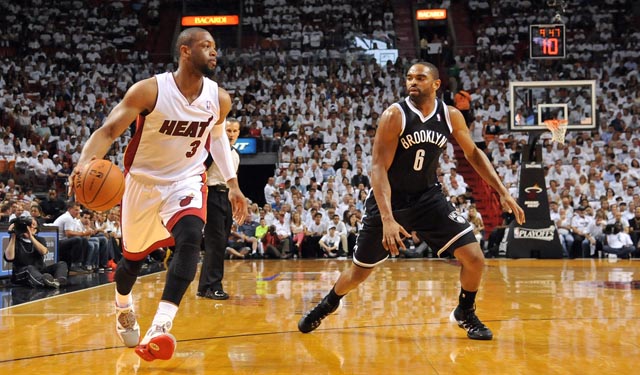 More postseason coverage: Playoff schedule, results | Latest news, notes
Here's what we learned in the NBA Playoffs on Thursday, May 8, 2014 as the Miami Heat took on the Brooklyn Nets in Game 2 and the San Antonio Spurs and Portland Trail Blazers square off again.
The Heat and the Spurs look like the two best teams in the playoffs again. Things can obviously change in the next few weeks, but the more we see them play, the more likely it looks that they're on a collision course for an NBA Finals rematch. 
San Antonio dominated Portland just like it did in Game 1. Miami started slowly and took a while to put Brooklyn away, but down the stretch it never seemed like the Nets really had a shot. Both Brooklyn and the Blazers are going home, and the resulting energy boosts won't be enough to carry them. They'll have to get contributions from players who weren't able to get it done on the road. They'll have to make some adjustments. 
Miami Heat 94, Brooklyn Nets 82: Heat lead series 2-0
• It's not that the Miami Heat don't have to try in these games because the Brooklyn Nets are certainly a team that can challenge them. It just seems like the Heat aren't putting forth maximum effort because they don't really need to. We've seen them play with much more effort and focus before, and that isn't being replicated against the Nets. This is how good the Heat are that they can mess around a bit in the second round of the playoffs. LeBron James, Dwyane Wade, and Chris Bosh did enough to win and they got a 12-point victory. They're not killing themselves at home in this series, but may have to increase the performance once they're in Brooklyn.
• Mirza Teletovic was a pest for the Nets and really gave the Heat problems. He was 6-of-9 from 3-point range in this game and didn't need much space to get his shots off cleanly. He has such a quick release that is compact and effortless. His 20 points led the Nets for the game-high and he even managed to get under LeBron's skin at some point. I'm not sure you want to give James extra motivation, but Teletovic is certainly a guy giving the Heat a couple problems right now.
• How much better was Ray Allen than just about any Nets' player tonight? And think about what that means for Brooklyn in 2014? Allen led the team in rebounds with eight on the night and his 13 points off the bench were big. He hit three 3-pointers, including a big one in the fourth quarter that pushed the lead to eight with five minutes left.
• Kevin Garnett went scoreless in Game 1. Deron Williams went scoreless in Game 2. He was 0-of-9 in the game, didn't get to the free throw line once, and missed four shots in the restricted area. Which starter goes scoreless in Game 3?
• Despite Teletovic's success from downtown, the rest of the team shot horribly from outside. They were 2-of-15 from beyond the arc with the two makes coming from Paul Pierce. You're not beating the Heat if they find a way to shut you down from outside. You know... other than Teletovic going off. 
• Dwyane Wade was bad for a few stretches in this game, but overall he had a pretty solid game. His 14 points, seven rebounds, and seven assists were pretty big in this game, and he complemented LeBron James (22 points) and Chris Bosh (18 points) pretty nicely. 
• The Heat's point guard duo of Mario Chalmers and Norris Cole have doubled the points production of Deron Williams in the first two games. They're up 34-17. 
San Antonio Spurs 114, Portland Trail Blazers 97: Spurs lead series 2-0
• We learned that the San Antonio Spurs are better than they were when the Dallas Mavericks took them to seven games in the first round. In the deciding game of that series, San Antonio blew out the Mavericks, and it hasn't looked back. The Spurs are shooting 52 percent in the series, and after dealing with Dallas, the Portland Trail Blazers defense doesn't scare them at all.
• The Blazers should be confident despite all of this. They gave up a whopping 41 points in the second quarter, LaMarcus Aldridge shot 6-for-23 — asked how his team slowed him down in an end-of-third quarter sideline interview, Gregg Popovich said, "I have no clue"  — and they weren't completely annihilated. In fact, Portland was down single digits with four minutes remaining. The Blazers have shown they San Antonio for significant stretches; now they need to figure out how to sustain it. Easier said than done, but still.
• Even when Portland was knocking down the door near the end of the game, it never felt like the Spurs were in much trouble. The Blazers could never get the stops they needed, and in the final few minutes it escalated from trading baskets to San Antonio building another big lead.
• Tony Parker shot just 8-for-19 for 16 points after consecutive 30-point games, but he still controlled the game. Parker put pressure on Portland all night, finishing with 10 assists. This year the Spurs are 10-1, including the regular season and playoffs, when Parker manages nine or more assists.
• Bench points might decide this series. The Spurs' reserves struggled in the first few games of the postseason, but have kicked it back into gear lately. In Game 1, they got 39 points on 15-for-21 shooting from Marco Belinelli, Patty Mills and Aron Baynes. In Game 2, they got 41 points from Belinelli, Manu Ginobili and Boris Diaw. Will Barton, who scored 13 points and made all five of his shots, has been the only bench contributor for Portland. Mo Williams managed only nine minutes because of a groin injury, and the Blazers have to hope that won't hamper him too much going forward.
• Kawhi Leonard had 20 points on 8-for-9 shooting, plus five assists, two steals and two blocks. He made all four of his three-pointers. "When Kawhi plays well, we usually win," Tony Parker said after the game. 
• Nicolas Batum had a game-high 21 points on 9-for-13 shooting, and added nine boards. The marquee matchups are at the point guard and power forward positions, but the small forward one is a hell of a battle.
• San Antonio had 19 assists in the first half, Portland had 15 assists in the game.
The Trail Blazers almost traded for Charles Barkley, but when they didn't, it put them in debt...

The self-proclaimed ASG snub Williams may be bitter about Butler requesting to sit out Sun...

The commish said they were overly conservative with the decision this year, but that should...
A dive into the NBA history books for every result from every NBA All-Star Game

James set the tone during practice that this year's All-Star Game was going to be differen...

The 76ers center handled 'mismatches' like they were nothing