Cousins says he's 50-50 to play Wednesday, Rose sits out practice
DeMarcus Cousins practiced in full on Tuesday, but Derrick Rose did not for the second day in a row.
• 1 min read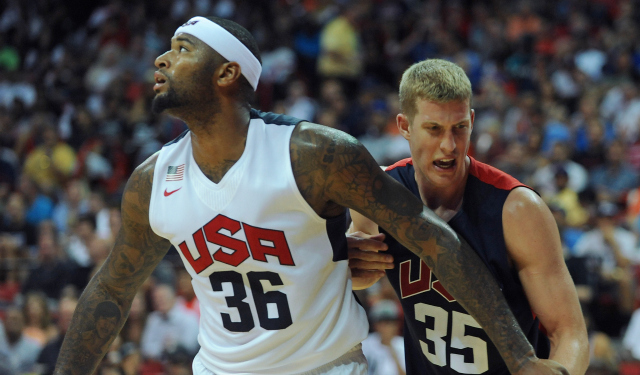 Offseason: Free Agency | Latest from Ken Berger | Rumors
After practicing in full of Tuesday, Sacramento Kings big man DeMarcus Cousins said he was 50-50 to play in Team USA's game against the Dominican Republic on Wednesday at Madison Square Garden. 
DeMarcus Cousins says he is 50-50 to play for Team USA tomorrow vs. Dominican Republic. Coach K said probability is higher.

— Chris Sheridan (@sheridanhoops) August 19, 2014
DeMarcus Cousins participated in all of USA practice, which included limited scrimmaging, today.

— John Schuhmann (@johnschuhmann) August 19, 2014
A previous report indicated that Cousins expected to play, as there was no structural damage after banging his knee against a teammate's in practice last week.
The game in New York could be important for Cousins' chances of making the team that will travel to Spain for the FIBA World Cup at the end of the month. He's competing with the Brooklyn Nets' Mason Plumlee and the Detroit Pistons' Andre Drummond to back up the New Orleans Pelicans' Anthony Davis at center. USA Basketball chairman Jerry Colangelo told ESPN's Marc Stein that the 16-man roster could be trimmed to 12 or 13 as soon as Thursday.
Meanwhile, it looks like Chicago Bulls guard Derrick Rose is going to get some more time off after sitting out Team USA's practice at West Point on Monday. It's likely no big deal, though:
Derrick Rose did not participate in the full practice today. It's likely that he will not start vs. DOM tomorrow.

— John Schuhmann (@johnschuhmann) August 19, 2014
Derrick Rose did not practice today in Jersey. Not expected to start tomorrow. Colangelo did not seem concerned, however. #USA

— Mike Mazzeo (@MazzESPN) August 19, 2014
Rose is working his way back from a torn meniscus, so it makes sense to give him a bit of rest here and there, especially with the grueling schedule coming up in Spain. He's considered a lock for the World Cup, and if he doesn't start -- or doesn't play at all -- against the Dominican Republic, it'd give some of the other guards a chance to make a case for themselves.
Rose: "I'm really happy where I'm at right now... I'm just trying to take my time & get rest, because we have a long schedule ahead of us."

— John Schuhmann (@johnschuhmann) August 19, 2014
The investigation detailed a corrosive workplace environment

Also, when -- or rather, will -- the Warriors flip the switch?

The versatile forward has one glaring weakness, but Toronto can see it turning into a stre...
The investigation detailed a hostile workplace environment

Cousins suffered a torn Achilles tendon on Jan. 26, and will miss the rest of the season

Ingram has become one of the team's go-to players with Lonzo Ball sidelined with an injury