Monday marks the five-year anniversary of the the blockbuster trade that sent Carmelo Anthony to New York after months of speculation. In the 2011 deal, the Denver Nuggets traded Anthony to the Knicks along with Chauncey Billups in exchange for Wilson Chandler, Raymond Felton, Danilo Gallinari, Timofey Mozgov, a 2014 first-round pick and the swap rights in 2016. (Denver also landed Kosta Koufos in the deal from the Minnesota Timberwolves.)
The deal was a blockbuster that had been telegraphed for roughly seven months, after extension talks between Anthony and the Nuggets broke down the previous spring. Anthony wanted to return to the city of his birth and become the face of a big-market team. It was the kind of move that was expected of a New York franchise: Lure the big star from a smaller city with bright lights, and spend, spend, spend to build a title contender around him. 
It's been five years, and it remains one of the most fascinating trades in NBA history, not only for how it occurred and what it meant at the time, but how it's worked out since. Much has been made of comparing the fates of the Nuggets and Knicks since, but in reality, the Nuggets "won" the trade, and then lost subsequent decisions. Whether the Knicks "won" that trade itself is complicated. 
During Anthony's time in New York, the Knicks have gone 159-157 in the regular season (and will likely finish under .500 by the end of this season), and a woeful 7-14 in the playoffs. New York suffered a sweep in a first-round loss to the Celtics in 2011, then had the horrible first-round loss to the Heat in five games that saw Amar'e Stoudemire "slap a fire extinguisher" which resulted in a broken hand. 
The pinnacle was 2012-13, a 54-game season featuring a barrage of 3-point shooting and an MVP-caliber effort from Anthony (he even got one misguided vote). It finally looked like things had turned for the Knicks. Instead, the Pacers punked them in the second round, winning in a six-game series that never felt like it was really within the Knicks' grasp. The whole thing collapsed after that, with a 37-45 record in the 2013-14 season that would bring in the arrival of Phil Jackson. This led to last season's 17-win campaign that was depressing, but did usher in the Kristaps Porzingis era. 
Three playoff appearances, a second-round appearance and one season in which they beat the Garnett-Pierce Celtics (even if it went six games after an embarrassing J.R. Smith suspension and the "wearing black for a funeral" debacle). Somehow, that still feels disappointing. Instead, the Melo Era in New York has largely just been ... strange. 
Anthony's first few years were troublesome. His refusal to adapt led to the departure of Mike D'Antoni. A shame too, as the D'Antoni-led Knicks had actually been a fun and competitive team prior to Anthony's arrival, and his system was well-configured to make the most of Anthony's talents had he bought in. Tyson Chandler was brought in to form a "Big 3" with Stoudemire and Melo, but despite leading the league in field-goal percentage, Chandler's departure was met with a lot of conflicted feelings in comments from Knicks management. 
Even during the 2013 season, as great as his play was, much of it was the true definition of "Melo ball." It was elbow isolation after elbow isolation, jab-step, jab-step jumper after jab-step, jab-step jumper. The Knicks led the league in isolation plays by an insane amount that year, something I was always concerned would be exposed in the playoffs by a quality defense ... like the one Indiana sported in taking out New York in the second round.
So that's it. Melo's a selfish egomaniac that only cares about himself, refused to adapt his play and scuttled the chance for something special in New York, right? Not hardly. 
First, much of how Melo has played is about comfort. You can't be someone you're not. You can't ask a scoring point guard to be a pure point. You can't ask a pick and roll big man to play more in the post. (Unless he's Dwight Howard and thinks he's a post player when he's really a pick and roll big.) Anthony's comfort zone is in isolation at the elbow where he can square up and knock down jumpers over smaller players using his size, or drive past larger defenders with his speed. As a star player, all of the criticism for a team's failings go on him. So he has to make sure he's doing what he feels is the best thing for the team to succeed, through him. 
This is misguided. Anthony is a phenomenal spot-up and pick-and-pop player who is downright devastating in the post and you don't need any advanced metrics to prove that, but if you did there are about a million of them. But it doesn't change the why of how Anthony has played the way he has.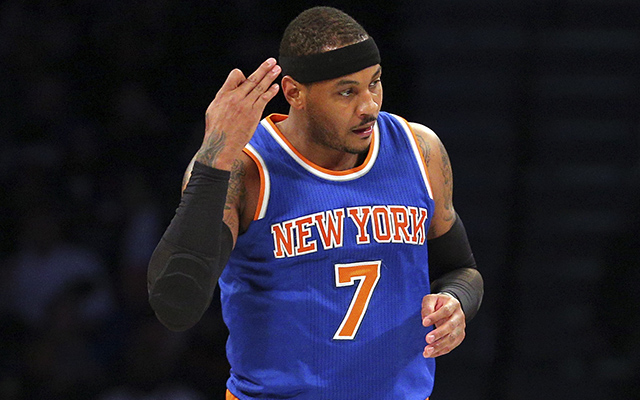 Second, a funny thing happened after that 2013 season, where oddly, they had the most success with the worst formula. Anthony has played tremendously.  He's attacked the rim more, driven to force contested shots to draw defenders out of position and then grab his own miss for a putback in true savvy fashion. He's more active on the glass (11.6 rebounds per 100 possessions compared to 9.6 in 2013). He's averaging career highs in rebounds and assists per 100 possessions this year with the Knicks. 
We've gotten the best Melo there is ... when the Knicks have been their worst. That is at once cruel and oddly endearing. Anthony has made it a point to look to involve teammates -- especially rookie Kristaps Porzingis this season -- more than ever. He's become the guy you always thought he could be, but the team just isn't good enough around him, because of what they had to surrender to get him in the first place. 
The most impressive decisions in all this, however, was 1) re-signing with the Knicks in 2014 after their disaster of a season that year, and 2) not waiving his no-trade clause to facilitate or urge a deal during this year's trade deadline.
Anthony chose to re-sign with the Knicks instead of chasing greener pastures in free agency. At the time, it looked like a money grab, as he signed for the five-year max. However, if that were the case, why didn't he bail over the summer when the team went young, after he'd signed that max contract? Why didn't he waive his no-trade clause at the deadline and ask the Knicks to trade him? They surely would have accommodated him to obtain the kind of picks and assets that he would bring in on the open market. 
He seems to genuinely want to finish what he started in New York, even if that means he never wins a title. He's bought into the city, the culture and the franchise, which says a lot considering they're run like a 12-year-old playing a video game and making moves based on "why not" half the time. 
It's hard to see a happy ending for Anthony in New York at this point. The team would have to drastically change its ability to sell free agents in order to contend. Porzingis and Melo are two guys players will want to play with, but you need more of that. The clock is ticking on Melo's prime; he turns 32 in three months. Anthony may never win a title in New York, but his time has been memorable, and he's committed himself to give New York the best Melo he can. 
After years where it seemed like Anthony was asking for much all the time, he's giving New York all he has. Watching how this era end for New York will be fascinating no matter what. 
***
So what about that other team in the Melo deal? 
The easy answer for fans that get competitive over the team they trade with in a major deal (which is insanely stupid by the way), is that thing actually worked out really well. It's easy to look at the Nuggets' last three seasons of sub-.500 misery and call Denver a failure as well. But some context is necessary. 
1. The Nuggets never wanted to trade Melo. They would have kept building around him and building around him and he would have had a much better chance of making deep playoff runs consistently had he stayed in Denver, even in a brutal Western Conference. You can look and see what Masai Ujiri has done in Toronto after leaving a great run in Denver as proof. 
2. Look at the players the Nuggets acquired for Anthony: 
• Wilson Chandler is a valuable part of the Nuggets, but happens to be out with a hip injury this year. Had he been healthy, you can realistically pencil in roughly 2-3 more wins for Denver and a significant bump in its point differential. He's been good for them.
• Danilo Gallinari is the Nuggets' best player and just signed a contract extension over the summer. The worst he may wind up being is a trade asset that they'll likely get quality return for.
• They traded for Raymond Felton, who after years of being a punchline is having a great season in Dallas, and Denver added Andre Miller when they dealt Felton later. Miller would go on to be a beloved Nugget and a key part of their 57-win 2013 season. He'd likely still be in Denver if a. George Karl wasn't fired and b. Brian Shaw hadn't been hired.
• The Nuggets received Koufos and Mozgov, who were huge contributors for that 57-win team. They then traded Koufos for Darrell Arthur, the team's best defensive player, and Mozgov for a first-round pick. 
3. The Knicks' pick in 2014 was traded to Orlando (and later Philly) in the Dwight Howard trade, a move that netted the Nuggets Andre Iguodala. That one didn't turn out well. Had the Nuggets not drawn the Warriors and instead faced Houston or another opponent that spring, much of their franchise history (and that of the Warriors' I might add) is likely different. But they did, and they lost, and Iguodala left in free agency to go on to become a Finals MVP. 
There's a very slim chance that the Knicks' 2016 pick lands in the top three, which enables the Nuggets to swap (and in that instance their pick goes to Toronto). That would be frustrating for the Knicks, and that small chance is another benefit to the trade for Denver. 
In short, Denver received a tremendous haul for Anthony, which is still stunning considering everyone knew he was going to sign in New York the following summer, regardless. The Nuggets had no leverage, and the Knicks still gave up too much, to the point where it's unlikely but plausible that they could send Ben Simmons or Brandon Ingram, five years after the Nuggets traded Melo to New York. 
Just because those moves haven't led to titles, or even a second-round appearance for Denver, doesn't mean that the deal itself was bad at the time, or hasn't worked out. It's near everything else that hasn't worked out for the Nuggets since the Melo trade, not the Melo trade.