Kobe Bryant trashes former Lakers teammates
Kobe Bryant wasn't mincing words when it came to talking about former teammate Smush Parker.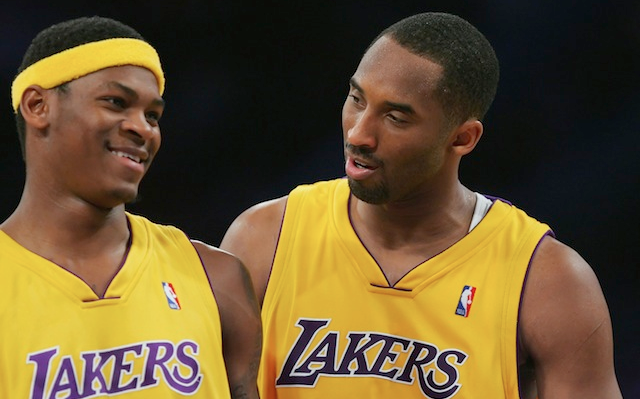 Kobe says Smush was "the worst."
(Getty Images
Kobe Bryant wasn't mincing his words when it came to talking about former teammate Smush Parker.
"[He was] the worst," Bryant told the O.C. Register. "He shouldn't have been in the NBA but we were too cheap to pay for a point guard. So we let him walk on."
That 2005-06 season was certainly one of the most trying of Bryant's career. The Lakers went 45-37, finishing seventh in the West and losing in the opening round of the playoffs in seven games to the Suns.
Bryant averaged a career-high 27.2 shots per game, averaged a career-high 35.4 points per game and played a career-high 41.0 minutes per game. He doesn't think fondly about those days.
"I almost won an MVP with Smush Parker and Kwame Brown on my team," Bryant said. "I was shooting 45 times a game. What was I supposed to do? Pass it to Chris Mihm or Kwame Brown."
Other players on the Lakers roster: Devean George, Brian Cook and Stanislav Medvedenko. 
So what is Parker up to these days? He spent five seasons in the NBA (two with the Lakers) and was last seen with the Heat in 2007-08. Parker then played a little in the D-League, then in China, then went to Greece and most recently in the Iranian Basketball Super League and now is back in China.
Chris Mihm last played professional basketball in 2009 with the Grizzlies. Kwame Brown is still in the NBA, signing a new two-year deal this summer with the 76ers.
Bryant now has Dwight Howard, Steve Nash and Pau Gasol as teammates.
Keep it right here for all of the news, notes, scores, and highlights from around the Asso...

LeBron has a player option for next season, and is expected to opt out and become a free a...

The Pistons will be looking to snap a five-game losing streak when they host the Celtics on...
Bryant offers some advice for Ball and other rookies about having a sense of urgency in the...

Burks has stepped up in a big way for the Jazz, averaging over 20 points per game since Rodney...

Nooooooo James Harden don't do Noah Vonleh like that