Report: Boris Diaw agrees to terms on return to Spurs
Spurs reach agreement to re-sign Boris Diaw.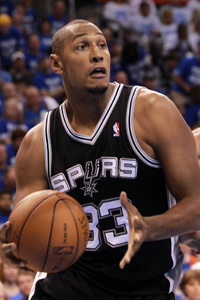 Boris Diaw will return to the Spurs next season.
(Getty Images)
Boris Diaw helped the Spurs last year. 
If I had told you back in December that I would write that senence in July, you'd chuckle at me and shake your head with pity. Diaw wasn't irrelevant before last season, but that was only because of his weight and the massive contract he was on. The Bobcats bought him out, and two days later he was on his way to San Antonio. 
And he helped. 
And he will continue to help. Yahoo Sports reports that the Spurs have reached an agreement with Diaw on a two-year, $9 million deal to bring back the point-power-forward/center for another year with a player option for the second year. It brings back Diaw at a reasonable price and keeps the continuity of last year's No. 1 seed in the West intact. 
Diaw's defense was shockingly the biggest asset he brought to the team, as he was able to bring the experience Tiago Splitter lacked and the raw strength DeJuan Blair and Matt Bonner lacked. He was especially helpful against the Clippers, containing the explosive Blake Griffin in the post. He was rendered inconsequential in the up-and-down series against the Thunder, but in general, he was a solid contributor. 
So the Spurs brought him back at a decent-if-not-great price, and will make another run with the core that won so many games last year and impressed the basketball intelligentsia with their ball movemet and versatility (while they ignored San Antonio's defense). Not a bad move for old S.A.. 
LeBron achieved the milestone in the first quarter Tuesday

Here are the full lineups for the 2018 NBA All-Star Game

We've got all the scores, highlights and news from an NBA Tuesday
Players reportedly challenged Love for leaving Cleveland's game against OKC early

The Cavaliers are reportedly very close to acquiring the 10-year veteran point guard

Kobe Bryant is now an Oscar nominee. Here's how you can watch his short