Series in review: Warriors shock the world, beat Denver in 6
Recapping the opening round series for the Nuggets and Warriors, naming MVP, X-Factor and looking ahead for both teams.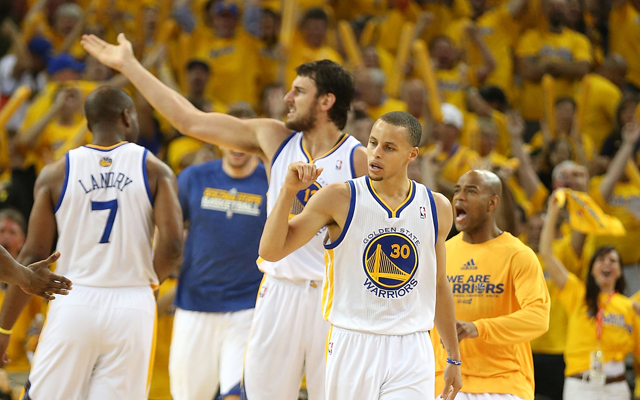 The Golden State Warriors seem to do this now. If they make it to the playoffs, they find a way to shock their first round opponent while turning into the media darlings around the league. Back in 2007, they upset a 67-win Mavericks team with high-flying action from Baron Davis and a tough brand of basketball that took Dallas out of their game. We saw similar things against a 57-win Denver Nuggets team this year.
The Nuggets are a team that likes to get out and run. They like to score their points in the paint and dominate that aspect of the game. They didn't get to do this a lot because the Warriors took advantage of defensive miscues by knocking down shots. If you're knocking down shots, it's pretty hard to get the ball into transition. And the Warriors couldn't seem to miss.
For a Warriors team that was pretty middle of the road defensively, they did a great job of shutting down lanes and turning away shots at the basket. They controlled the pace of nearly every game in this series and even grinded out a few close games. In the end, it was one more big run from Stephen Curry that got the team going and helped them outlast an injured and incredible Nuggets squad. 
Series MVP
Stephen Curry wasn't an All-Star during the season but he became a star during this series. For all the ballyhooing over Curry's shooting, his playmaking in this series was just as impressive. He averaged 24.3 points and 9.3 assists in the six games against Denver.
He used the threat of his jumper to bring out the defense, then he'd dip into the middle of the floor and dissect whatever resistance was left to stop him. If the shot was there, he'd take it. If he could dump it down to Andrew Bogut or Carl Landry or Harrison Barnes, he'd gleefully make the pass.
People will call Curry just a scorer because he is so incredible at shooting the ball, but really he's just a deadly point guard from every angle. He can score and he can pass with the best of them, especially when the brightest lights are illuminating what he's doing.
X-Factor
Andrew Bogut is back to being a really awesome difference-maker. Bogut was the number one pick and most underappreciated defensive big man in the league for a long time. He was a great defender in an era in which Dwight Howard was dominating the defensive game. And after a few injury-riddled years, we got to see flashes of how great Bogut used to be. He averaged 8.2 points, 10.3 rebounds, 2.3 blocks, and made 63.2 percent of his shots. It's great to have the Big Aussie back. 
The series was over when ...
When Wilson Chandler missed two shots around the rim with 11 seconds left in the series. I hope people realize how close of a series this was. Yes, the Warriors shot incredibly well for Game 2, Game 3, and Game 4. But the Nuggets managed to play really good defense in the other three games. It wasn't until Wilson Chandler failed to drop in a game-tying bucket in the final seconds of Game 6 that the Warriors were able to close it out. Before then, the series was still in doubt and a Game 7 in Denver was looming.
Key moments
The Stephen Curry third quarter explosion in Game 4. I could try to describe it for you, but the words would never do it justice. He took a game that was still very much winnable for the Denver Nuggets and he turned it into his own personal highlight reel. 
Looking ahead for Denver
The first thing the Nuggets have to do is quiet the storm of George Karl detractors from swelling up. Karl coached this team incredibly well and gave them a style of play that got them 57 wins and the 3-seed in the West. He didn't coach as well as you'd like him to in the playoffs, but he was missing a pretty key player in Danilo Gallinari and didn't have any shooters to spread the floor with.
Secondly, they need to know how to bring back Andre Iguodala. He can and probably will opt out of the final year of his contract this offseason and try to take advantage of a hungry market for an all-world wing defender in a world of incredible wing scorers. If the Nuggets can bring him back, then they can try to figure out how to bring in that elusive focus on offense that everybody (myself, especially) keeps claiming they need. 
The Nuggets have Corey Brewer as an unrestricted free agent, Timofey Mozgov as a possibly coveted restricted free agent, and an extension kicking in for Ty Lawson that will push them close to the luxury tax if they can re-sign Iguodala. The Nuggets also have the 27th and 57th picks in the draft.
Looking ahead for Golden State
The San Antonio Spurs are waiting and rested for this Warriors team. They've had plenty of time for Gregg Popovich to devise a defensive plan to take away the 3-point shooting of Stephen Curry and Klay Thompson. They're not going to play the screens the same way the Nuggets did (although that improved vastly in the final two games of the series) and the Spurs have the 3-point shooting to match and maybe even surpass what the Warriors do.
So how do the Warriors combat that? Finding ways to keep cutting to the basket to make the help defense hesitate will be instrumental for Mark Jackson's guys. And the Warriors will have to finish at the basket. We'll get a better idea of what the Warriors backcourt is made of because dealing with Tony Parker and Manu Ginobili is a lot harder than Ty Lawson, who was quietly fantastic, and Andre Miller, who lost the Nuggets plenty of games in this series. If Andrew Bogut can battle Tim Duncan inside and not get into foul trouble, then it comes down to a battle of the role players.
Are the Warriors' young role players too naive to crumble under all of the pressure? Will the systematic Spurs' reserves be too efficient and mechanical for the Warriors? It's going to be a lot of fun to find out. Get your umbrellas out; it's going to rain.
Cavs star chose to be very secretive when talking to Lakers rookie after Thursday's game

New York announced Porzingis would not return shortly after star forward left game

Teletovic missed the final three months of 2014-15 season with Nets recovering from same i...
Keep it right here for all of the news, notes, scores and highlights from around the leagu...

The NBA's City edition Nike jerseys are bold and very different

The Wolves may be smoke and mirrors, but the Pacers have the look of a team that can hang in...