'Uncle Spliffy' Cliff Robinson aims high with new marijuana business
Former Blazer Cliff Robinson is getting into a new business.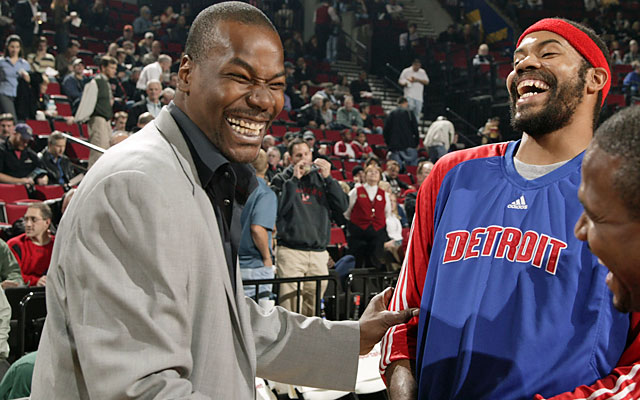 Former Portland Trail Blazers forward Clifford Robinson has had an active post-NBA career. He was on the hit reality show Survivor, where he finished 14th and was the fifth player to be voted off the show that season. He was a part of a team assembled by Dennis Rodman to go to North Korea and play the North Korean National Team in celebration of Kim Jong-un's birthday in 2014.
Now he wants to enter the next phase of his post-playing career. The Detroit Free Press tells us Robinson, 49, is now a marijuana advocate and will be a speaker at the Cannabis Collaborative Conference in early February in Portland, Oregon. He also plans to begin a grow operation in Oregon later this year and is calling himself "Uncle Spliffy" -- a play on his 'Uncle Cliffy' nickname. 
Nowadays, Robinson, 49, is promoting marijuana, and will be a feature speaker at the Cannabis Collaborative Conference on Feb. 3-4 in Portland, Ore., where Robinson played for the Trail Blazers from 1989-97.

"I think I've always been an advocate for cannabis," Robinson told KOIN 6 News in Portland. "(It's) calming, calm my stomach, calm my nerves a little bit. So from that standpoint, I see a lot of positives."
Here's Robinson discussing his new venture and his interest in cannabis.
Once a Blazer always a Blazer, you know?
Robinson was arrested for a DUI and marijuana possession in 2001. That earned him a one-game suspension while playing for the Phoenix Suns. As a member of the Golden State Warriors in 2005, he was suspended five games for violating the league's anti-drug policy and another five games in 2006, as a member of the New Jersey Nets, for the same thing. Robinson was a member of the Portland Trail Blazers for the first eight years of his 18-year NBA career.
We've got all the scores, highlights and news for Thursday night

The Sixers big man got his first All-Star selection -- and maybe some revenge -- on Thursd...

It appears some players are not entirely taking the All-Star voting process seriously
There were some weird discrepancies between the fan, media and player votes

LeBron and Steph will be the captains for the 2018 NBA All-Star Game

Arron Afflalo was involved in an altercation with Timberwolves big man Nemanja Bjelica on...