Donovan McNabb: I can't figure out why Jason Garrett still has a job
Donovan McNabb and Randy Moss had some harsh words for Cowboys coach Jason Garrett this week.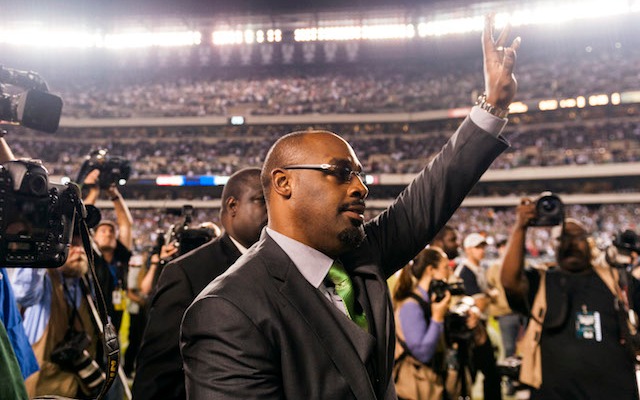 Since taking over as the Dallas Cowboys head coach in November of 2010, Jason Garrett has almost been exactly average. In three and a half seasons with the team, Garrett has gone 29-27.
In each of Garrett's three full seasons, the Cowboys have gone 8-8 and made the playoffs zero times. That mediocrity has Donovan McNabb wondering why Garrett still has a job. 
"I think for the Dallas Cowboys it's much more than just what we see from the defense and offense, I mean, let's go upstairs," McNabb said on 'Fox Sports Live,' via the Dallas Morning News. "I'm still figuring out how [Garrett] still has a job at this particular point the way we have continued to see this team just continue to crumble. You can't fire Wade Phillips and hire Jason Garrett and Jason Garrett's doing worse than Wade Phillips was doing. That's just not going to get it done. What team is going to follow that?"
Phillips was fired midway through the 2010 season after the Cowboys got off to a 1-7 start. Before that though, Phillips led the Cowboys to two playoff appearances in three full seasons with the team and went 34-22 as coach, even when you include the 1-7 record in 2010.
Former NFL receiver Randy Moss wasn't as harsh as McNabb, but he also pinned the blame for the Cowboys' failures on Garrett -- and while doing that, he took a shot at one of his former teams, the Raiders.
"When you look on paper, it's every year that the Dallas Cowboys and Oakland Raiders have a lot of talent on their team," Moss said. "I mean, talented, top-end players. For the Dallas Cowboys to keep sputtering every year, it's not the players -- some of it falls on the players -- but go on up top and see what's going on."
Moss also added that Garrett doesn't seem to be doing anything to help Tony Romo. 
"The thing that's not really fair to Tony Romo is he really hasn't had that coaching to be able to bring him along," Moss said. "I'm not sitting here busting Garrett or trying to call Garrett out, but there has not been nothing steady in Dallas. It's always coaches come and go."
All that being said, it should come as no surprise that both McNabb and Moss don't see the Cowboys making the playoffs in 2014. Fortunately for Garrett though, he doesn't have to worry about that. Owner Jerry Jones said in March that Garrett's fate isn't tied to the Cowboys making the postseason. 
The Ravens quarterback won't be on the field when the team begins training camp

The Chargers might have just found a new backup quarterback

One NFL owner says he'd have 'no hesitation' signing Colin Kaepernick
The Cowboys receiver made a young boy's birthday wish come true

The new Packers tight end had to find a place to sleep after being locked out of his camp...

Lucky Whitehead says he had an awkward face-to-face meeting with Jason Garrett