Giants' Josh Brown: Richie Incognito seems to have 'tortured soul'
Giants kicker Josh Brown, who has known Richie Incognito since 2001, says the suspended Dolphins offensive lineman "seems to be a person with a tortured soul."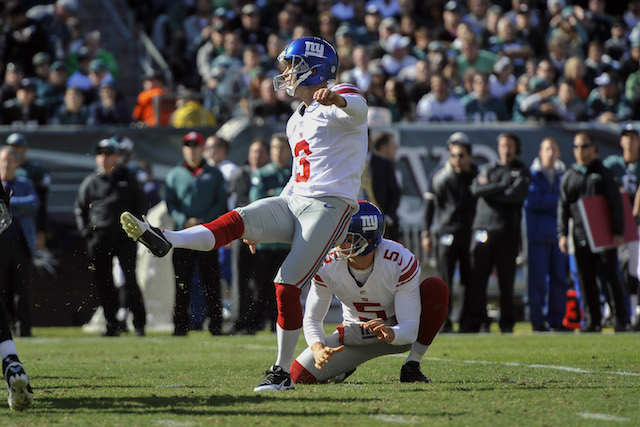 One player who isn't surprised at the bullying allegations made against Richie Incognito is New York Giants kicker Josh Brown -- and that should tell you something. Brown has known Incognito since 2001, when the two players were teammates at the University of Nebraska. 
Brown was asked about Incognito on Monday and he sounded like someone who's seen this happen before. 
"None of it shocks me," Brown said, via the New York Daily News. "I don't know any details obviously. The league hasn't released anything. But Richie seems to be a person with a tortured soul. He's had these issues for quite awhile and it's sad."
The Dolphins indefinitely suspended Incognito on Sunday and reportedly will cut ties with him in the near future. This all stems from Incognito's alleged treatment of Dolphin's teammate Jonathan Martin.
Martin made some texts and voicemails available to the Dolphins and the NFL where Incognito used racial slurs when referring to Martin. There was also an exchange where Incognito refers to defecating in Martin's mouth. Incognito also made reference to tracking down members of Martin's family and harming them.
"It's sad to see, because he was a friend of mine and still is," Brown said. "I played with him in college and he had a lot of problems in college. I played with him in the Rams, and not severe issues there... but it seems like this seems to be something that has been haunting him for more than decade."
Brown was teammates with Incognito for two seasons at Nebraska (2001-02) and for one and a half seasons in St. Louis. Incognito was cut by the Rams in December 2009 after a game where he was called for two personal fouls and got into a heated exchange with then-coach Steve Spagnuolo. 
"This seems to be somebody who's really got some demons that are out of the building," Brown said. "At this point, it may cost him his career for good."
The Fins wide receiver took a shot at the Pats with his touchdown celebration

Former Atlanta sportswriter Larry Hartstein knows the Falcons and locked in a pick for 'Monday...

The Patriots losing might be bad for New England but its great for watching Bill Belichick
The league-owned network suspended Marshall Faulk, Ike Taylor and Heath Evans as it investigates...

R.J. White has his finger on the pulse of Indy and made a strong play for 'Thursday Night...

Wondering which NFL teams are going to win in Week 15? You've come to the right place to find...