Jeff Fisher: Rams called for five incorrect penalties against Falcons
St. Louis Rams coach Jeff Fisher said on Tuesday that the the Rams were flagged for five penalties that shouldn't have been called against his team.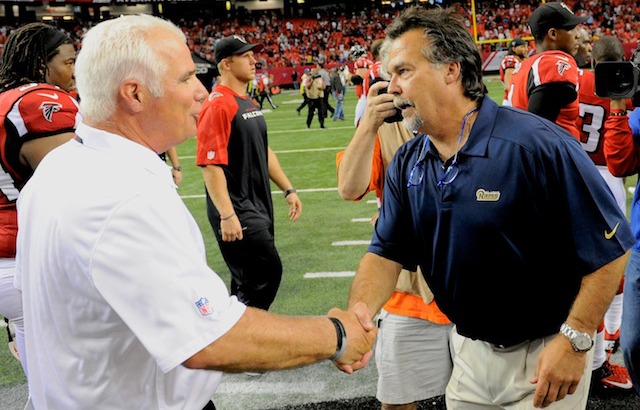 The St. Louis Rams defense struggled to stop the Falcons explosive offense in St. Louis' 31-24 loss to Atlanta on Sunday. However, according to Rams coach Jeff Fisher, his defense wasn't the only group that struggled on the field, the officiating crew did too. 
Fisher said on Tuesday that he believes his team was flagged at least five times in the game where the refs made the incorrect call. The Rams were penalized a total of seven times for 53 yards against Atlanta. 
"We were penalized seven times in the game; in my opinion, we should have been penalized twice," Fisher said, via the St. Louis Post-Dispatch. "I was upset after the ballgame but watching the tape, those are incorrect calls."
There was one specific call that really rubbed Fisher the wrong way. In the first quarter, Rams defensive end Chris Long was called for offsides even though it appeared Falcons right tackle Lester Holmes had moved first. 
"It was not a defensive offsides; it's like false start 101," Fisher said. "You've got a third-and-12 and we're called offsides, so we now we have a third-and-7 and they convert. If it's called correctly, you have a third-and-17. Third-and-17's are hard to convert. We would most likely have a three-and-out and get the ball back. Instead, they go down and score on their first drive."
Although Fisher doesn't seem to approve of the refs performance from Sunday, he did note that he wasn't blaming the officiating crew for the loss. 
"By no means am I placing blame," Fisher said. "I have great respect for the officiating department and the officials. We work very close with them and we move on. We had chances in that ballgame. We had chances to get off the field, chances to make plays [and] didn't make them."
Odell Beckham broke all the rules for watching the solar eclipse on Monday

For the second straight year Siemian has won the starting job in Denver

The soon-to-be Las Vegas Raiders played in Los Angeles from 1982-1994 before moving back to...
Veteran Alex Smith and rookie Patrick Mahomes have both had solid preseasons

Plus Christian McCaffrey is the truth and the possibility of Blake Bortles being out in Ja...

Let's go under the hood, er helmet, of the VICIS ZERO1 design, the safest helmet in footba...