On Oct. 16, the Seahawks beat the Falcons 26-24 in Seattle. It wasn't uneventful.
It's the day Seahawks defensive end Michael Bennett suffered a knee injury from what he called a "scary [expletive] move" by Falcons left tackle Jake Matthews. It's the day -- rather, one of the days --- Richard Sherman erupted on the sideline at his own team. It's the day the officials did not flag Sherman for pass interference on Julio Jones. OK fine, one of the days.
Yes, the Seahawks won with some help from the officials.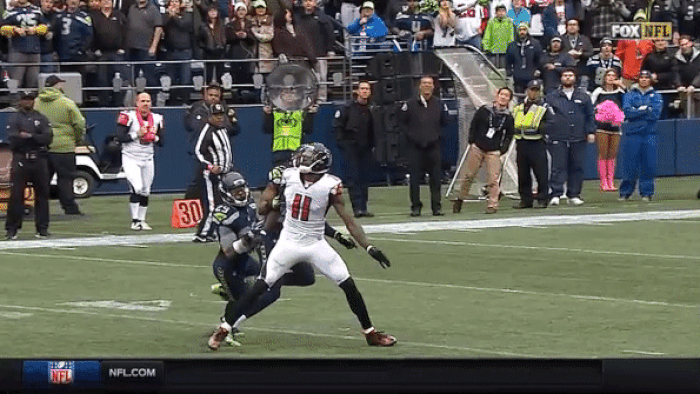 It was a remarkably even game in pretty much every area. Time of possession was nearly equal, with the Seahawks holding the ball for 30 minutes, 9 seconds. The Falcons averaged 5.7 yards per play; the Seahawks averaged 5.1. The difference came down to takeaways (Seattle won the turnover battle 2-0) and nearly Steve Hauschka, who missed an extra point and a field goal.
At the time, that win felt important, because it handed the Seahawks the tiebreaker over another playoff contender. Come January, that win would give the Seahawks a leg up in the seeding, right?
It turns out the Falcons didn't need the tiebreaker. They would finish half a game ahead of the Seahawks for the No. 2 seed in the NFC and, as a result, they'll host Saturday's divisional playoff game between the two sides. As expected, much has changed since that last meeting.
Here are five reasons why the Falcons can beat the Seahawks in their rematch.
Let's start with the most glaring change since that mid-October meeting: Earl Thomas, the quarterback of the Seahawks' defense, will not play. He hasn't suited up since breaking his leg at the beginning of December.
Thomas might've been the Seahawks' best player in their first meeting with the Falcons, which shouldn't come as a surprise given he plays such a huge role in stopping opposing offenses from completing big plays. He finished with four tackles, three passes defended and an interception, which set up the winning field goal.
The safety's effect on the game wasn't just about that interception, which occurred as a result of a drop by Jones. Thomas flew all over the field, spoiling potential home runs from Atlanta's big-play offense.
His range is incredible. Here, Thomas reads Ryan's eyes and proceeds to cover more than half the field to help the linebacker cover the Falcons' running back: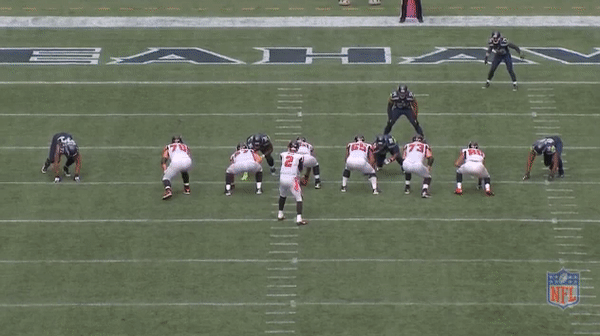 In short, he's the reason the Legion of Boom can play their Cover 3 so effectively -- as Falcons coach Dan Quinn noted this week.
Quinn says with Earl Thomas out, there's not a change from a scheme/philosophy perspective. What does change is versatility of replacement.

— Jeanna (@jeannathomas) January 10, 2017
Keep in mind, Ryan averaged 7.98 yards per pass against the Seahawks. That might seem like a fine number, but it was actually Ryan's second-lowest average of what could turn out to be an MVP season, in which he averaged 9.26 yards per pass.
Much of that was due to Thomas. Since the Seahawks defense lost its center fielder, the team has allowed 20.8 points per game. That might not seem like much, but consider the Seahawks have allowed more than 30 points twice since Thomas' injury; they didn't allow more than 25 points once before Thomas went down. Furthermore, that 20.8 average is boosted by a 24-3 win over the Rams in a game where they hosted an interim head coach and rookie quarterback on a Thursday night.
The Seahawks' defense is susceptible without Thomas -- specifically to big passing plays.
And the Falcons' offense is a historically great unit, having tied the 2000 Rams for the seventh-most points in a season. It's also an offense that relies on big plays. Ryan led the NFL with a 136.1 passer rating on throws that traveled at least 20 yards downfield, according to Pro Football Focus. He threw 11 touchdowns and zero interceptions on those passes.
Still, the Falcons will have their hands full blocking a healthy Bennett and Cliff Avril, who took down Ryan twice in their previous meeting. It won't be an easy day for the Falcons just because Thomas is absent -- it'll just be a bit easier. Also, keep in mind that Kam Chancellor missed the first meeting, but he'll be out there Saturday. That matters, too.
2. Julio Jones can beat Richard Sherman
One reason the Falcons can hold their own against the Legion of Boom: Julio Jones, who proved in Week 6 that he can take it to Richard Sherman. He caught seven passes on nine targets for 139 yards and a touchdown in that first meeting. Of those nine targets, Sherman guarded Jones on five, according to Pro Football Focus. When matched up against Sherman on those five passes, Jones came down with three receptions for 40 yards.
Jones can handle Sherman because he's big enough to ward off one of the game's most physical and lanky defenders. He's also a good enough route runner to burn Sherman with a combination of technique and physicality.
Look at how much separation (at the bottom of the screen) he gains on this comeback.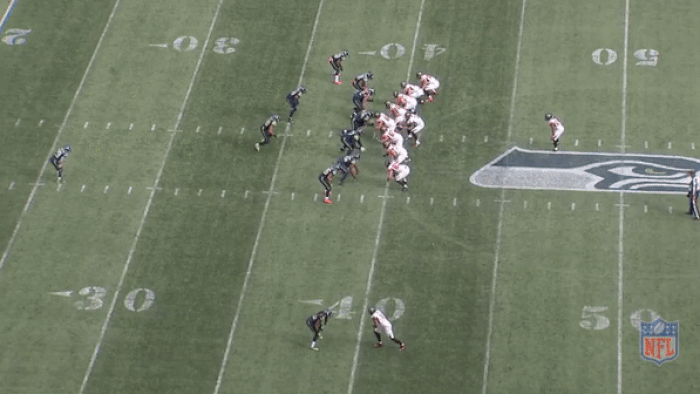 Below, again at the bottom, he beats Sherman with a quick move to the inside. Due to Jones' ability to get vertical down the sideline, Sherman surrenders the inside.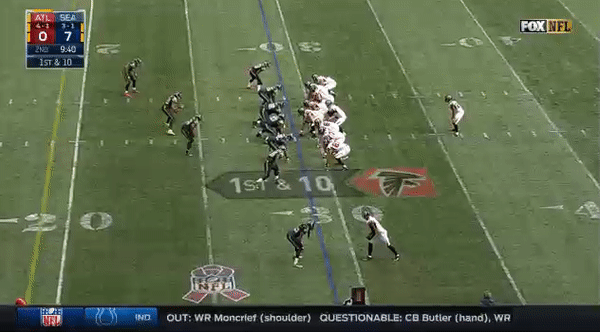 Those are just two examples. It's not that Jones torched Sherman -- he didn't -- it's just that Ryan doesn't need to ignore Jones whenever he's matched up against Sherman.
3. Learning from their 21-0 run
The Falcons scored 21 of their 24 points in the third quarter, including a 97-yard go-ahead drive. They used that spree to take the lead entering the fourth quarter. But they didn't score again.
So, pretty much all of the Falcons' success occurred in a span of 15 minutes. What changed during those 15 minutes?
This sounds bizarre and simplistic, but the Seahawks defense appeared to be confused in the third quarter. The first touchdown, by Jones, involved a miscommunication.
Ten members of the defense played Cover 3. Sherman used man-to-man coverage on Austin Hooper (81), which resulted in this gap down the sideline.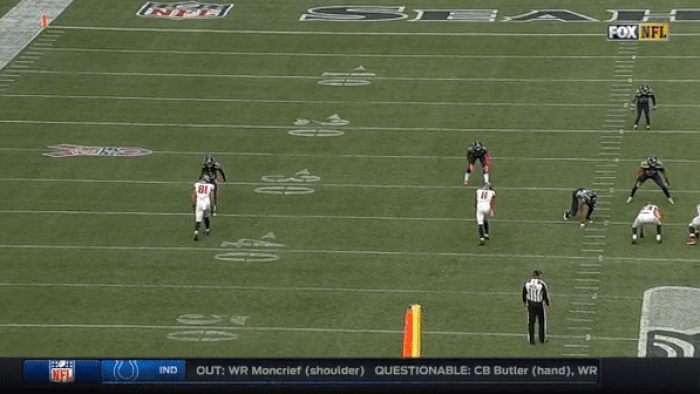 That should look familiar. Here's the Falcons' go-ahead score: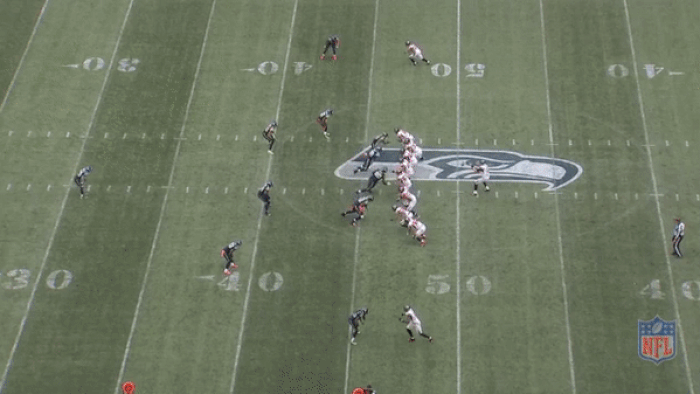 Confusion -- again -- leads to a hole down the sideline.
There were other smaller examples during that 21-0 run. Even though the Falcons couldn't find any running room throughout the game -- they averaged 2.9 yards per carry -- they were effective on play-action in that third quarter.
In the play below, look at how three defenders react to the play-fake by covering the receiver in the flat to Ryan's right. As that happens, Jones crosses from left to right. Seahawks linebacker K.J. Wright eventually realizes that he isn't where he's supposed to be, but by that point he's already lost, trying to backpedal with no idea that Jones is directly behind him.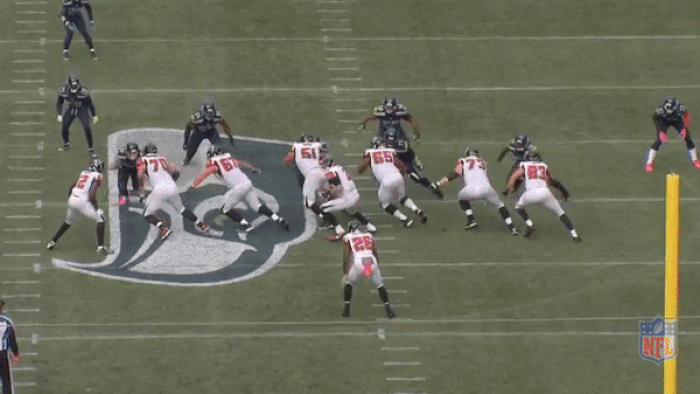 Another play-action pass resulted in another free catch for Jones. Again, watch as the linebackers attack the line of scrimmage and then enter total retreat mode. Wright sprints with his back to the play, trying to identify which receiver Ryan will target.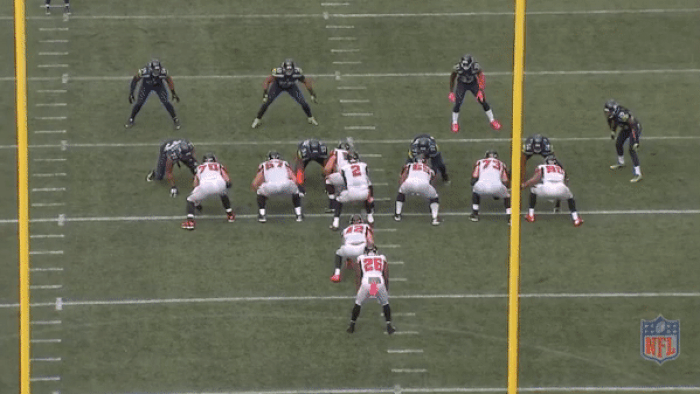 My biggest takeaway from the Falcons' third-quarter success? Their creativity. They mixed in play-action, deep crossing patterns and the occasional run/pass option.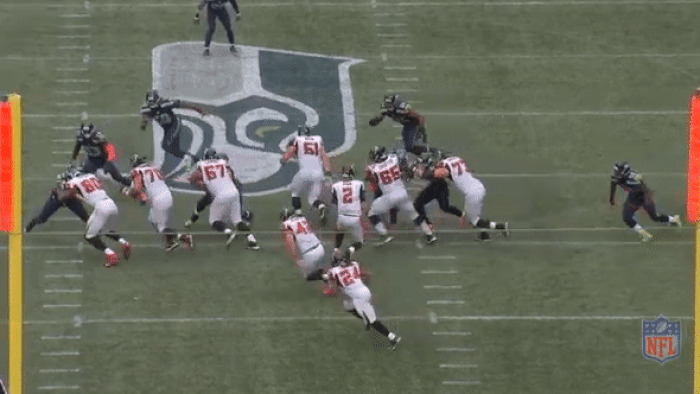 The Seahawks are one of the best teams at simply lining up and playing their defense without disguising anything. In order to confuse them, you need to be a damn good offense. The Falcons did that, but found their success fleeting.
On Saturday, they'll need to find a way to more consistently beat the Seahawks' secondary.
4. An improved Falcons defense
Pretty much all of the hype surrounding the Falcons relates to their explosive offense -- with good reason. But their defense has improved as the season has worn on. In their past six games -- since their Week 11 bye -- the Falcons have allowed 20.5 points per game.
Second-year pass rusher Vic Beasley has played a big role in the Falcons' improving defense. In Beasley's past seven games, he has eight sacks. Of course, he has been a contributor all year long -- he notched 7.5 sacks in his first nine games -- but it's worth noting that he got his sacks in bunches in the first half. In five of the Falcons' first nine games, he didn't notch a sack. That only happened twice in the final seven games.
He'll be going up against an offensive line that allowed the sixth-most sacks in the regular season. According to Pro Football Focus, Seahawks quarterback Russell Wilson was under pressure on 41.6 percent of his passes -- only Andrew Luck and Colin Kaepernick accumulated higher pressure percentages.
Of course, I can't move on from this section without mentioning that Wilson is finally healthy (it certainly took those nanobubbles long enough to work their magic) after dealing with multiple injuries in the early portion of the season, which limited his mobility behind that shaky offensive line. Furthermore, the Seahawks are coming off their best rushing performance of the year, as Thomas Rawls broke Marshawn Lynch's franchise playoff record. In their Week 6 matchup, Rawls didn't even play -- the carries were given to current Packers running back Christine Michael. As a team, the Seahawks averaged 2.7 yards per carry in that game.
So, the Falcons' defense won't have an easy task. They'll be facing a different kind of offense. If the Seahawks can run the ball the way they pounded the Lions, they'll have a chance to leave Atlanta with a victory.
5. When and where
Location and timing matter. The last meeting between these two teams took place in Seattle after the Seahawks' bye week. This game will be played in Atlanta after the Falcons had a week off. That's significant, considering the Seahawks have won 10 straight home playoff games.
And away from Seattle in the regular season, Wilson played like a completely different quarterback.
| | | | | | |
| --- | --- | --- | --- | --- | --- |
| | Comp. % | YPA | TDs | INTs | Passer rating |
| Home | 67.0 | 8.17 | 13 | 3 | 103.5 |
| Away | 62.4 | 7.31 | 8 | 8 | 82.1 |
Basically, Wilson turns into Joe Flacco on the road.
One more thing ...
Just so we're clear, those are five reasons why the Falcons can beat the Seahawks. They're not five reasons why the Falcons will beat the Seahawks.
If the Seahawks can replicate their rushing success from their wild-card victory over the Lions, they can absolutely keep pace with the Falcons' offense. Even if Rawls doesn't explode, the Seahawks have a quarterback who is good enough to hold his own.
Furthermore, the Seahawks' defense -- even though it's missing Thomas -- can still slow down the Falcons. The Seahawks likely won't shut down the Falcons, but limiting them to 21 or so points might be enough to win.
Bennett is still a monster, and I expect him to have another Godzilla-esque game. Before he went down with that injury in the first Falcons-Seahawks game, Bennett notched five quarterback hits, one quarterback hurry and three stops (per PFF).
The nicest part about making GIFs of Bennett's work is that they typically end within a second or two.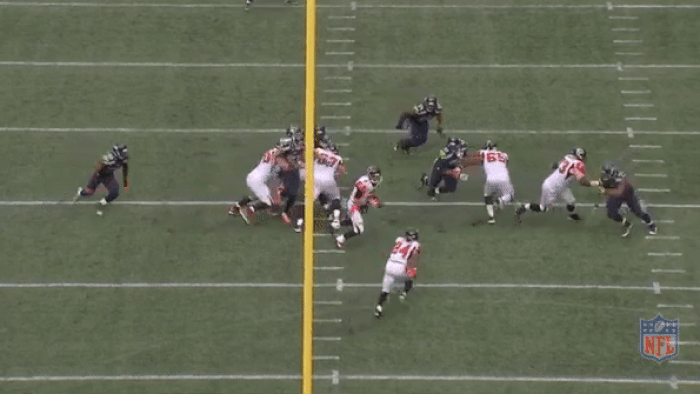 And, as previously noted, Chancellor will be there too. If the Falcons had difficulty running the ball without facing Chancellor, they're in for an even rougher outing.
The point being, I'm expecting a close game with late drama -- something the two teams know plenty about.