NFL Week 4: Four games with tickets under $20, including 49ers-Rams
If you have $12.71 and you live in Jacksonville, you can afford to see an NFL game in person this week.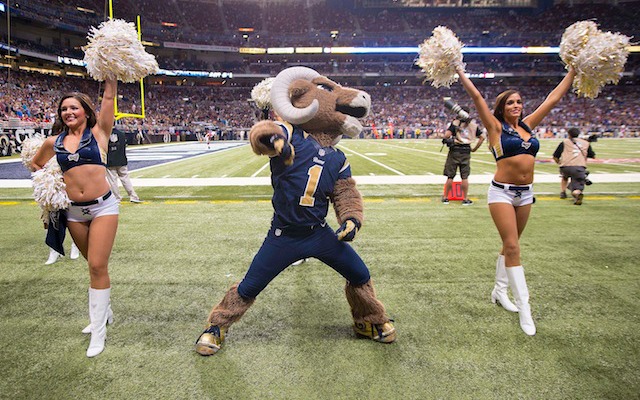 What happens when three teams with a combined 1-8 record all have home games in the same week? Tickets are practically free. That's what happens.
Fans in Tampa Bay, Jacksonville and St. Louis aren't that excited about football this week and you can tell by the ticket prices. If you've never been to a Thursday football game and you live in St. Louis, now's the time to go because you can get-in to the Rams-49ers game for as low as $15. In San Francisco, $15 wouldn't even be enough to buy yourself a coffee, let alone a football ticket.
The get-in price to the Rams game is cheap this week, but it's not the lowest ticket price of Week 4. 
You can watch the Colts play this week for the ultra-low price of $12.71. The problem with that though is that you have to watch the Jaguars play too. You could play candy crush while the Jaguars are on offense or poke yourself with something sharp, either one of those would probably be more enjoyable than watching Blaine Gabbert trying to pretend he knows what he's doing in an NFL huddle.  
By the way, that $12.71 price for a ticket to the game in Jacksonville is the cheapest ticket I've seen on Stubhub or the NFL ticket exchange since I started tracking the prices before Week 1. So grab $20, go to the game and you'll still have some money left over for a soda and half a hot dog.
We also have two teams playing in London this week. The cheapest ticket to the Steelers-Vikings game is going for 57.50 pounds. I have no clue how many American dollars that is, but it sounds like way too many to pay to watch two 0-3 teams play. 
Here's the lowest ticket price on Stubhub for each Week 4 game as of 3 a.m. ET on Thursday. The second price is the lowest price on the NFL ticket exchange run by Ticketmaster. Keep in mind, ticket prices change often.
1. Philadelphia at Denver: $126 -- $105
2. Dallas at San Diego: $112 -- $107
3. Seattle at Houston: $110 -- $109
LONDON: Pittsburgh at Minnesota: 57.50 pounds
4. New England at Atlanta: $85 -- $65
5. Miami at New Orleans: $79 -- $60
6. Washington at Oakland: $78 -- $60
7. Chicago at Detroit: $62 -- $60
8. Baltimore at Buffalo: $56 -- $50
9. Cincinnati at Cleveland: $47 -- $45
10. NY Giants at Kansas City: $24 -- $25
11. NY Jets at Tennessee: $18 -- $26
12. Arizona at Tampa Bay: $18 -- $30
13. San Francisco at St. Louis: $15 -- $40
14. Indianapolis at Jacksonville: $12.71 -- $35
Did you get into a game free? Let me know in the comment section or on Twitter or make a giant sign that says 'HI JOHN BREECH' and I'll look for you on TV.
The people of Philadelphia now have two reasons to root for the Eagles this week

You might not recognize the Patriots' defensive coordinator without his beard

T.O. definitely isn't a fan of the Cowboys head coach
R.J. White, who nearly won the Vegas SuperContest, locks in his pick for the AFC Championship...

This player probably won't be too popular in New England if the Patriots lose on Sunday

The connections between the Eagles and Vikings quarterbacks are endless