PHOTO: Optimistic Cowboys fan gets '2015 World Champs' tattoo
There's optimistic and then there's what this Cowboys fan did to his arm.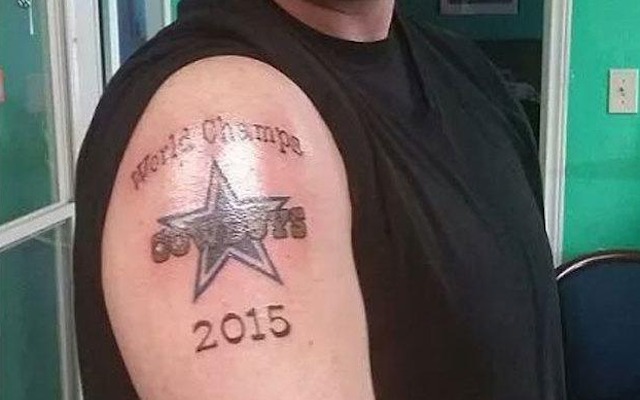 More NFL: Photos |  Videos & GIFs |  Training Camp updates | Manziel watch
NFL fans with unrealistic expectations for their team might soon overtake 'college girls on spring break' as the most profitable customers in the tattoo industry. 
Back in June, we wrote about a Lions fan who got a '2015 Super Bowl champs' tattoo on his leg. Now we have a Cowboys fan who thinks that Lions fan is wrong and to prove it, he got his own tattoo. 
As you can see at the top of the page, this tattoo says the Cowboys will be '2015 World Champs.' 
One of these guys is definitely going to regret getting his tattoo, but more likely, both of them will regret it. Any laser removal specialists reading may want to follow these guys on Twitter and give them a call in February after the Lions and Cowboys don't win the Super Bowl. 
If Dallas doesn't win it all though this year, maybe our optimistic Cowboys fan can alter that '2015' to say '1995 World Champs' and then he can show off his tattoo to any fans old enough to remember Super Bowl XXX. Neil O'Donnell probably wouldn't approve, but who cares what Neil O'Donnell thinks. 
By the way, the guy swears his Cowboys tattoo is real and he's even willing to pinky promise. He also thanked his tattoo artist after putting pictures of his new ink on Twitter. 
@CowboysRoadTo6 it's Legit. I Pinky promise.

— Derek (@BMS_Derek) August 13, 2014
Nearly 17,000 fans want the Packers to sign Colin Kaepernick

Backup quarterback Brett Hundley will fill in for Rodgers as he recovers from a broken col...

SportsLine's Mike McClure has made over $1M playing DFS and gives his best cash game lineup...
SportsLine's Nick Kostos wins big on Monday nights and gives his best three-team parlay for...

Belichick has always had the magic touch, but some of his offseason moves might backfire on...

Week 6 in the NFL was filled with shocking results. Let's go that route with this mock dra...