For a second straight season, a 39-year-old quarterback will start in the Super Bowl.
Last year, that honor belonged to Peyton Manning and, thanks to the Broncos' historically great defense, he rode off into the sunset with his second ring, becoming the oldest starting quarterback in NFL history to win a Super Bowl. This year, Tom Brady has a chance to win his fifth championship, the most for a quarterback. And if he does, he might just cement his status as the greatest quarterback of all time -- don't worry, we'll get to all that later.
To capture his fifth ring, Brady and the Patriots will need to find a way to outscore the Falcons' historically great offense in Houston on Feb. 5. But before that game kicks off, it's worth revisiting how Brady got to this point: A sixth-round pick has a chance to win his FIFTH Super Bowl.
He should probably add those rings to his résumé.
He's not slowing down. At this point a year ago, we were all wondering if Super Bowl 50 would be Manning's final game. Today, we're not wondering if Brady will walk away this offseason, we're wondering if Brady will ever walk away from the game. Turns out that insane diet of his -- no sugar, coffee, dairy, the list goes on and on -- might actually be worth it.
On the eve of arguably the biggest game of his career, let's take a look back at his historic career and all the awards, records and iconic moments that belong to him. And then, yes, let's fully address what's at stake in Super Bowl LI.
Awards
Unsurprisingly, Brady has won a ton of awards and set a bunch of records. So, we're going to go to the bullet points. Before we get to the lists, quick shoutout to Pro Football Reference for supplying endless stats.
OK, see ya after the next two sections.
Awards
Three-time Super Bowl MVP (2001, 2003, 2014)
Two-time regular-season MVP (2007, 2010)
Comeback Player of the Year (2009)
Two-time Offensive Player of the Year (2007, 2010)
Two-time first-team All-Pro (2007, 2010)
12 Pro Bowls
Records
Career records
Third in passer rating: 97.2
Fourth in passing touchdowns: 456
Fourth in passing yards: 61,582
Fifth in pass attempts: 8,224
Fourth in completed passes: 5,244
Third in game-winning drives: 49
Second in fourth-quarter comebacks: 38
Single-season records
Third in passing yards: 5,235 in 2011
Second in passing touchdowns: 50 in 2007
Fourth in passer rating: 117.2 in 2007
First in TD-INT ratio: 28 touchdowns, two interceptions in 2016 (RIP Nick Foles)
Playoff records
First in games started: 33
First in quarterback wins: 24
First in passes completed: 788
First in passes attempted: 1,263
First in passing yards: 8,628
First in passing touchdowns: 61
First in game-winning drives: 9
First in fourth-quarter comebacks: 6
Super Bowl records
First in appearances: 7 (counting this year)
First in pass attempts: 247
First in completions: 164
First in passing yards: 1,605
First in passing touchdowns: 13
First in consecutive completions: 16 in 2011
Tied for first in quarterback wins: 4
Top five moments
Before we get to the moments, any discussion of Brady's career is required, of course, to begin with this photo:
Always remember: That guy is who we're talking about.
5. Drew Bledsoe goes down
It's also required to begin with Drew Bledsoe, because if not for his injury, Brady likely never becomes Tom freakin' Brady.
On Sept. 23, 2001, Bledsoe took a shot from Jets linebacker Mo Lewis. That hit would launch Brady's career (and nearly ended Bledsoe's life, by the way). While Bledsoe returned to the game for another pass, he then gave way for his replacement, a former sixth-round pick.
Bledsoe never got his job back.
We all know what happened next: Brady led the Patriots to their first Super Bowl title, but it's worth remembering that in his first two starts, he completed just 53.2 percent of his passes, failed to throw a touchdown and posted a 68.9 passer rating. He stunk. The point being, if Bledsoe's injury hadn't been so severe, he could've gotten his job back.
Eventually, of course, Brady heated up. And the Patriots clinched a playoff berth, opening their postseason run by hosting the Raiders.
4. The Tuck Rule Game
Which brings us to the Tuck Rule Game. Trailing by three points late in the fourth quarter, Brady dropped back to pass, pumped and lost the football when Charles Woodson hit him. The Raiders recovered and seemingly secured their spot in the AFC title game.
Except the officials reviewed the play. And after that review, they determined that Brady didn't actually fumble, even though everyone with eyes knew that he actually fumbled.
The Patriots had the tuck rule to thank.
Anyway, Adam Vinatieri kicked a 45-yard field goal in the blizzard to send the game to overtime -- which might be the greatest kick in NFL history. And he won it in overtime with a 23-yard field goal.
By the way, the tuck rule was eliminated in 2013. The Patriots did not vote in favor of ending the rule -- understandably so.
Meanwhile ...
3. The first Super Bowl-winning drive
After beating the Raiders, the Patriots knocked off the Steelers -- thanks to some help from Bledsoe, who entered the game after Brady suffered an ankle injury. But Bill Belichick went back to Brady in the Super Bowl. Good thing he did.
Against the Rams, the Patriots had the ball at their own 17-yard line with the game knotted up. A minute and 21 seconds remained in regulation. So, the Patriots had to choose between playing it safe and heading to overtime, or trusting Brady to avoid a big mistake by letting him try to win the game with a last-second drive.
I'll let Brady describe what happened next:
"I go up to (offensive coordinator Charlie Weis) and say, 'What're we doing?'

He says, 'We're going.'

So I said, 'Alright. What's the first play?'

And Charlie says to me, as I'm sure Bill said in his ear, he better take care of that ball. So Charlie yells at me, 'Hey! Take care of that ball!'

And Drew was kinda standing next to me ... He says, 'F-- that. Go out there and sling it.'"
That's what Brady did, going 5 of 8 on that drive. Two of those incompletions came on spikes to stop the clock. The Patriots made it as far as the 30-yard line when they sent out Vinatieri. He drilled the 48-yard field goal as time expired, and Brady went from a sixth-round pick and fourth-string quarterback to a Super Bowl champion.
It's also how the legend of Brady's ability to engineer clutch late-game drives began.
2. Falling just short of 19-0
Can you imagine how Brady would be viewed if the Patriots didn't lose the final game of what ended up being an 18-1 season? He would already own five Super Bowl rings and be the quarterback of the greatest season in NFL history.
But the Patriots' perfect 2007 season ended with Eli Manning's improbable escape from a sure sack, David Tyree's impossible helmet catch and Randy Moss' inability to bring down this Hail Mary in the final seconds.

Side note: It doesn't matter now, but that's an incredibly accurate throw considering the distance the ball traveled.
Anyway, all three of those things had to happen for the Patriots to fall short of 19-0. That's how close they were.
1. The biggest Super Bowl fourth-quarter comeback
Ending on a more positive note, Brady overcame a 10-point deficit against the Seahawks in the fourth quarter to win his fourth Super Bowl. According to MMQB.com, "of the 29 teams that held a 10-point second-half lead in the Super Bowl, none of them had ever lost."
On the sidelines, Brady was caught telling his teammates that they've "been in worst situations than this." He also called Josh McDaniels "babe," but that's not the point. When I watched his sideline speech for the first time, I rolled my eyes and scoffed. Really? The Patriots were in worse situations than being down by 10 to the Seahawks in the Super Bowl?
Well, his rallying cry worked. It took less than 10 minutes for Brady to erase the deficit. In that fourth quarter, against the Legion of Boom, Brady went 13 of 15 for 124 yards and two touchdowns.
Of course, that game will be remembered more for Malcolm Butler's game-clinching interception in the end zone, but let's not forget about what Brady did: He pulled off the greatest Super Bowl comeback against one the game's best defenses with the greatest fourth quarter in Super Bowl history.
We might never see another performance like that again.
What's at stake in Super Bowl LI
If the Patriots beat the Falcons, Tom Brady officially gets the "Greatest Quarterback Ever" title. There's no way to argue it. You can disagree with how much #SuperBowlRingz and #QBWinz matter, but there's no doubting how history will view Brady if he wins a fifth Super Bowl.
For one, he'll have won the most Super Bowls of all time. Again, that's technically a team statistic, but when you combine it with the countless individual records he has set (see above), it vaults him to the top of the list -- yes, above Manning.
Furthermore if the Patriots beat the Falcons, they'll have outscored one of the greatest scoring offenses in NFL history, which means if the Patriots win they will likely win because of Brady and the offense, which means Brady has a great chance to walk away with a record fourth Super Bowl MVP -- breaking a tie with Joe Montana. Again, all of this will cement his status as the greatest quarterback of all time.
Plus, there's the bonus of getting to receive the Lombardi and MVP trophies from Roger Goodell.
I'm gonna give myself kudos for avoiding Deflategate until now.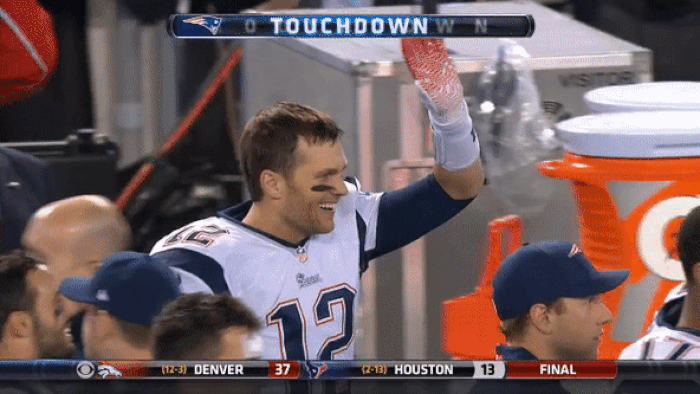 On the other hand, if the Patriots lose, Brady will be 4-3 in Super Bowls. Fair or not, that will undoubtedly be used against his case as the greatest of all time. So yeah, there's a lot at stake for Brady.
It all goes down on Feb. 5.