WATCH: Vikings kicker Blair Walsh nails 70-yard field goal in warmups
Blair Walsh's leg is really strong.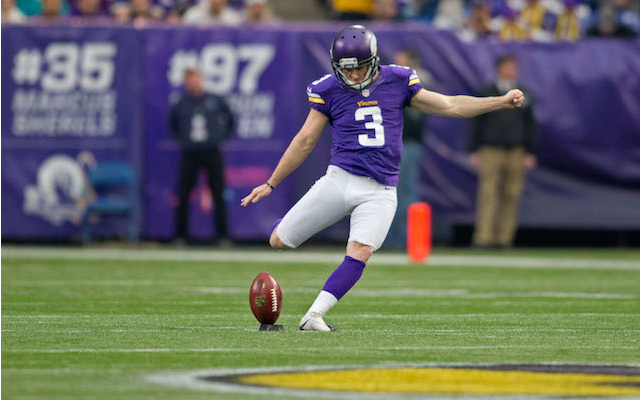 More NFL: Photos |  Videos & GIFs |  Training Camp updates | Manziel watch
If the Vikings decide to send Blair Walsh out for a 70-yard field goal attempt this season, don't laugh, because Walsh might actually make it. 
The Vikings kicker proved that he has the leg for a 70-yarder when he nailed one during warmups on Saturday. Sure, Walsh wasn't wearing pads and no, he didn't have anyone holding the ball -- BUT HE KICKED THE BALL 70 YARDS, OUTDOORS, IN MINNESOTA.
Raiders kicker Sebastian Janikowski hit a 70-yarder in warmups once, but he did it in Denver where apparently everyone can make a 70-yarder, at least according to Ravens kicker Justin Tucker. Janikowski's kick was impressive though because he did it with a snap and a hold. 
Broncos kicker Matt Prater holds the NFL record for longest field goal. Prater hit a 64-yarder against the Titans at the end of the first half in Week 14 last season. 
The longest field goal of Walsh's NFL career is 56 yards. He probably didn't even have to try on that one. 
Here's the 70-yarder Walsh hit on Satuday before the Vikings played the Cardinals. Walsh hit two field goals (21, 34) that weren't from 70 yards in the first half against Arizona. Walsh also missed a field goal in the first half when he hit the left upright from 51-yards, but he probably did that on purpose. 
Dak Prescott was efficient and explosive and DeMarcus Lawrence was dominant in the Cowboys...

The Dallas receiver threw up the X after his score, and he certainly deserved it

The singer sent a message with a verse of scripture on Monday night
The Cowboys owner joined in a demonstration with the Cowboys players before Monday night's...

Look for Ezekiel Elliott and Dak Prescott to rebound after a rough outing in Denver

Quarterback Russell Wilson was one of the chief proponents for the Seahawks staying in the...