Bruins remain favorites for Stanley Cup, Rask tops for Conn Smythe
The Bruins are still the odds-on favorites to win the Stanley Cup at 5-2 per Bovada while Tuukka Rask is a 4-1 favorite for the Conn Smythe.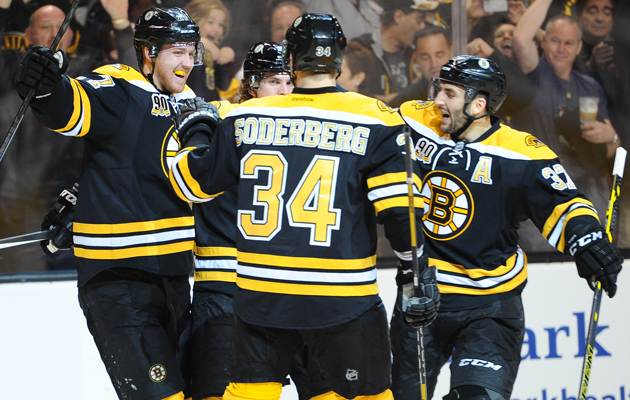 More NHL Playoffs: Schedule, TV listings | Expert Picks | Bracket | Scores | Odds
On to the second round we go in the Stanley Cup playoffs, the field cut down to eight, all vying for the Stanley Cup. So who are the favorite to win it all now with a round in the books?
Glad you asked because Bovada has the updated odds to win it all.
Boston Bruins, 5-2
Chicago Blackhawks, 15-4
Pittsburgh Penguins, 6-1
Anaheim Ducks, 13-2
Los Angeles Kings, 7-1
Montreal Canadiens, 8-1
New York Rangers, 10-1
Minnesota Wild, 12-1
Naturally the Bruins remain the favorite, nothing from the first round should make you think otherwise. They were the best team in the league this season and they'll maintain their status as favorites.
On the low end, though, you have to kind of like the odds on both the Kings and Rangers. Many are forecasting a Rangers upset of the Penguins in this round in what is a tough series to predict meanwhile the Kings just had an epic comeback against a very good team in San Jose and as we all know they have the championship pedigree.
There are also odds out for the Conn Smythe Trophy for the postseason MVP. The Bruins are in the lead there, too, as Tuukka Rask has the best odds. By a long ways.
Tuukka Rask (BOS), 4-1
Jonathan Toews (CHI), 12-1
Patrick Kane (CHI), 12-1
Sidney Crosby (PIT), 12-1
Ryan Getzlaf (ANA), 12-1
Patrice Bergeron (BOS), 15-1
Duncan Keith (CHI), 15-1
Corey Crawford (CHI), 15-1
Evgeni Malkin (PIT), 15-1
Corey Perry (ANA), 15-1
Jonathan Quick (LA), 15-1
Carey Price (MON), 15-1
Henrik Lundqvist (NYR), 15-1
Anze Kopitar (LA), 20-1
Zach Parise (MIN), 20-1
Torey Krug (BOS), 25-1
Jarome Iginla (BOS), 30-1
Marc-Andre Fleury (PIT), 30-1
Drew Doughty (LA), 30-1
Marian Gaborik (LA), 35-1
Martin St. Louis (NYR), 35-1
Brad Richards (NYR), 35-1
Rick Nash (NYR), 35-1
Darcy Kuemper (MIN), 45-1
Matt Niskanen (PIT), 50-1
Francois Beauchemin (ANA), 50-1
P.K. Subban (MON), 50-1
Brendan Gallagher (MON), 50-1
Thomas Vanek (MON), 50-1
Max Pacioretty (MON), 50-1
Dany Heatley (MIN), 50-1
So first of all, Rask is rightly the favorite after one round but that heavy of a favorite? Tough call. Goalies always fare well in the Conn Smythe conversation but last year it went to Patrick Kane so who knows.
Again, on the potentially sneaky side is Kopitar at 20-1 in there. He was his usual excellent self in the Kings' comeback.
On the other side, you should probably stay away from Dany Heatley but hey, it's up to you.
The former Boston Bruin was the first black player to play in the NHL

Inclement weather led to the Charlotte Checkers and Bridgeport Sound Tigers playing in front...

The NHL chose the Detroit rocker as its All-Star Game entertainment and not everyone is th...
NHL fans from all over seem to agree on one thing: Hating Kid Rock

The team tweeted on Monday that Shaw would be re-evaluated in 7-10 days

The Montreal forward was hospitalized after taking a Zdeno Chara slap shot to the head