Winners & Losers: Devils back in the playoffs; Sabres lose a tough one
After falling short of the playoffs last season, the New Jersey Devils clinched a playoff spot on Saturday night with a 5-0 win in Carolina. The Buffalo Sabres, meanwhile, lost a pretty important game in Toronto.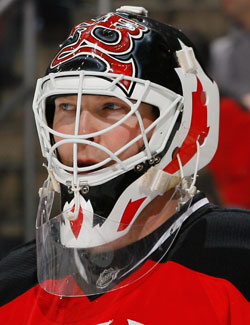 There's always a Winner and a Loser in the NHL, and this is a new nightly look at some of the winners and losers in the biggest games and biggest situations across the league.

Winners
New Jersey Devils

:
With a rather convincing 5-0 win in
Carolina Hurricanes
the New Jersey Devils clinched a playoff berth, officially returning to the postseason after falling short a year ago and ending what had been a run of 13 consecutive postseason trips.
Saturday's game was a rather dominant performance as
Martin Brodeur
recorded yet another shutout, stopping all 22 shots he faced, while the Devils pretty much smothered Carolina's attempts at offense all night, limiting the Hurricanes to just 10 scoring chances on the night.
Ilya Kovalchuk
finished with three points, scoring a goal and adding two assists, while
David Clarkson
added to his career-year performance by scoring his 30th goal of the season, becoming one of the unlikeliest 30-goal scorers in the NHL this season. Prior to this year he had never scored more than 17 goals in a single season, and was coming off a 2010-11 season where he scored only 12 goals.
[Related:

Devils 5, Hurricanes 0

]

Washington Capitals

:
Matt Hendricks
did it again in the shootout for Washington, helping the Capitals pick up a 3-2 win over the Montreal Canadiens to maintain their spot in the Eastern Conference playoff race and gain ground on the division leading Panthers, pulling to within two points of Florida for the top spot in the Southeast.
After jumping out to a 2-0 lead in the first period, the Capitals, as they seem to have a habit of doing, sat back quite a bit and allowed the Canadiens to get back into the game thanks to goals from Erik Cole and Tomas Plekanec.
They were able to hold on and send the game to overtime, and after a scoreless period of four-on-four hockey the Capitals received goals from Hendricks and
Alexander Semin
to gain the important two points.
Perhaps even bigger for the Capitals is that
Nicklas Backstrom
returned to the lineup and played nearly 20 minutes. He did not record a point, but was 12-for-18 in the faceoff circle.
[Related:

Capitals 3, Canadiens 2

--

Backstrom returns to lineup

]

San Jose Sharks

:
As I said earlier on Saturday, the San Jose Sharks still control a lot of their own destiny, and they did themselves a pretty big favor on Saturday night with a 3-0 win over the
Dallas Stars
in the first part of a home-and-home series with their divisional rivals. It also allowed them to keep pace with the
Arizona Coyotes
and gain some ground on the Kings. Their final three games are against Dallas and Los Angeles (two games). They're still very much in it for that top-three seed.
[Related:

Sharks 3, Stars 0

]
Losers
Buffalo Sabres
: This was not the result the Sabres needed on Saturday, and if they end up falling short of the playoffs by a point or two, you might be able to trace it back to the closing seconds of the second period in
Toronto Maple Leafs
when
John-Michael Liles
scored his seventh goal of the season with less than a second to play in the period, giving the Maple Leafs a 3-1 lead.
Buffalo would go on to lose the game by one goal, 4-3, falling two points back of the Capitals for the No. 8 spot in the Eastern Conference with only three games to play in the regular season for the Sabres, including another game with Toronto, and then games against Boston and Philadelphia. This is going to be a tough one for the Sabres, and it's their second loss in as many nights after losing to the Penguins on Friday night.
[Related:

Maple Leafs 4, Sabres 3

]Dallas Stars:
By losing to the Sharks on Saturday night Dallas fell back out of the top-eight, and they're going to need to get a win when the two teams meet again on Tuesday.
[Related:

Playoff Picture

]Goal of the night:
Tampa Bay Lightning
forward
Ryan Malone
doesn't need linemates to set himself up for a breakaway goal. He takes care of that on his own to open the scoring in what turned out to be a 3-2 overtime win against the
Winnipeg Jets
, a game that also saw
Steven Stamkos
set an NHL record for most overtime goals in a season with five.
Milestone for

Ray Whitney

:
With a goal and an assist during the Coyotes 4-0 win over the
Anaheim Ducks
, Ray Whitney eclipsed the 1,000 point mark for his career.
Photo: Getty ImagesFor more hockey news, rumors and analysis, follow @EyeOnHockey and @agretz on Twitter and like us on Facebook.
Sign up now, and your name can be under the Golden Knights' skates, too!

Pittsburgh coach Mike Sullivan says the team also respects players' right to protest

Some familiar faces are back, but a cap-strapped summer left Chicago a little shakier than...
The Pittsburgh Penguins will put politics aside and visit the White House out of 'respect'...

NBC will reportedly be devoid of NHL game broadcasts between Feb. 7-26

The Winnipeg winger suggests Trump is going after 'the principles the U.S. was founded on'