Week 3 Rundown: Falcons take over top spot
Pat Kirwan says it's a toss-up between the 3-0 Texans and the 3-0 Falcons for the top spot in his ratings of the NFL's 32 teams. This week he goes with Atlanta at No. 1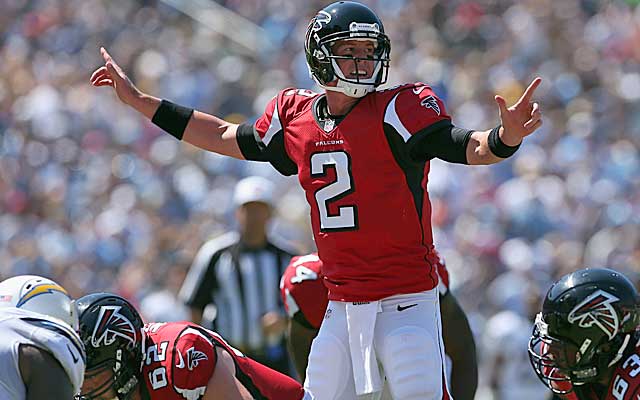 Matt Ryan has been sensational through three weeks of the season. (Getty Images)
1. Atlanta Falcons : It's a toss-up for the top spot with Houston. Atlanta's Matt Ryan is on fire in a quarterback-driven league.

2. Houston Texans : I could easily make a case for the Texans in the top spot the way they play defense and run the ball.

3. Baltimore Ravens : The passing game is better, Ray Rice keeps everyone honest and the defense can still dominate at times.

4. Arizona Cardinals : They are undefeated with a win in New England and a defense that doesn't quit.

5. San Francisco 49ers : They looked asleep last week but are still a very balanced team. Alex Smith is good enough to keep this team in the top 10 all year.

6. New York Giants : Eli Manning and a pass rush is a deadly combination.

7. New England Patriots : The Pats need to fix a few things like pass protection, but two tough losses don't represent how good they still are in 2012.

8. Green Bay Packers : They got robbed in the Seattle game at the end, but Aaron Rodgers also got sacked eight times in the first half, which is troubling.

9. Seattle Seahawks : Russell Wilson plays like a veteran quarterback and the defense is underrated, giving up a league-best 39 points in three games.

10. Denver Broncos : I still think Peyton has enough left to win this division and the pass rush will stop teams playing catch-up.

11. Los Angeles Chargers : Philip Rivers and an improved defense make them a tough out.

12. Dallas Cowboys : Which Dallas team shows up every week is anyone's guess. The good one can go toe-to-toe with any team.

13. Chicago Bears : Unless Jay Cutler starts acting like a leader, this team is headed in the wrong direction.

14. New York Jets : With Darrelle Revis lost for the year so may be the season. Rex Ryan can't run his pressure schemes with the same effect.

15. Philadelphia Eagles : There are questions about Mike Vick and turnovers. Not a good combination for a team with Super Bowl aspirations.

16. Cincinnati Bengals : The defense was the backbone of this team last year, but they have given up more than 100 points in three games.

17. Buffalo Bills : The Bills have won two in a row, but let's see what happens when the schedule gets tougher.
18. Pittsburgh Steelers : There are injuries on defense but there are also questions about the defense. They don't seem capable of imposing their will on teams.

19. Minnesota Vikings : Christian Ponder is a pleasant surprise, as well as the defense. Their wins are both at home, and the road can be an ugly place for a young team.

20. Detroit Lions : A few bad calls by officials and, more importantly, a pass rush that has disappeared and this team is down here in the standings. I see the Lions crawling their way back up in the next few weeks.

21. Washington Redskins : Injuries on defense have led to 101 points against them. Robert Griffin III is still a rookie finding his way. The 'Skins need to create a home field advantage.

22. Tampa Bay Buccaneers : A very conservative offense leads to questions about QB Josh Freeman . So far he looks like the 2011 QB, not the 2010 QB.

23. Tennessee Titans : Their strength for years was the guys in the trenches and running back Chris Johnson . Right now that's not the case.

24. Carolina Panthers : Cam Newton and the offense have hit some bumps in the road, and the defensive front struggles to rush the passer and stop the run.

25. Miami Dolphins : The Dolphins are a tough out because of their defense and a healthy Reggie Bush . In the end, they don't have enough firepower yet to win a lot of games.

26. Kansas City Chiefs : The Chiefs have talent and shouldn't be down this far in the standings. I could see this team starting to inch their way back up over the next few weeks.

27. New Orleans Saints : Now we know the value of a head coach and a quality defense. This is starting to look like a lost season at 0-3.

28. Jacksonville Jaguars : Maurice Jones-Drew carried this team on his back for years, and he has to do it again. Blaine Gabbert flashes talent but isn't consistent.

29. Indianapolis Colts : I think the Colts will be a much better team in the second half of the season when all the young players get some experience. Right now they look like a team rebuilding.

30. Oakland Raiders : The Raider roster is paper thin but god enough at times to win a game. The team goes as Darren McFadden goes, and that was once in three games.

31. Los Angeles Rams : Jeff Fisher and his defensive schemes makes this a tough team on opposing quarterbacks, but the offense struggles to protect Sam Bradford .

32. Cleveland Browns : An 0-3 start is unfortunate. All the other rookie starting quarterbacks have a win under their belt. They play teams tough, but just can't close out a game yet.
Pryor worked out with Brown a couple years ago and now he's back at it again

The first-round QB from Clemson impresses Texans coaches with the way he's picking up the...

Dave Gettleman does not understand the DEFCON system
The Cowboys were big stars at Dirk's annual charity event

Floyd claims to have drank four or five bottles of kombucha tea, resulting in a failed alcohol...

Atlanta's new video board wraps around the length of the stadium and looks incredible