It's time to finally unveil our list of All-Americans. Who were the biggest impact players in college basketball this year? We've assembled three five-man teams to give you an idea of the players who had the most successful campaigns in both the regular season, plus the conference tournaments and games all the way up through this past weekend. No extra emphasis was added on postseason play.
This is a summation of November through March 27. Were players helped by longer tournament runs? Yes. It's fair to say that the neck-and-neck race between Denzel Valentine and Buddy Hield broke Hield's way thanks to his huge showing in lifting OU to a Final Four.
It was a senior-led year in the sport, no question. The college basketball critics who complain "we don't get to know these guys," well you don't have an argument this year. Four of the five members on our First Team are four-year players, and the Second and Third teams are occupied with seniors as well.
The voters for all of our awards: Gary Parrish, Matt Norlander, Sam Vecenie, Chip Patterson, Jon Rothstein and Jerry Palm.
Here are the CBS Sports All-America Teams:
FIRST TEAM ALL-AMERICANS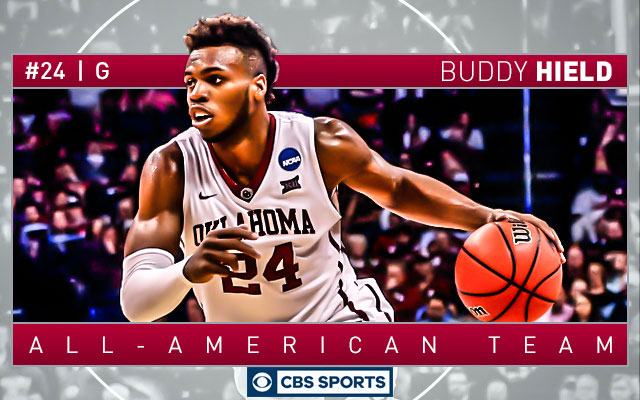 BUDDY HIELD
Oklahoma | Senior | Guard
Comment:. Hield has a 25.4 points and 5.7 rebounds per game average. He's propelled Oklahoma to its first Final Four in 14 years, and in doing so, built a memorable and historic career with the Sooners. Hield is two points and two 3-pointers away from these records, respectively: most points in Big 12 history, third-most 3s in a season. He's shooting 55 percent from 2-point range and, because of OU's trip to Houston, has become the defining star of this college basketball season. Hield's time at OU stacks up with any of the greats who came before him in Norman: Wayman Tisdale, Blake Griffin, Alvan Adams, Mookie Blaylock, Stacey King. Any of them.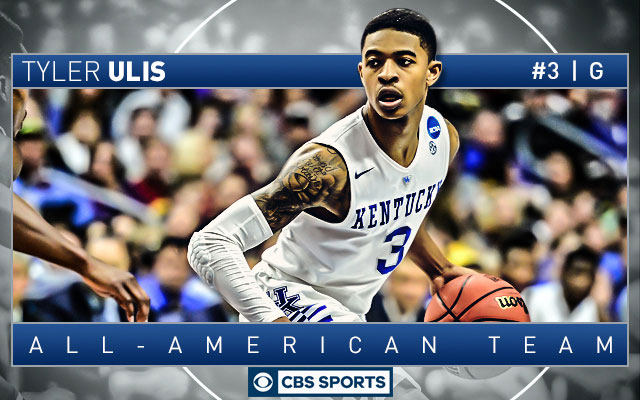 TYLER ULIS
Kentucky Wildcats| Sophomore | Guard
Comment: The Wildcats' season ended in the second round of the NCAA Tournament, but Ulis' sophomore campaign was amazing. He was as important to that group as any other First Teamer was to their squad. Ulis averaged 17.0 points, 7.0 assists, 3.0 rebounds and 1.5 steals. His assists average was fifth in the country, and he played the 10th-most minutes of anyone in college basketball. His 246 assists set Kentucky's single-season record. John Calipari has developed a sterling reputation for recruiting and developing point guards, and Ulis is among his best ever in that respect.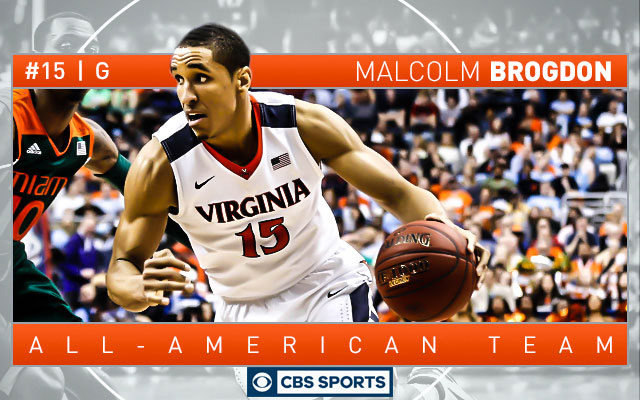 MALCOLM BROGDON
Virginia Cavaliers | Senior | Guard
Comment: Virginia's shocking collapse against Syracuse didn't and shouldn't alter Brogdon's standing as one of the best players in the sport this season. He finishes his UVA career with 112 wins, which ties for the most in program history. Brogdon helped Virginia land a No. 1 seed for the second time in three years, averaging 18.2 points, 4.1 rebounds and 3.1 assists along the way. He was an 89.7 percent free-throw shooter and posted an offensive rating of 120.0. A distinguished season to cap a remarkable career, one of the best in Wahoos history.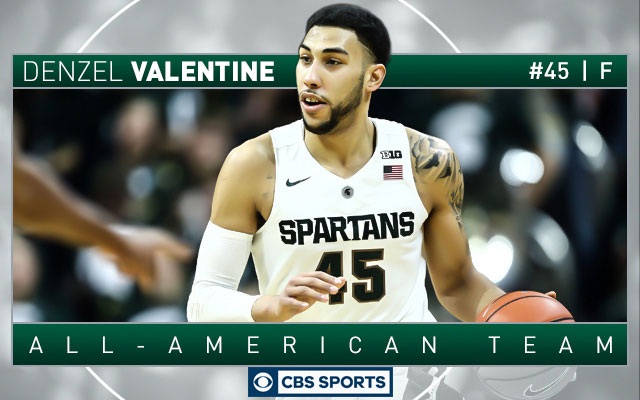 DENZEL VALENTINE
Michigan State Spartans| Senior | Forward
Comment: It will most likely be a long time before we see a player come along and have as much impact on his team in such a creative style as Valentine did with the Spartans. He is the first player to average better than 19 points, seven rebounds and seven assists since the NCAA began tracking assists 32 years ago. Valentine's averages for the season: 19.2 points, 7.8 assists and 7.5 rebounds. He changed his body, changed his game, became a point forward as a senior and helped MSU earn a No. 2 seed. The Spartans went 29-6 this season; Valentine was No. 1 in the country in plus/minus with a 16.2 average. He was fourth in the nation in assists average, and he improved his 3-point shooting, making long balls at a 44.4-percent clip. Tom Izzo is losing a great one, a surefire Sparty legend.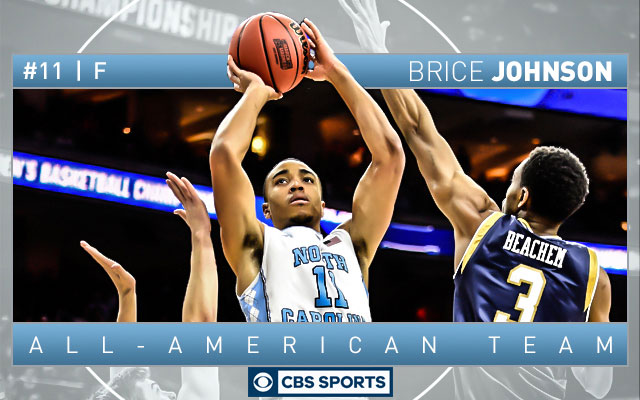 BRICE JOHNSON
North Carolina Tar Heels | Senior | Forward
Comment: Brice Johnson has been a ferocious player for Carolina, en route to getting Roy Williams to his eighth Final Four. He's the only First-Team recipient to average a double-double (17.1 points, 10.5 rebounds) in addition to record 1.5 blocks per game and shooting 61.6 percent. He had a penchant for gaudy games in the stat sheet, like his mammoth 39-point, 23-rebound, three-swat manifesto on Jan. 4 against Florida State. Johnson's inclusion here is something of a surprise because, in the preseason, many expected Marcus Paige to be UNC's most important player. But Johnson proved to be the bell cow for the Tar Heels, and his steadier defense made him the most complete player Williams had this season.
SECOND TEAM ALL-AMERICANS
KRIS DUNN
Senior | Guard
Comment: Ed Cooley chose his words slowly and emphasized each syllable during the NCAA Tournament when he said "we are not here without Kris Dunn." Dunn had an opportunity to go pro but came back and raised the entire team's level of play. The star guard overcame early injuries before exploding on the scene last year and dominating every minute on the floor since. Now, he's set to be the first Providence player picked in the lottery in 20 years.
Dunn's averages (16.4 points, 6.2 assists, 5.3 rebounds and 2.5 steals per game) stand out as anomalies compared to his contemporaries. There's no official count on the number of jaws that have needed to be scooped off the floor after one of his awe-inspiring sequences of playmaking, but he led the nation in that category as well.
GRAYSON ALLEN
Sophomore | Guard
Comment: Allen carried a tremendous load for a thin Duke rotation this year, playing 90.8 percent of the available minutes and serving as one of two primary scorers for a top-10 offense. The sophomore was unstoppable at times taking the ball to the rim, made 41.7 percent of his 3-pointers and averaged 21.6 points per game on the season (second in the ACC).

GEORGES NIANG
Senior | Forward
Comment: With 17 20-point games and double-digits in all 35 contests, no one was more consistent than Georges Niang. In a season headlined by seniors, Niang not only remained rock solid after the coaching change from Fred Hoiberg to Steve Prohm, but he improved his scoring (20.5 ppg) and rebounding (6.2 rpg) numbers while shooting 54.6 percent from the field. Niang's finale was perhaps his finest work, becoming one of five players in NCAA Tournament history to score 28 or more points in three consecutive games during the Cyclones' 2016 postseason run.

PERRY ELLIS
Senior | Forward
Comment: A two-time first team All-Big 12 selection, Ellis' impact at Kansas has been going on as long as the jokes about the senior's age -- the first Google result after the men's fashion line is "How old is Perry Ellis." The forward from Wichita will go down as one of the program's greats, even though the Jayhawks never reached a Final Four with Ellis on the floor. He's the eighth-leading scorer in school history after carrying the team offensively for long stretches of the last three seasons, and this year was a major key (if not the key) to clinching the program's 12th straight Big 12 regular-season title.

Jakob Poeltl
Sophomore | Forward
Comment: In a season without too many dominant "big men" -- at least in the traditional sense of the position -- Poeltl, a skilled 7-footer with the ability to draw his man away from the basket and be an enforcer down low, was the closest thing. Poeltl was named Pac-12 Player of the Year after averaging 17.2 points and 9.1 rebounds per game. He also ranked among the top-10 players in the nation in field goal percentage (.646).
THIRD TEAM ALL-AMERICANS
YOGI FERRELL
Senior | Guard
Comment: The senior guard from Indianapolis will be a household name for a long time with Indiana basketball fans, leading the team in points (17.3) and assists (5.6) in a season that saw both a Big Ten regular-season title and a Sweet 16 appearance. Ferrell can put his name with Dunn and Ulis as the three elite point guards of the 2015-16 season, and his importance to the Indiana's offensive success made him one of the most valuable players in the country. Speaking of value to a program, Ferrell's 195 assists this season are the second-most in Indiana history, trailing only Isiah Thomas' 197 in the title-winning 1980-1981 season.
JAMAL MURRAY
Freshman | Guard
Comment: Thus begins the rookie corner of our All-America team. It wasn't intentional, but the next three names all combined the flashes of their future excellence with impactful on-court performance to help their team and deserve to be honored among the best college players in the country. Murray became Kentucky's dagger-tossing, high-volume scorer, capable of throwing it in the basket from anywhere on the court. Murray averaged 26.4 points per game in February, and though March wasn't as kind to the freshman from north of the border, his season was good enough to earn a spot here on the All-American team.
BRANDON INGRAM
Freshman | Forward
Comment: The silky-smooth, 6-foot-9 forward shook off a stuttered start to emerge as a dominant ACC player, averaging 17.1 points per game and scoring 20-plus in all three of Duke's NCAA Tournament games. Ingram's advantage over fellow star frosh Ben Simmons (more on him below) is the 41 percent 3-point shooting he has to pair with a great ability to attack the rim. Though Duke was limited by injuries and depth concerns, Ingram and Allen, a second-team choice, gave Mike Krzyzewski enough offensive ability to have a chance every time the Blue Devils took the floor.
BEN SIMMONS
Freshman | Forward
Comment: LSU's season was a disappointment to many, but Simmons still performed at an All-American level for a good part of the year. His well-rounded production on the year should not be ignored because he, and LSU, did not meet the public's expectations. He averaged 19.2 points, 11.8 rebounds, 4.8 assists and 2.0 steals per game. Simmons was a show-stopper in transition and excellent around the rim, so let's wrap up his brief college era on a good note with this All-American honor as the NBA takes over the Ingram-Simmons debate.
DOMANTAS SABONIS
Sophomore | Forward
Comment: No longer a bench contributor with a famous last name, Sabonis found his footing as a sophomore and dominated in the WCC. He averaged a double-double on the season (17.6 PPG, 11.8 RPG) and flourished in the postseason against major-conference competition. The 6-foot-10 size and good ball skills help, but it's his ability to use his size to get deep on offense and force opponents off the block on defense that made him a nightmare to deal with down low.
COACH OF THE YEAR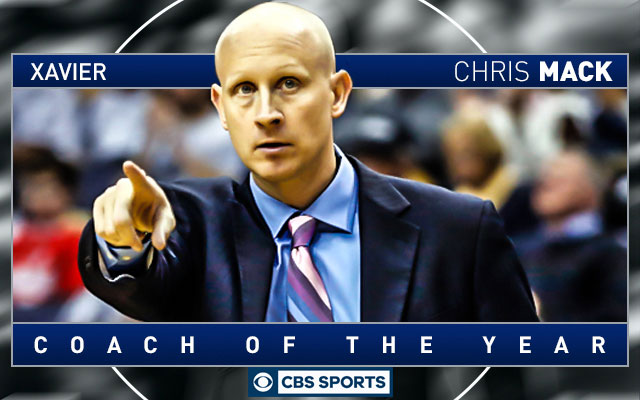 CHRIS MACK
Xavier Musketeers
Though he did not receive this honor at the Big East level (that went to Kevin Willard and Jay Wright), no coach in America impressed our collective voting body more than Xavier's Chris Mack.
The Musketeers started the season unranked after losing two upperclassmen (Dee Davis and Matt Stainbrook) from a Sweet 16 team, but found a youthful spark with freshman Edmond Sumner and tied the school record for regular-season wins (26) while spending 13 straight weeks in the AP Top 10.
Speaking of the polls, Mack and Xavier were at their best against the best, going 6-1 vs. AP Top 25 teams and 3-0 against the top 10, including the program's first victory over a No. 1 in more than a decade when they finally got over the hump against Villanova. 
While Willard and Wright, now in the Final Four for the first time since 2009, each deserve praise, Mack's coaching job impressed us more than anyone else in the country. The 2016 campaign is both an example of Mack's single-season work and the culmination of seven years' work. He's guided the Musketeers from the Atlantic 10 to the Big East, and not only avoiding a drop-off but raising the expectations even higher. 
FRESHMAN OF THE YEAR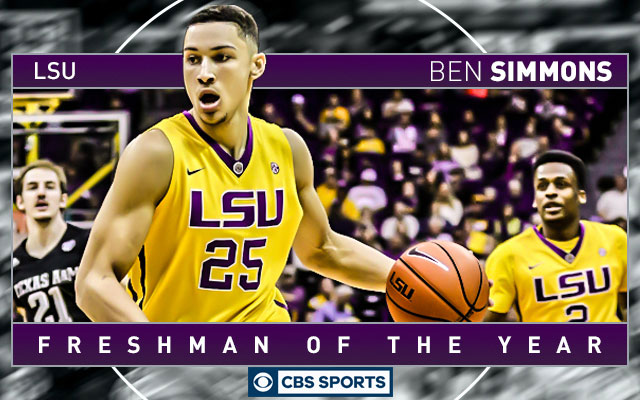 BEN SIMMONS
LSU Tigers | Forward
Comment: It's funny that it seems like Simmons' lone collegiate season is going to be looked at in a disappointing manner, given just how incredibly productive he was. The 6-foot-9 Australian scored 19.2 points, 11.8 rebounds and 4.8 assists per game, the first college player in over two decades to put up such numbers.
Not only that, but Simmons so regularly made the extraordinary look ordinary and also put the Tigers program on the map for the first time since the 2006 Final Four run. He was must-watch television nightly due to the remarkable highlights he would put together, either with his tremendous vision or his ability to finish athletically in traffic.
Simply put, Simmons put together one of the better freshman seasons in recent memory and is well-deserving of the Freshman of the Year award -- regardless of how his long-term legacy plays out.
ALL-FRESHMAN TEAM
JAMAL MURRAY 
Kentucky Wildcats
Freshman | Guard
Comment: Murray was a bit of a late bloomer in his high school career, but by the time he got to Kentucky he was as well-known as any other freshman in the country. And after about a month of collegiate growing pains, Murray figured things out just fine. He averaged 20 points per game, while shooting over 40 percent from 3 and was a part of the best backcourt in the country along with Tyler Ulis. The 6-foot-5 Canadian also set Kentucky records for freshman scoring and for 3-point shooting on the season. Overall, this was a great year for Murray and it will likely result in him being a top-10 pick in the upcoming NBA Draft. 
JAYLEN BROWN
Freshman | Forward
Comment: It was a bit of a roller coaster ride for the former five-star prospect from Marietta, Ga. Brown struggled a bit early in the year as the entire Cal team acclimated to each other. Then late in the year, Brown had his fair share of issues, struggling with efficiency and foul trouble. But in the middle, there were few freshmen who could match his impact in a major conference. For the season, Brown averaged 14.6 points and 5.4 rebounds, while being the major catalyst on a Golden Bear team that eventually challenged near the top of the Pac-12. In the end, this season will look like something of a disappointment at the university, but Brown -- along with fellow freshman Ivan Rabb -- did his part.
BRANDON INGRAM
Duke Blue Devils
Freshman | Forward
Comment: Ingram had a phenomenal freshman season by just about any measure. The long, 6-foot-9, 18-year-old came into Duke as a bit of a project that was still trying to figure out how to use his length to his advantage. However, he will depart as a potential No. 1 overall pick in the 2016 NBA Draft. Ingram averaged 17.3 points and 6.8 rebounds per game for the Blue Devils, combining with Grayson Allen to carry a shallow, injury-riddled team to the Sweet 16. About as smooth as they come, Ingram also shot 41 percent from 3, improved himself as a creator and ball-handler, and also made a leap as a defender that uses his length more on defense. This could have been a relatively down year for the Blue Devils, but Ingram was a big piece in holding things together and he deserves recognition for that.
BEN SIMMONS
Freshman | Forward
Comment: As mentioned above in the Freshman of the Year section, it's crazy that Simmons will have something of a clouded legacy at LSU given his production. The forward known more for his skill set in transition and as a perimeter player became the fourth freshman in the last two decades to grab at least 11.5 rebounds per game. He's the only player, regardless of class, in the last two decades to grab 11 rebounds and dish out 4.5 assists per game. He's one of three freshmen to average 19 points and 4.5 assists per game. Basically, by any measure, Simmons was a monster on the floor as a 19-year-old at LSU. You can complain about the defensive effort, which was lacking at times. But it would be unfair to place the failures of this team at his feet. Simmons mostly did what he was expected to do at LSU this season, even if his team and coach were unable to match his play.
HENRY ELLENSON
Freshman | Forward
Comment: Marquette may not have had the best season in the Big East, but Ellenson was superb throughout the year. The 6-foot-10 big man scored 17 points and grabbed 9.7 rebounds per game, while acting as the most important piece for a Marquette team that was one of the youngest in the nation. Ellenson's skill level is superb, as he's adept at going out and shooting the basketball, as well as going inside and posting up players his size. He passes exceedingly well and has terrific touch. There is some question about his defense at the next level, but in the end this is still a kid that lived up to expectations with the Golden Eagles and should be a top-10 pick in the 2016 NBA Draft.