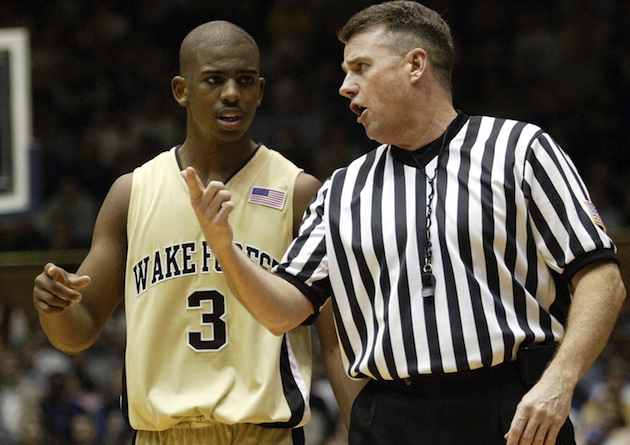 Wake Forest will retire Chris Paul's jersey March 2 against Maryland. (Getty Images)
A couple of times throughout the season, I like subbing in for Norlander and taking over the Wakeup Call for a morning or two. Today is one of those days. You'll notice a change – by change, I mean upgrade -- in music selection, too. WAKE UP!
Around the World
The "Quiet Car" on Amtrak trains is almost a different world. || Ever wonder where the toilet from Hitler's biggest yacht is? Of course, you have. But you'd never guess. || Cats are one of the biggest killers of wildlife every year. Guess they're more than just creepy. || Russian family lived in remote area of Siberia for 40 years, didn't know WWII happened. || Why you truly never leave high school.
Layup Line
Moving Pictures and Music
»» This is a day or so old, but it's impossible to ignore. Joe Davis of Scouts Focus sent this one in: Justin Glover of Winston-Salem State going between the legs for a dunk.
If I'm doing the Wakeup Call, I'm only dropping house bangers on you guys. This one is a few months old, but it's such a smash.
For more college basketball news, rumors and analysis, follow @EyeOnCBB on Twitter, subscribe to our RSS Feed and subscribe to our College Basketball Newsletter. You can follow Jeff Borzello on Twitter here: @jeffborzello