Pac-12 is booming but still needs a football national championship
You can't blame the Pac-12 for being a little defensive. Commissioner Larry Scott feels says it plays the toughest schedule in college football. A national title in would help prove its supremacy.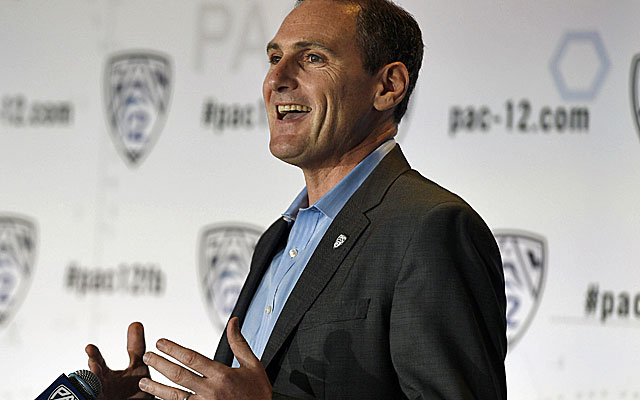 More college football: Jon Solomon | Dennis Dodd | Jeremy Fowler | Latest news
HOLLYWOOD -- The Pac-12 has it all, just ask.
Five years into his term, commissioner Larry Scott is happy to oblige. This year's mine-is-bigger-than-yours conference media days have landed at Paramount Pictures. Mike Leach is treading on the same ground where The Godfather was produced. On the lot where Mission: Impossible was green-lit Cal's Sonny Dykes was answering questions about a 1-11 season.
Fitting, you might say. Over the top, you can be assured. Since Scott arrived in March 2009, the Pac-12 has done it bigger and better than most everyone else. It had to, coming from a sleepy, under-monetized position under former commissioner Tom Hansen.
It is a national player in marketing, media -- no matter what you think of the as-yet incomplete Pac-12 Networks -- and revenue.
Before expenses -- which are substantial -- the Pac-12 claims to be the richest conference in the country. Scott is also reportedly the highest-paid commish.
The next step is a bit more difficult, but mandatory. For it all to pay off -- Pac-12ers from Scott on down -- know the football thing has to kick in sooner or later. The Pac-12 has to win a national championship to validate this vast makeover.
"Until we win a national championship," Scott said, "it'll be an asterisk."
On the field, the league likes to think of itself on a par with the SEC. Landing six in the top 25 last season was the most in league history. The Pac-12 was 31-6 out of the conference, 6-3 in bowls. Stanford and Oregon are 21st century nouveau powers.
Using the BCS standings as a template, a Pac-12 team would have been in a four-team playoff in three of the last four seasons. Oregon did play for it all after the 2010 season. And if someone tackles Michael Dyer, we may not be having this conversation.
Oregon's Marcus Mariota is a Heisman favorite. Steve Sarkisian returns to help revitalize USC. Jim Mora has already done as much at UCLA. A certain top 25 has five Pac-12 teams in the top 20.
But the reality is a sun-splashed, remade, diamond-plated league hasn't won a title in a decade, since the USC dynasty days. While it is hopeful of its place in the playoff era, nothing is certain.
The Pac-12 has to kick some ass ... on the field.
"That's the next step for this league," said Mark Helfrich, who won 11 in his first season as Oregon's head coach. "We can all point and whine about how we didn't get in this game and that game. As soon as you lose a game you've lost the right to be the lead speaker."
And the Pac-12 hasn't had an undefeated team since it was the Pac-10. That was USC in 2004. That's significant because the playoff virtually guarantees one thing: going into the postseason, it will encompass all the major-college unbeaten teams.
Try to remember the last time there were more than four.
It happened once in the BCS era (2009) and that's only if you count TCU, then of the Mountain West, as a Power 5 school.
The Pac-12 leaguespeak Wednesday had to do with a schedule that is second-to-none. It is the only Power 5 conference -- for now -- that plays a nine-game conference schedule and plays a championship game.
"Some of our coaches would tell you it's a disadvantage and there are more losses and the risk of getting an upset," Scott said. "I look at it globally as an advantage. Any objective person is going to look at our conference and schedule we're playing and say no one's got a tougher path than the Pac-12."
To emphasize his point, he mentioned spotlight non-cons against Michigan (Utah), Notre Dame (Arizona State, USC and Stanford), Texas (UCLA) and Michigan State (Oregon). Scott also mentioned the comparatively easy non-conference schedules of -- cough, cough -- other leagues.
"Don't make me name names," Scott said.
As long as the Pac-12 is comparing itself to the SEC, draw your own conclusions. Also, as long as the SEC is winning seven out of eight titles this discussion may fail to launch.
The biggest factor in the league's 2013 championship chances sounds like a punk band from Eugene -- Marcus Mariota's Knee.
If the Ducks' quarterback doesn't tweak it against UCLA in late October, maybe Oregon plays for it all. The Ducks were No. 2 in the BCS when they were taken down by Stanford for their first loss. An obviously limited Mariota threw two picks a couple of weeks later in a 26-point loss to Arizona.
It harkened back to other Pac-10/Pac-12 near misses of the past. UCLA would have played for the first title in 1998 if not for Hurricane George pushing a September game at Miami to December. With a championship berth at stake, the Bruins were smoked by Edgerrin James and the Canes.
Oregon was No. 2 and once-beaten in 2007. Quarterback Dennis Dixon was headed for a Heisman until going down with a knee injury at Arizona halfway through November.
"I remember watching that game," said Helfrich, Colorado's offensive coordinator at the time "I was crushed for Oregon and for Dennis. I had recruited him."
Stanford is the newest of the nouveau, winning the league in 2013, and appearing in its second straight Rose Bowl and fourth consecutive BCS bowl. But an inexplicable loss at Utah probably took the Cardinal out of BCS consideration.
That was before an unfortunate fourth-down do-or-die call against Michigan State last January.
"That's the one of the things that makes it so great about college football, that kind of error or perfection," Helfrich said. "Marcus goes from the Heisman frontrunner and we lose a game and he's [perceived to be] the worst player in history. I don't understand how that's possible."
Cody Kessler is hit with a certain reality each day. USC's quarterback walks into the ornate McKay Center that is an architectural shrine to all those Trojan titles.
The fact that the program got off crippling NCAA probation last month isn't an excuse.
"You expect that, you expect to win, you expect to be in the national discussion because of everything that surrounds you, because of the recent history," Kessler said. "They've set the bar so high."
Marcus Allen dropped by in the middle of last season that saw four head coaches by the bowl game.
"Marcus Allen started calling guys out individually," Kessler said. "He started calling me out. He said, 'Cody, you're a leader.' It's so cool to hear guys that have played 20-plus years ago care so much."
Somewhere in there is a legacy. The diamond-plated Pac-12 has to dig it out.
Louisville and TCU get big-time bumps after conference rivals fell on Saturday

Georgia jumped four spots to No. 8, while Florida State dropped 14 spots to No. 25

The Bulldogs jumped up to No. 7 after an emphatic win over Mississippi State
The Penn State running back made a case that he's a legit Heisman Trophy contender

The Nittany Lions came up huge when they needed to against Iowa

It just might have been the best game of the season so far