Brian Wilson moves closer to signing
Maybe signing a free agent will wind up being as good as making a trade for a club in need of bullpen help this month. The Pirates, Giants, Dodgers, Diamondbacks and others have shown interest. ...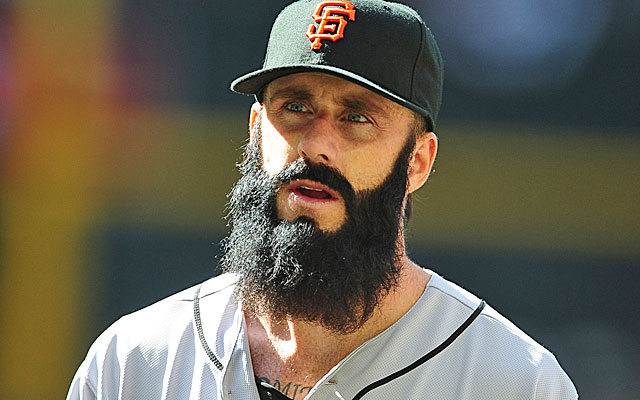 Brian Wilson appears close to signing soon, and maybe a club that strikes out in the trade market will find satisfaction in the rare July free-agent market.
Maybe that club will be the Pittsburgh Pirates or San Francisco Giants.
Both were described by sources Monday as serious suitors for Wilson, who is said to have narrowed his decision down to a final "three or four" clubs and is in the offer and counter-offer stage. The Pirates, having recently lost closer Jason Grilli, have a clear need. The Giants, now last in the NL West, have little more than a fond history with the bearded closer.
Several clubs watched Wilson work out at UCLA last week, and the Diamondbacks and Dodgers have shown interest as well. One scout who has watched the three-time All-Star closer recently said Wilson is "getting close." One person close to Wilson said the pitcher "feels major-league ready."
Wilson, 31, underwent Tommy John ligament transfer surgery in April, 2012. He last threw a major-league pitch on April 12, 2012.
He threw for some scouts late in spring training, but after the underwhelming performance, it was clear that he wasn't close to being ready to help a club. So he regrouped, went back to rehabilitation and determined that he would not audition again until he was confident that he was ready to go.
The Dodgers and the Diamondbacks also are thought to be interested.
Wilson wants to land with a contender and is described as having an affinity for Los Angeles. Being that the Angels now are in sell mode, having dealt Scott Downs to the Braves on Monday, that leaves the Dodgers.
They watched Wilson during his recent throwing session at UCLA and are looking for bullpen help. The Phillies also watched Wilson and were thought to be interested before falling into their current six-game losing streak that likely will push them into the seller market.
Several players called for the netting to be extended down the base lines following Wednesday's...

Maria made landfall as a Category 4 on Wednesday

The players are trying to do their job and don't want to see anyone hurt
The child is receiving medical attention at an area hospital, the Yankees said in a statem...

Brantley has not played since August 8 due to an ankle injury

Plus the Red Sox can lock down a postseason spot and all you need to know from the world of...