Cherry-picked stat of the day: The NL East's weak month
In the past month, not one team in the NL East has played better than .500 baseball.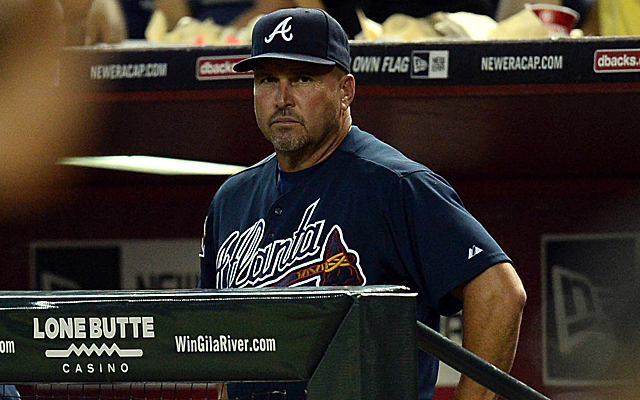 More MLB: Power Rankings | Expert Picks | Latest news & notes | Fantasy news
Does anyone actually want to win the National League East?
In theory, sure, all five teams would certainly love to. In practice and performance, well, there's an argument none do -- at least not intensely, relative to its five counterparts.
The Braves, Nationals and Marlins all enter the week three games over .500 and in a virtual tie atop a division that would be led by the Mariners if Seattle were on the opposite coast and in the NL. The Cubs would only be 6½ games out; the Astros 5½.
Perhaps this best sums up the state of affairs: The Braves are 15-22 since April 27 and are still tied for first.
As for our cherry-picked stat of the day, in which I admittedly chose an arbitrary endpoint for effect -- to illustrate how mediocre or even bad this division has been for a while -- here are the NL East standings since May 8, or essentially in the past month of baseball:
Braves 14-14
Nationals 13-14
Marlins 13-15
Mets 12-18
Phillies 10-18
The Diamondbacks, Pirates, Royals and Astros have all been better than any NL East team in that time frame. The Reds would be tied at the top and the Cubs even with the Nationals at 13-14.
Even if we eliminated my arbitrary endpoint, the division as a whole is pretty bad. The collective record is 150-159. In outside-the-division games, the five clubs are collectively playing .475 ball, which calculates out to a 162-game record of 77-85.
Some of this is dragged down by the NL-worst Phillies, sure, but the Braves, Nationals and Marlins are all on pace to win just 85 games right now. There could certainly be some improvements, especially as, for example, the Nationals start to get healthier (they've won seven of their past 10 games, too). There could also be more injury woes or consistency issues.
As things stand, though, it looks like we're going to see an NL East champion with fewer than 90 wins and maybe even around 85 wins. Considering the division winner hasn't had fewer than 88 wins in a season since the strike of 1994 and before that was under the old format, it's safe to say that 2014 could well show us the worst NL East in the five-team division era.
Gallardo spent the first eight years of his career in Milwaukee

MLB revenues are at a record high right now, but teams aren't spending it on players

Chicago added Tyler Chatwood earlier this offseason but might not be done adding to the ro...
The Dodgers and Braves pulled off a whopper on Saturday

Sabathia will reportedly spend a 10th season in the Bronx

Fowler suffered a knee injury at Chicago's Guaranteed Rate Field