Dodgers, Cardinals have pieces to get Price -- if the Rays deal
Los Angeles and St. Louis both have reserves of excellent prospects with which to form strong packages if the Rays opt to trade David Price.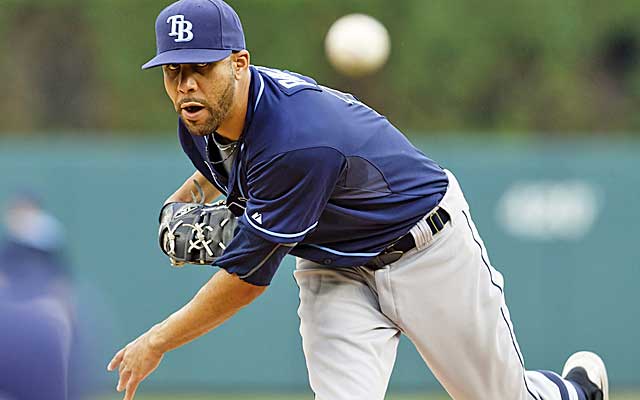 More MLB: Power Rankings | Expert Picks | Latest news & notes | Fantasy news
The Dodgers and Cardinals appear to be best-positioned to acquire superstar Rays pitcher David Price -- that is, if the Rays even trade him this month.
Tampa Bay has been looking for top young position players in talks with teams, but with its better play lately (the Rays have won 14 of their last 21), interested teams are noticing no urgency on the part of Tampa to make a trade.
"I think they will wait as long as possible -- maybe (even) 12 months," an executive with one rival team said.
Other executives, similarly, see no rush on the part of Rays people, who are famous for their patience and pensiveness. At 42-52, the Rays are currently nine games out in the AL East and 8 1/2 games out in the wild card. Tampa has erased such a deficit before to make the playoffs, miraculously, on Evan Longoria's home run in game No. 162 in 2011.
The Rays have also made some very good, big trades in the past, but they invariably seem to occur in winter, including their big deals when they traded away top pitchers James Shields and Matt Garza. And of course, while those pitchers are fine hurlers, neither is Price, the 2012 Cy Young winner who just may be pitching the best of any American League pitcher at the moment.
If a deal is to get done, the Dodgers and Cardinals would seem to make the most sense due to their known interest, their position in the National League (the Rays are believed to be especially reluctant to trade stars to their AL East rivals) and their big-time positional prospects. Los Angeles and St. Louis also have excellent young pitchers and pitching prospects to enhance their packages.
As was reported here, the Rays have shown interest in the Dodgers' top two position prospects, shortstop Corey Seager and outfielder Joc Pederson. Seager, one of the best prospects in baseball, is hitting .353 with 17 home runs and 66 RBI at Rancho Cucamonga, and the athletic Pederson is hitting .319 with 17 home runs and 42 RBI for Triple-A Albuquerque.
The Cardinals, of course, have Oscar Taveras, one of the top young hitters in the game, plus two more outfielders who are close to the big leagues, Stephen Piscotty and Randal Grichuk, the player who was famously taken by the Angels one spot ahead of Mike Tout. Like Trout, Grichuk is still 22, but just because he isn't on the path of an all-time great like Trout doesn't mean he isn't talented.
The Dodgers' system is better stocked with pitchers after you get past the top two, but they also have infielder Alex Guerrero, who had been hitting .600 in the week before he was famously the victim of an ear-biting incident. There's also outfielders Jacob Scavuzzo and Scott Schebler and first baseman Cody Bellinger, the son of ex-Yankee Clay Bellinger.
The Cardinals have excellent depth of position players, including outfielder James Ramsey and catcher Carson Kelly. Second baseman Kolten Wong, like Taveras, is currently up with the major-league club.
The Red Sox and Rangers are also considered to have an excellent stash of positional prospects, but neither team is in a buying position at present (and the Red Sox have the additional hurdle of being in the AL East).
Regardless, the Rays just may wait awhile on this one. If they don't take until the winter to make a deal, the likelihood is that it will at least go until closer to the deadline, when Tampa Bay will have a better understanding about whether it can get back into the race.
The Reds still have one of the best hitters in the game in Joey Votto and a rising star in...

Maxwell joins a growing movement across sports

The Yankees punched their ticket to the playoffs with a win over the Blue Jays on Saturday
Sabathia's stance seems to be an increasingly popular one among athletes

Plus the A's and Brewers have hope, Giancarlo goes deep again, and much more

Matt Chapman and Matt Olson give the A's hope