The Cleveland Indians won Game 4 of the 2016 World Series on Saturday night, downing the Cubs 7-2 to improve to a 3-1 lead in the best-of-seven series. The Indians are now a win away from their first World Series crown since 1948, having received a strong effort from ace Corey Kluber.
Offensively, the Indians were paced by Jason Kipnis -- his three-run homer in the seventh put the game out of reach -- and Carlos Santana, who delivered a solo home run as part of a multi-hit effort. Francisco Lindor and Lonnie Chisenhall also contributed with an RBI apeice.
Here are nine things to know about Game 4.
1. Kluber helped his own cause
Ah, the joys of NL baseball. Sac bunts, double switches and pitchers batting in big moments. Sometimes they even come through. Corey Kluber did in the second inning of Game 4, when he gave the Indians a 2-1 lead with an infield single. Here's the video.
Kris Bryant was charged with an error -- his second error of the inning, by the way -- for pulling Anthony Rizzo off the bag at first base with the throw. Lonnie Chisenhall raced home from third after the ball got away from Rizzo to score the run.
Kluber had one hit in four at-bats this season -- a double down the line -- and he worked a really great at-bat against John Lackey. Worked the count full, fouled off two pitches, then hit the weak tapper for the infield single. Kluber really hustled too.
4.45. Kluber busted it.

— Jeffrey Paternostro (@jeffpaternostro) October 30, 2016
For most right-handed batters, getting down the line in 4.45 seconds qualifies as below average. For a pitcher not used to running the bases -- not to mention a guy with heavy legs starting on short rest -- it's pretty darn good.
2. Kluber did something that hadn't been done since 1990
Because the Indians are without Carlos Carrasco and Danny Salazar -- Salazar is on the World Series roster, but as a reliever -- they've had to start Kluber on short rest in both the ALCS and World Series. He's only the fourth pitcher to make multiple starts on short rest in one postseason over the past decade, joining CC Sabathia (2009), Chris Carpenter (2011) and Clayton Kershaw (2016).
Kluber allowed just one run in six innings of work in Game 4, and he could have gone another inning or two as well. He only threw 81 pitches. Manager Terry Francona got his ace out of there after six knowing a) he was on short rest, and b) he'll start Game 7 on short rest as well, if necessary. When you have Andrew Miller and Cody Allen looming in the bullpen, I'd say that's a smart move.
Anyway, Kluber became the first pitcher since 1990 to win Game 1 of the World Series, then win Game 4 on three days' rest. Reds righty Jose Rijo was the last to do it. I wouldn't say Kluber was as razor sharp as he was in Game 1, but Kluber at 85 percent or so is still a top-tier MLB pitcher. He has to be the World Series MVP favorite at the moment right now.
3. Fowler scored the first World Series run by a Cub at Wrigley since a guy named Peanuts
The Cubbies were shut out in Game 3 on Friday, in the first World Series game played at Wrigley Field since 1945. They wasted no time getting on the board in Game 4. Dexter Fowler dunked a double to left to start the first inning, then two batters later Rizzo drove him in with a single. Here's the video.
That's the first World Series run scored by the Cubs at Wrigley Field since (duh) 1945. The fella who scored it? Peanuts Lowrey.
Dexter Fowler is the first Cubs player to score a run in a World Series game at Wrigley Field since Peanuts Lowrey in Game 7 in 1945.

— Jordan Bastian (@MLBastian) October 30, 2016
They don't make baseball names like they used to, do they? Mr. Lowrey's real name was Harry Lee, by the way. Peanuts is much more fun. The Rizzo single gave the Cubs a lead that didn't even last an inning.
4. Miller finally allowed a run
Jason Kipnis broke the game open with a three-run home run in the top of the seventh inning, which gave the Indians a 7-1 lead. That's pretty comfortable, even against a team as good as the Cubs in the World Series. Game's not over, but that's a nice lead.
Francona brought in Miller with the 7-1 lead anyway -- he had been warming up since the sixth inning, and once a guy's hot, he might as well pitch -- and he cut through the bottom of the lineup with a stress-free seven-pitch inning.
Francona sent Miller back out for the bottom of the eighth and that surprised me. Surely someone else could get three outs with a six-run lead, right? Francona went for the kill through and sent Miller back out, and he finally allowed his first career postseason run. Fowler got him for a solo homer.
Miller retired the next three batters without incident. He has now allowed one run in 25 1/3 career postseason innings, including 17 innings this year. Miller has struck out 39 in those 25 1/3 total innings and 29 in 17 innings this year. Ridiculous.
By the way, Miller threw 27 pitches in Game 4 after throwing 17 in Game 3 on Friday. Don't worry though, Indians fans. He'll be available in Game 5 on Sunday, especially if Cleveland has a lead. No doubt about it.
5. Santana joined an exclusive club with his homer
After the Cubs took that quick 1-0 lead in the first inning, the Indians answered right back with a Carlos Santana solo homer in the top of the second. To the action footage:
First of all, hitting a home run in the World Series is pretty cool. Not too many folks get an opportunity to do that, and even fewer actually do it.
That home run put Santana in the same club as two Hall of Famers. Not too many first basemen have gone yard at Wrigley Field in the World Series.
Hey, obscure history is still history!
6. Santana literally hit a fielder's glove off
Five innings after the home run, Santana hit lefty Mike Montgomery's glove off his hand with a line drive. Here's the play:
Statcast measured the liner at 111.5 mph off the bat. It reminded me of this: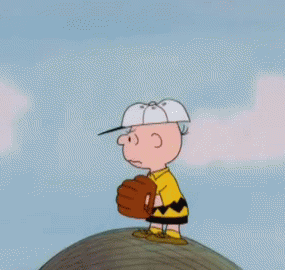 Montgomery scrambled after the ball and threw to first, but he pulled Rizzo off the bag and Santana was safe. It was a rather adventurous play.
7. There was finally a lead change
Believe it or not, we had gone 14 straight games this postseason without a lead change. That dates all the way back to the Division Series round. The teams that scored first won each game in the ALCS, NLCS and World Series. That finally changed in Game 4. Rizzo got the Cubs on the board in the first inning on Saturday, then the Indians rallied for two in the bottom of the inning, and never looked back.
8. The Cubs finally lost when scoring a run
Coming into Game 4, the Cubs were 8-1 when scoring a run this postseason. Now they're 8-2. They had been shut out four times as well, but when they gut on board, chances were it led to a win this October. The one loss before Saturday was Game 3 of the NLDS against the Giants, when Joe Panik hit his walk-off homer.
9. The Indians are in command, but the series is far from over
According to WhoWins.com, teams that take a 3-1 series lead with home-field advantage have gone on to win the series 86.4 percent of the time. Only five teams have come back from down 3-1 in the World Series:
1985 Royals
1979 Pirates
1968 Tigers
1958 Yankees
1925 Pirates
The 1979 Pirates, 1968 Tigers and 1958 Yankees all made their comebacks despite not having home-field advantage, which is what the Cubs will have to do this year. Impossible? Nope. Just unlikely.
The Indians should feel really great about where they sit right now. This series ain't over though. Far from it. They'll have to beat Jon Lester, Jake Arrieta or Kyle Hendricks to clinch their first title since 1948.