July 19 Prospect Watch: Top prospects who could be dealt at trade deadline
The trade deadline is only 12 days away. Here are some top prospects who could be dealt before July 31.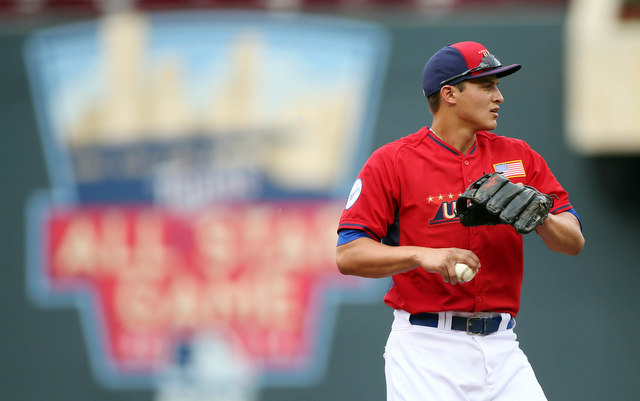 More MLB: Power Rankings | Expert Picks | Latest news & notes | Fantasy news
The trade season unofficially opened with the Athletics-Cubs trade that sent Jeff Samardzija and Jason Hammel to Oakland a few weeks ago. It continued with Friday's Huston Street trade.
In both instances one team traded its top prospect (and others) for immediate help at the MLB level -- according to Baseball America, the Angels traded their No. 1, 2 and 4 prospects to get Street while the A's dealt the fifth best prospect in all of baseball to get the two right-handers from the Cubbies. Dealing top prospects will be a common theme at the deadline.
Here is a not at all complete list of top prospects who could be moved within the next 12 days -- the trade deadline really snuck up this year, didn't it? -- as contenders look to bolster their rosters for the second half and a potential postseason run (and beyond).
OF Steven Piscotty & LHP Tim Cooney, Cardinals: The Cardinals are blessed with a deep farm system, especially upper level outfielders. Piscotty opened the year alongside Oscar Taveras and Randal Grichuk in the club's Triple-A outfield and is someone a team could stick in their big league outfield today, if they wanted. Cooney isn't a top top prospect, but he is pitching well in Triple-A and could make his MLB debut this season. St. Louis isn't going to move Taveras or LHP Marco Gonzales or anyone like that, but Piscotty and/or Cooney should be enough to land them a quality piece before July 31.
IF Corey Seager & OF Joc Pederson, Dodgers: GM Ned Colletti recently said he will not gut the farm system to make a deal at the deadline, but, given the team's all-in philosophy, I'm going to have to see that one to believe it. Both Seager and Pederson are studs -- Baseball America recently ranked them as the 16th and 18th best prospects in the game, respectively -- and would be used to land a big fish, someone like David Price. They aren't moving those two for an extra bullpen arm and a bench bat. Pederson is essentially MLB ready while Seager is still a few years away. They aren't Addison Russell caliber prospects, but they're close.
LHP Eduardo Rodriguez, Orioles: If you include RHP Kevin Gausman, who recently exhausted his rookie/prospect eligibility, no team has a collection of three pitching prospects as good as Baltimore's trio  of Gausman, RHP Dylan Bundy and RHP Hunter Harvey. All three are potential frontline starters. That makes Rodriguez, the team's top southpaw prospect, somewhat expendable this summer. The O's could use rotation and possibly closer help if they want to hang on to the top spot in the AL East.
RHP Robert Stephenson, Reds: I don't think Cincinnati would openly shop Stephenson, their top pitching prospect, but I don't think he's completely untouchable either. He has a huge arm but has struggled with control issues at times this year, and all of their injuries have created plenty of needs at the MLB level. Stephenson could be part of a package to land a big chip, such as a shortstop or starting pitcher. Again, I think it's unlikely he will be moved but not completely off the table.
C Gary Sanchez & C John Ryan Murphy, Yankees: You and I both know the Yankees are going to go for it, right? They're only 2.5 games back of a playoff spot and it's not in their nature to throw in the towel and sell. The Yankees have made a point of hoarding catching prospects in recent years and Sanchez and Murphy are two of the better backstop prospects in the game -- Murphy is MLB ready, Sanchez is another year or two away. With Brian McCann signed for an eternity and more catching prospects behind them, Sanchez and Murphy are prime trade bait to help fill those many big league club needs.
* * *
Both the Athletics and Angels are out of top prospects at this point but could deal lesser pieces to improve further. Neither the Brewers nor the Braves have deep farm systems and both seem unlikely to gut them to make a run at contention. RHP Jimmy Nelson (currently in MLB) and RHP Lucas Sims are the top chips there, respectively.
The Pirates have shown an aversion towards trading top prospects for deadline help and I don't expect that to change in the coming weeks. If it does, guys like RHP Tyler Glasnow and RHP Nick Kingham would be in high demand. RHP Lucas Giolito is untouchable and otherwise the Nationals don't have a stud to market for help. RHP A.J. Cole appears to be the most likely to get traded (again).
Prospects and young players are incredibly valuable in today's game but I think they are often overrated as well. They are just prospects, after all. The A's and Angels have been aggressive and moved their top prospects in an effort to win at the MLB level right now, which, in the end, is what it's all about. Other clubs figure to follow suit in the coming weeks.
deGrom is set to become a free agent after the 2020 season

Perkins missed most of the last two seasons due to injury

Jonathan Singleton was suspended after a third positive test for a drug of abuse
Rodriguez will join Jessica Mendoza and Matt Vasgersian on the "Sunday Night Baseball" boo...

Jeff Wilpon talked about payroll on Tuesday, and it won't make any Mets fan happy

Yelich's agent recently asked the Marlins to trade him before the spring