National League Central All-Star team
Here is our just-for-fun picks for an NL Central All-Star team.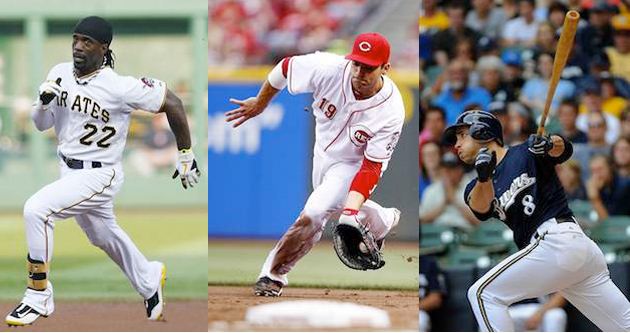 In case we haven't been clear from the get-go, we're doing a divisional All-Star team for each of the six divisions just for fun. This has nothing to do with the actual All-Star Game, other than that the real game is just around the corner, so it's a fun time to discuss this. These are purely for entertainment purposes, and possibly to see which division(s) would field the best and worst lineups. We did the East divisional teams Wednesday and West divisional teams are coming Friday.
Here are Eye on Baseball's selections for the National League Central All-Stars.
Catcher - Yadier Molina, Cardinals. No explanation needed, though it would've been nice to see if Jonathan Lucroy could keep pounding the baseball, had he stayed healthy.
First base - Joey Votto, Reds. What? I'm picking the most valuable player in all of baseball for the first half of 2012 here? Yeah, that's a real tough choice.
Full All-Star Game coverage
Second base - Brandon Phillips, Reds. Those who follow my power rankings know how much I love the diminutive Jose Altuve, but -- despite the actual All-Star team saying otherwise -- Phillips is the better player at this point. He's probably the best defender in baseball and the slight difference in offense isn't enough to offset the defense.
Shortstop - Starlin Castro, Cubs. Very, very tough choice over Jed Lowrie, but we'll go with the hit machine who is adding power and stolen bases along with an improving defense.
Third base - David Freese, Cardinals. He's followed his heroic 2011 postseason by helping to anchor an injury-riddled Cardinals' lineup, hitting .285/.333/.475 with 13 homers, 50 RBI and 13 doubles. Close call here over Aramis Ramirez.
Right field - Carlos Beltran, Cardinals. Even more than Freese, Beltran has been the steadying force of the St. Louis offense, basically replacing Albert Pujols. With apologies to Bryan LaHair, this wasn't a tough choice. 
Center field - Andrew McCutchen, Pirates. Nor was this. McCutchen is a top-five MVP candidate at this junction and easily in the discussion for the best all-around player in baseball. Amazingly, he's still underrated.
Left field - Ryan Braun, Brewers. The defending NL MVP is on pace to have an even better season than last year, dwarfing the very-worthy Matt Holliday here.
Starting pitcher - Zack Greinke, Brewers. The soon-to-be free agent is 9-2 with a 3.08 ERA, 1.18 WHIP and 106 strikeouts in 108 innings. Advanced metrics have his performances in the first half among the best pitchers in baseball (he leads all NL pitchers in Fangraphs.com WAR, for example).
Starting pitcher - Johnny Cueto, Reds. He's 9-5 with a 2.35 ERA, 1.13 WHIP and 86 strikeouts in 114 2/3 innings. Unlike what happened with naming the NL All-Star team, I'm taking him over Lance Lynn and his 3.62 ERA. In fact, James McDonald (8-3, 2.45) is ahead of Lynn in the pecking order here, too.
Setup - Jason Grilli, Pirates. An unheralded member of an unheralded first-place team. The 35-year-old right hander is having an outstanding season for the Bucs, with a 1.93 ERA, 0.98 WHIP and 51 strikeouts in 32 2/3 innings.
Closer - Aroldis Chapman, Reds. Despite a few blips on the radar, there are few more dominant pitchers in baseball. Chapman has a 1.93 ERA, 0.77 WHIP and 66 strikeouts in 37 1/3 innings. He only has nine saves because he hasn't been closing all season, but he's a closer now, and I'm taking him over the likes of Joel Hanrahan (my second choice), Jason Motte and Brett Myers. 
For more baseball news, rumors and analysis, follow @EyeOnBaseball on Twitter, subscribe to the RSS feed and "like" us on Facebook.
J.D. Martinez is reportedly headed to Boston on a free-agent contract

Keep tabs on the top 50 free agents on the market right here

Arizona didn't waste much time turning to its fallback option following Martinez's deal with...
The former AL MVP has been one of baseball's best players in recent years

The free-agent slugger will join the Red Sox after all

Harper would prefer if reporters respect his wishes