American League All-Snub Team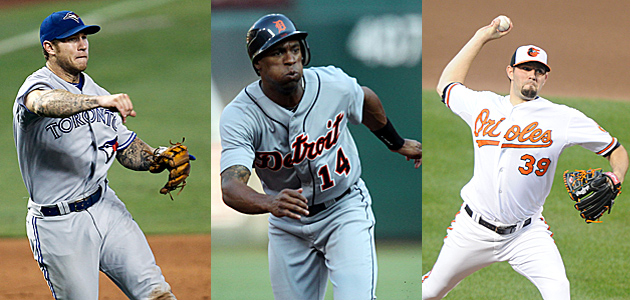 The American League All-Star roster is set, so, naturally, it's time to kick and scream about how stupid the choices are and which guys totally should have been named to the roster. Here's our initial AL All-Snub Team [Note: Some of these guys will end up making the team eventually as replacements, so don't get too mad just yet]:
Catcher - A.J. Pierzynski, White Sox: Love him or hate him (and most fall in the latter category according to several polls), he's having a very solid season for the first-place White Sox. The 35-year-old backstop is hitting .285/.332/.517 with 14 homers, 45 RBI and working well with a good pitching staff.
First base - Edwin Encarnacion, Blue Jays: At this pace, Encarnacion is ready to shatter most of his previous career highs. He's hitting .289/.365/.570 with 22 homers, 55 RBI and 50 runs.
Second base - Jason Kipnis, Indians: The 25 year old was in the Futures Game last season, so it's too bad he hasn't (yet) made the All-Star team this year, as it would've been a good climb in just 12 months. Still, Kipnis has nothing to hang his head over. He's hitting .275/.335/.426 with 11 homers, 46 RBI, 47 runs and 19 stolen bases.
Shortstop - Alcides Escobar, Royals: Shortstop was just too crowded to hit a second Royals player on the roster. Escobar, 25, plays a beautiful shortstop and is hitting .313/.352/.422 with 19 doubles and 12 stolen bases.
Third base - Brett Lawrie, Blue Jays: Not that it's the be-all, end-all stat, but Lawrie currently leads the entire American League in Wins Above Replacement, Baseball-Reference.com version. The 22 year old is hitting .293/.341/.438 with eight homers, 33 RBI, 48 runs, 11 steals and superb defense. Even if he doesn't make the squad as a replacement, he surely will several times in the future.
Right field - Josh Reddick, Athletics: He came over to Oakland this past offseason and has crushed the ball, with 18 homers and a .517 slugging percentage -- and that's playing half his games in a cavernous pitchers' park.
Center field - Austin Jackson, Tigers: This is a big-time snub, as the 25 year old is outstanding defensively and hitting .326/.408/.537 with eight homers, 34 RBI, 45 runs and seven steals.
Left field - Josh Willingham, Twins: Willingham is hitting .268/.381/.532 (good for an outstanding 151 OPS-plus) with 16 homers, 52 RBI and 20 doubles.
Designated hitter - Chris Davis, Orioles: This isn't an egregious omission, but I needed to fill first base and DH and Encarnacion was really the only obvious pick. Davis should be credited for his good first half, though, as he's hitting .276/.321/.481 with 13 homers, 35 RBI, 36 runs. Also, his pitching performance that earned him a victory in a marathon win over the Red Sox was an awesome moment.
Starting pitcher 1 - Jason Hammel, Orioles: The 29-year-old has been a revelation for the Orioles. He's 8-3 with a 3.29 ERA, 1.19 WHIP and 89 strikeouts in 93 innings.
Starting pitcher 2 - Jake Peavy, White Sox: It's been a pleasure watching this bulldog return to his old ways. Peavy is 6-5 with a 2.96 ERA, 0.99 WHIP and 101 strikeouts in 112 2/3 innings. He leads the majors with four complete games.
Setup man - Scott Atchison, Red Sox: He stepped up and helped cure the Red Sox early-season bullpen woes. Atchison has a sparkling 1.54 ERA and 1.00 WHIP with 30 strikeouts in 41 innings.
Closer - Ernesto Frieri, Angels: He came over in a lowly-publicized trade back on May 3. All he's done since then is pitch 23 1/3 innings without allowing a single earned run. He also has a 0.90 WHIP and a whopping 40 strikeouts. He's nailed down all 10 of his save chances.
For more baseball news, rumors and analysis, follow @EyeOnBaseball on Twitter, subscribe to the RSS feed and "like" us on Facebook.