Prospect spotlight: Cardinals' Oscar Taveras could be the next great young player
With Mike Trout, Bryce Harper and Manny Machado already up in the big leagues, the best position player left in the minors could be the Cardinals' Oscar Taveras.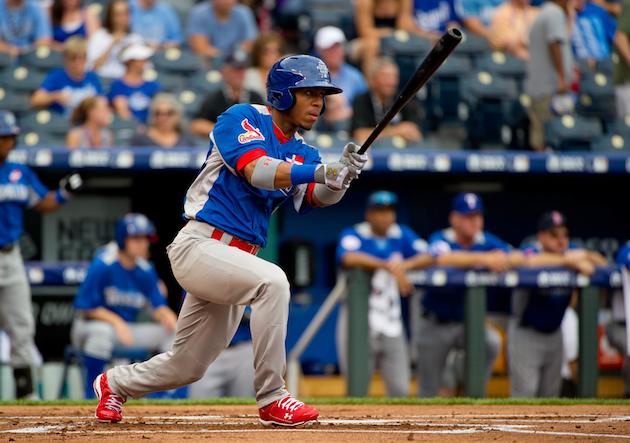 Cardinals minor leaguer Oscar Taveras put on a show in batting practice in July's Futures Game in Kansas City. (Getty Images)
With Mike Trout, Bryce Harper and Manny Machado already up in the big leagues, the best position player left in the minors could be the Cardinals' Oscar Taveras.

The 20-year-old outfielder from the Dominican Republic is hitting .321/.383/.572 with 21 home runs for Double-A Springfield and last month at the Futures Game he was the top attraction in batting practice, hitting one ball nearly off of the scoreboard in center field at Kauffman Stadium, a place rarely reached by even the game's biggest power hitters.

"He's a young kid who's not afraid to swing the bat," said Steve Buechele, the manager of Texas' Double-A team in Frisco, Texas, who has had to face Taveras several times this season. "He swings it really well, he's not out of control. For a young kid, he's a pretty polished hitter. He's got power, he goes the other way. He's a very difficult out."

A left-handed batter, Taveras hit .386/.444/.584 with eight home runs last season at low Class-A Quad Cities before skipping high-A for 2012. As you can tell by his numbers, the move up in competition hasn't bothered him a bit.

While not the biggest player in the minors, he's more lanky than say Trout or Harper, but there's plenty of room for him to grow. Still, the power is immense and may only improve.

"I've added more power this year. I'm really happy about the way I'm hitting the ball," Taveras said. "Everyone asks me where the power comes from, but I don't know. The power's coming and that's really good."

Taveras' teammate of the last two seasons, Kolten Wong, said he's not seen anyone be able to put the bat on the ball quite like Taveras.

"The kid's unbelievable, I've played with him for two years and that's not changed," Wong said. "His hand-eye coordination is something i've never seen before. He hits everything. Every pitch, it can be bouncing off the ground and he'll hit it, if it's around his head, he'll hit it, and if you hit a pitch in the strike zone, he'll hit it really far. That's just how he is."

The biggest difference between Taveras in 2012 from 2011 is his defense, something he's improved greatly. While he still probably projects as a corner outfielder, he could play center field and has played mostly center field this season at Springfield.

"I try to work on my defense every game, every practice. I'm very excited about my defense," Taveras said.

Wong said the difference is noticable.

"He's been really good at tracking down balls, it just goes to show how good of a player he can be," Wong said. "He's good right now, but he can get a lot better with age and maturity. It's impressive to see how good he is right now."

Buechele said Taveras plays as shallow a center field as he's seen anyone play, yet he's got the speed to track down whatever's needed.

Despite his age -- Taveras' 20th birthday was in June -- he spent a couple of weeks with the bog-league team in the spring, learning besides the likes of Matt Holliday and Carlos Beltran.

"I talked to them about my defense and how to improve," Taveras said. "Those two guys are really good and so I was happy to be around them and study how they play the game. Those are two guys that play the game the right way."

It may not be long before he's playing between them every day.

PROSPECT NOTES

• Mariners first-round pick Mike Zunino was promoted to Double-A Jackson earlier this week from short-season Class A. At Everett, the catcher hit .373/.474/.736 with 10 home runs in just 29 games.

• Cubs first baseman Daniel Vogelbach is tearing up the Northwest League himself. The Cubs' second-rounder from the 2011 draft homered in five straight games from Aug. 5 to Aug. 10, including two homers in the last two games of that stretch. He's just 3 for 19 since then, but he's still hitting .329/.396/.683 in 21 games. While his physique draws plenty of Prince Fielder comparisons, Baseball Prospectus' Kevin Goldstein pointed out that when Fielder was 19, he was putting up those kind of numbers in the Midwest League and was in the majors by 21.

• Reds shortstop Billy Hamilton had two steals on Wednesday and enters Thursday's game with 141 steals, five shy of breaking Vince Coleman's all-time minor-league record. With 18 games left, there's a chance he could steal 160 or more bases.

• He's not going to get 160, but Houston's Delino DeShields Jr. picked up his 85th stolen base of the season on Wednesday. DeShields was called up to high-Class A Lancaster last week and has two stolen bases in his five games for the JetHawks.

• Cuban defector Jorge Soler was promoted to the Cubs' low-Class A Peoria team earlier this week. Through his first four games, he has five hits in 14 at-bats (.357), including a home run and six RBI.
For more baseball news, rumors and analysis, follow @EyeOnBaseball on Twitter, subscribe to the RSS feed and "like" us on Facebook.
Keep tabs on the top 50 free agents right here

The Padres have been heavily connected with Hosmer all offseason

The Twins needed rotation help, so the Odorizzi acquisition makes sense
The Rays pulled off a head-scratching move Saturday night

The Rangers will certainly be back in the market for a reliever

Watson will give the Giants a good left-handed reliever