Prospect spotlight: Diamondbacks' Ryan Wheeler
The Diamondbacks may not know exactly where Ryan Wheeler will play in the future, but if he continues to hit .366/.403/.569, he'll find a spot in the lineup. Wheeler, 23, played third base, first base and left field this season.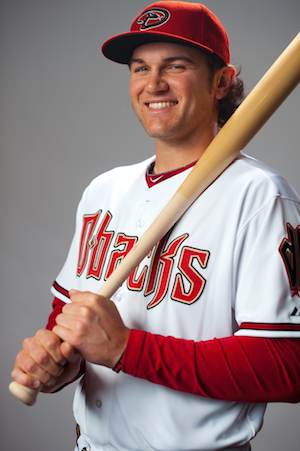 At this point, it's tough for Ryan Wheeler not to think about just how close he is to the big leagues. Wheeler, 23, is dominating Triple-A pitching and every time Reno manager Brett Butler calls his name, in the back of his mind, he wonders if it's the call -- the big call to the big leagues.

"Yeah, you think about it. You try not to think about it, but you're thinking about it pretty much all the time," Wheeler said. "You are close and you're playing with guys who are getting called up. You can see how quickly it can happen. Beginning of the year, we're in Fresno and I'm playing catcher with A.J. Pollock and the manager is screaming for A.J. to get in there. I'm trying to stretch for the game and A.J.'s packing up all his stuff and the manager has a smile on his face. I figured he's going up. We've had a few pitchers go up and Josh Bell, so it's hard not to think about it. But it's important that you stay focused for the game you're about to play."

If stats are a way to measure a player's focus, Wheeler's locked in on the task at hand, and that's the Pacific Coast League. In 74 games at Reno this season, he's hitting .366/.403/.569 with 11 home runs and 72 RBI. On Thursday, he was named to the Pacific Coast League All-Star team.

"He's been a good hitter since the day we signed him," said Mike Bell, the Diamondbacks' director of player development. "Last year we really started to see the power spike a little bit -- 16 homers in Mobile is really doing something. He did it there and it's continued to carry it over to Reno."

A fifth-round pick out of Loyola Marymount in 2009, the left-handed hitting Wheeler has hit at every level, putting up a career line of .314/.378/.477 in parts of four seasons. Last season he helped lead Mobile to a Southern League title. That team was also named the Minor League Team of the Year by Baseball America. Along with his .294 average at Mobile, he also hit 30 doubles and drove in 89 runs.

"I think what he did in Mobile last year is every bit as impressive as what he's doing in Reno this year," Bell said. Paul Goldschmidt left Mobile and he carried that team on his back offensively, and they were the minor-league team of the year. A lot of the credit goes to Ryan."

The biggest question since then is finding a place for him to play. A college first baseman, he was switched to third base -- a position he played some in college -- because of Goldschmidt. He's played the past two years at third, with a little first and started playing some left field this year when the team acquired Josh Bell.

"I was just trying to get in the lineup and off the bench after they traded for Josh Bell. I think the most games I sat out was three in a row, but it felt like a year," Wheeler said. "I don't really care where I play, just so I'm in the lineup. Luckily the manager came to me and said they wanted to get me in the lineup somehow and good luck."
While he mostly played left field as a junior in high school, he hadn't been back since. By all accounts -- including his own -- he handled himself OK: "For me it was like a slower third base, you have more time to react to balls hit," He said. "I didn't make any spectacular players, but I did make all the routine ones."
He's also been moved around back to first base recently as Geoff Blum has been on a rehab assignment with the Aces.

While the 6-foot-3, 235-pounder isn't going to be playing center field anytime soon, he has shown the Diamondbacks enough that they want to keep him playing in the outfield as well as third and first.

"We intend to move him around and leave the door open for different opportunities for him," Bell said.

It's a compliment to Wheeler's bat that the team wants to find a place in the lineup, but he also notes there's another side that.

"It's kind of a weird compliment, because it's like they're saying we think you're good enough to hit, but we don't think you're better than this guy," he said.

But if he continues to put up the offensive numbers he has, he'll play -- and maybe even get the call he's been waiting on.
PROSPECT TALK
• While the Billy Hamilton watch has been the story of the minor-league season (he had another two steals on Wednesday to give him 94 stolen bases in just 73 games), Houston's Delino DeShileds Jr. set a single-season record for low-Class A Lexington with 51 stolen bases so far this season -- in just 73 games. The former first-rounder is repeating the level, but finding success with Lexington, hitting .271/.378/.389 with five home runs to go along with his stolen base mark. DeShields is the son of former big-leaguer Delino DeShields, who was Hamilton's manager in Dayton last season.

• Former Clemson quarterback and current Modesto Nut (high-Class A), Rockies right fielder Kyle Parker is hitting .285/.402/.481 with seven home runs. He homered in back-to-back games on Tuesday and Wednesday.

• White Sox first baseman Andy Wilkins had an amazing day for Double-A Birmingham on Wednesday, going 5 for 6 with two home runs and two doubles, while driving in five runs. On the season, he's hitting just .225/.328/.440 with 10 home runs.

• With his home run Wednesday night, Royals outfielder Wil Myers is leading the minors with 25 home runs. He has 12 in 40 games since being called up to Triple-A Omaha, while he had 13 in 35 games in Double-A. Overally, he's hitting .325/.405/.682 for the season and .309/.397/.638 at Triple-A.

• Former first overall pick Tim Beckham of the Rays was reinstated this past week after serving a 50-game suspension for a second positive test for a drug of abuse. The Tampa Bay Times reported the positive test was for marijuana. Beckham has played in five games since being reinstated and is 5 for 21 (.238), with no extra-base hits. In 18 games overall for Triple-A Durham, he's hitting .213/.294/.267.

• Reds left-hander Tony Cingrani retired the first 14 batters he faced on Wednesday for Double-A Pensacola, striking out 10 of those. Cingrani didn't give up a hit until the seventh. He allowed just three hits and one walk while striking out 15 in eight innings. Cingrani, who was a closer at Rice, is 2-1 with a 2.15 ERA in five starts at Pensacola after starting the season 5-1 with a 1.11 ERA at Bakersfield. Overall this season, he has 109 strikeouts and 21 walks in 86 innings.
For more baseball news, rumors and analysis, follow @EyeOnBaseball on Twitter, subscribe to the RSS feed and "like" us on Facebook.
Where might the Orioles third baseman land?

Kinsler will slot in at second base for the Angels

The Marlins got a better return for Ozuna than Stanton or Gordon
The two teams are going about things in very different ways

The Marlins are indeed in teardown mode under new ownership

The Marlins still have more attractive pieces