Yankees end Dickey's streak, but some questions still remain
R.A. Dickey's streak ended at 44 2/3 innings without an earned run, because they Yankees do what they always do. Or because his knuckleball wasn't at its incredible best. Can the Yankees' home run power turn any pitcher ordinary? That's the question we'd really like the answer to.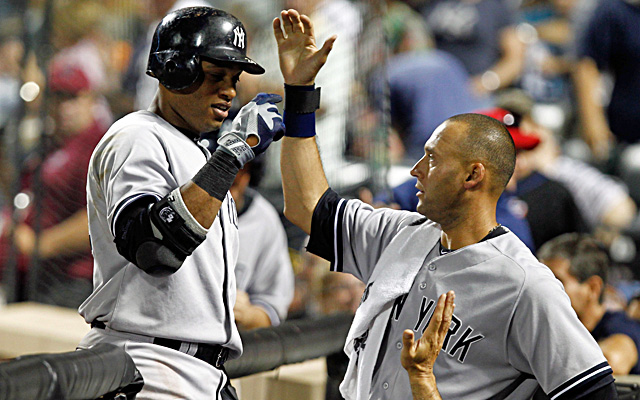 Robinson Cano high-fives Derek Jeter after hitting a solo home run against the Mets.
(US Presswire)
NEW YORK -- Against the hottest pitcher in baseball, the Yankees did what they always do.

They took pitches. They got to good counts. Eventually, they hit a big home run.

It's what they do, and it often works just the way it worked Sunday night against R.A. Dickey. And later against Miguel Batista, who gave up Robinson Cano's home run in the eighth, the ultimate difference in the Yankees' 6-5 win.

But here are the questions we really want the answer to, the questions we can't have the answer to yet:

Did it work Sunday because Dickey's knuckleball was subpar? Will it work in October, when you theoretically face the best pitchers in baseball every night, and when you figure that many of them will be on their game?
Basically, can the Yankees' best-in-the-game home-run power turn any pitcher ordinary?
Dickey would argue -- and in fact did argue -- that his incredible streak of success (back-to-back one-hitters, 44 2/3 innings without an earned run, five straight starts with no earned runs and eight or more strikeouts) ended more because of what his knuckleball didn't do Sunday than because of what the Yankees did.

"It was just coming out wobbly," he said at one point.

"It's still a very fickle pitch from time to time, and she did not cooperate," he said later.

True, but Dickey's amazing run was all about making the knuckleball un-fickle. What made him so incredible was that he could throw this impossible-to-hit pitch for a strike with such regularity.

Sunday, he couldn't. He walked two batters in an inning for just the second time this season (leading to the three-run Nick Swisher home run in the third inning. He threw a wild pitch for the first time this year (helping set up the fifth Yankee run in the fifth inning).

Was that him (just a bad night), or was that the Yankees (who do this to pitchers)?

Probably a little bit of both.

Dickey's knuckleball wasn't as good as it has been. But he admitted that he changed strategy because of the Yankee power, avoiding 2-0 fastballs and also avoiding his best (but less predictable) knucklers.

"You can't throw the one that would be supernatural," he said.

Dickey kept coming back to the point that he allowed just five hits in six innings, that he didn't feel like he got beat around. But that's becoming a familiar story from pitchers who lose to the Yankees.

Because they struggle so often with runners in scoring position, they often don't string innings together. But because they turn so many games into Home Run Derby (the two Sunday night gave them a major-league high 112 in 71 games), they still beat you.

Can they keep doing it against the best pitchers?

Well, as of this weekend, Dickey stood as one of the game's best. Along with all the other great things he had done, he had allowed just one home run in nine starts since April.

The Yankees, of course, found a way to get to him with a home run.

It's a familiar story for the Mets, who were outhomered 15-4 in six Subway Series games this year (five of them losses). It's a familiar story for many Yankee opponents.

But we're still left with the same questions:

Did it work Sunday because Dickey had a subpar knuckler, or because he was facing an above-par lineup? Will it work in October?

Dickey brought both questions together into one.

"Oh, I'd love to face them again," he said. "What a challenge. I think any competitor would jump at it -- and we might get a chance."

He meant October. He meant a Subway Series that would really mean something, the type of Subway Series that wasn't imaginable when the season began, and still might not be.

Then again, whoever thought we'd be calling R.A. Dickey the hottest pitcher in baseball? And who ever thought we'd be judging the Yankees by how they did against him?


Bruce Maxwell of the A's has been kneeling during the national anthem

Iowa and Missouri are two programs mixing technology and analytics

Sunday's MLB roundup features the D-Backs clinching a postseason spot and the Mariners going...
The 2017 season has been, by far, the worst season of Cabrera's career

The Mariners were eliminated from postseason contention with Sunday's loss

Maxwell became the first MLB player to kneel during the national anthem Saturday