Agent's Take: FAQs about final preseason games, cuts, 53-man roster
How important are the final two games of the preseason? As NFL teams piece together their final 53-man rosters, many questions will be answered before the 2015 season kicks off. Here are some answers to frequently asked questions about the preseason, roster cutdowns and how the fates of players are decided.
Almost 1,200 players will be released before the NFL's regular season starts on Sept. 10. The NFL's roster cutdown process is a nerve-racking time for players on the roster bubble.
Cutdowns can be the end of NFL dreams for fringe players. They can also signal the end of careers for some veteran players, especially older ones. Most NFL players don't get to end their careers on their own terms. The desire to continue playing football will still be there for a majority of the released players but they may not get another opportunity.
A seasoned agent should have a good sense of his or her client's chances of making the team after the second preseason game by staying on top of the client's circumstances. Conversations with the client about the type and number of repetitions he is getting in practice and where he believes he is on the depth chart are insightful. An agent should also get feedback on his or her client from the general manager or other front office executives.
I remember a colleague and I having a phone conversation with a Jacksonville Jaguars executive about Jimmy Smith, our client, in the team's inaugural season. We were told Smith needed to have a strong finish to the preseason to make the team, which he did. Since Smith was out of football the previous season and had two uneventful years with the Dallas Cowboys because of injury and illness, he may not have become a five-time Pro Bowl wide receiver without getting off the roster bubble.
Here are some frequently asked questions about the logistics of the rest of the preseason.
How meaningful are the final two preseason games?
The third preseason game is considered as a dress rehearsal for the regular season. Preparation is similar to the regular season where teams create a scouting report and game plan for the opponent. Most coaches play their starters the entire first half. Some will play the regulars into the third quarter in order to allow for halftime adjustments. The third preseason game is also used to help resolve position battles. For example, Buffalo Bills head coach Rex Ryan will likely decide on his starting quarterback after this contest. Most coaches rest their starters and other key players in the final preseason game to prevent injuries that could affect the regular season.
How does the roster cutdown process work?
There are two roster cutdowns. Teams must reduce rosters from 90 players to 75 players before 4 p.m. ET next Tuesday, which is Sept. 1.
Players that don't have at least four years of service for benefit purposes are subject to waivers when released. Other teams can claim a player's contract when he is wavied. Waiver priority is determined by the inverse order of league record. The Tampa Bay Buccaneers have waiver priority right now since they had the worst record in 2014. After the third week of the regular season, waiver claims are based on current standings. Contracts terminate upon release and immediately become free agents when waivers isn't applicable.
The first roster cutdown consists of players primarily known as "camp bodies" who didn't have a legitimate chance to make a team without consistently having great performances in practices and preseason games.
Teams will release some players they know won't make the roster but have potential. These cuts can be made for strategic purposes. Teams will try to fool other teams into thinking the players were camp bodies with the early release so they will clear waivers when they are actually practice squad candidates.
Teams will also release veteran players who don't fit into their plans because of performance or injury. Sometimes this is done as a courtesy so a veteran can have a chance to sign with another team before the market is flooded with players at the final roster cutdown. I asked teams to release a veteran client in advance of the first cutdown for this purpose when it was obvious that he wasn't going to make the roster. The Detroit Lions did this with veteran safety Taylor Mays. He has signed with the Oakland Raiders.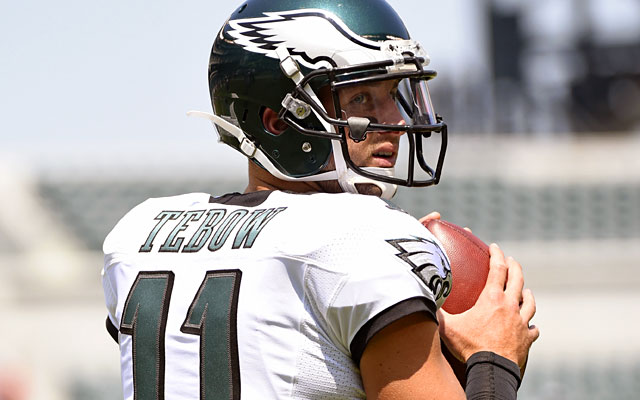 When is the final roster cutdown?
The final roster reduction to a maximum of 53 players must occur by 4 p.m. ET on Sept. 5, a week from Saturday. The final preseason games, which are Sept. 3, can be important in determining the few roster spots that haven't been decided already.
Some interesting situations to watch include the competition between Matt Barkley and Tim Tebow with the Philadelphia Eagles to be Chip Kelly's third quarterback. Terrelle Pryor was making a smooth transition from quarterback to wide receiver with the Cleveland Browns before he was sidelined early in training camp with a hamstring injury. The old saying of "you can't make the club in the tub" could apply if Pryor doesn't quickly return to action.
Older players can be in jeopardy during the final cutdown because versatility and salary become important factors in roster decisions. Players making up the back end of a roster are required to play special teams. Older players are at a disadvantage for these roster spots because they usually haven't been special teams contributors since early in their careers before they became starters. Backup older players don't have much utility unless they are making a significant contribution to the offense or defense (i.e.; pass rushing specialist, nickel defensive back, third down receiver, etc.).
The Tennessee Titans shuffling the offensive line could lead to Andy Levitre's departure. Byron Bell has taken over the left guard spot Levitre has occupied since signing a six-year, $46.8 million contract in 2013. And $6.5 million is too much money for a backup offensive lineman.
Surviving the final cutdown doesn't mean players on the back end of the roster can relax. Teams that don't have talented rosters or lack depth at a particular position will make waiver claims or sign players who have been released. The Raiders could be in the market for a veteran cornerback since they don't have much experience at the position. Unexpected cuts from other teams can also cost a bubble player his roster spot.
The New York Giants will likely be monitoring the waiver wire for safeties since the position has been decimated by injury.
Who is eligible for the practice squad and when is it established?
Teams can begin establishing a practice squad with a maximum of 10 players on Sept. 6, the day after the final roster cutdown, at 1 p.m. ET. Players without an accrued season or were on the 46-man active roster for fewer than nine regular-season games when their accrued seasons were earned are eligible for the practice squad. An accrued season, which is a year of service toward free agency, is earned with at least six regular-season games or the 53-man roster or injured reserve (IR) or the physically unable to perform list.
Two practice squad players per team can have up to two years of service toward free agency without the nine games on the active list limitation applying. This exception allowed LaMichael James to join the Miami Dolphins' practice squad last year after the San Francisco 49ers cut the 2012 second-round pick.
Players can spend two seasons on the practice squad in most instances. Six weeks on a practice squad qualifies as a season.
The minimum salary for the practice squad this year is $6,600 per week, including playoff weeks. That equates to $112,200 over the 17-week regular season. Most practice squad players make the minimum.
Teams will make exceptions for players who might draw interest from other teams since practice squad players are free to sign a contract with another team's 53-man roster. Quarterback B.J. Daniels made $176,636 during the 2014 regular season while on the Seattle Seahawks' practice squad.
The practice squad would be ideal for Pryor's transition to wide receiver if he doesn't make the Browns. Unfortunately, he isn't eligible because he has three accrued seasons.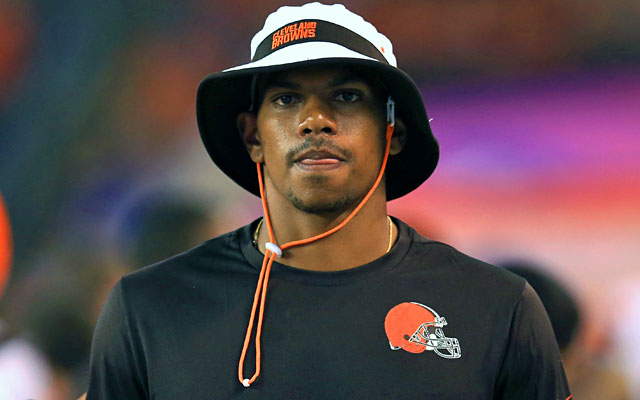 What is an injury settlement?
Teams are contractually obligated to pay players who are hurt during the team's football-related activities for that season until healthy. An injury settlement is a common practice at the roster cutdowns where a player's agent and team agree on the amount of salary the player will be paid because of an injury at his release instead of going on IR until healthy enough to be released. The settlement is typically for the weeks of the regular-season salary it should take the player to recover from the injury.
Safety Earl Wolff reached an injury settlement with the Philadelphia Eagles after he underwent surgery on his right knee last week. He will receive $206,471 of his scheduled $585,000 base salary, which is the equivalent of six weeks of pay.
A player can't re-sign with the team until six weeks after the end of settlement. If the player recovers quicker than the time specified by the settlement, he can sign with any other team.
An injury settlement doesn't necessarily mean that the player doesn't have a future with that particular team. Dion Bailey had an injury settlement with the Seahawks last preseason that paid him three weeks of salary. He joined their practice squad during the latter part of the season. Bailey is currently Kam Chancellor's replacement at strong safety while he is holding out.
What is short-term injured reserve?
A player who gets hurt after passing the preseason physical can be placed on IR. The player receives his salary while on IR but can't play or practice with the team for rest of the season. Each team can put one player on IR after the final roster reduction who can rejoin the 53-man roster during the season. This player can't practice for six weeks and can't return to the 53-man roster for another two weeks (minimum of eight weeks total on IR). Pittsburgh Steelers center Maurkice Pouncey, who had ankle surgery Monday, is a prime candidate for the return designation.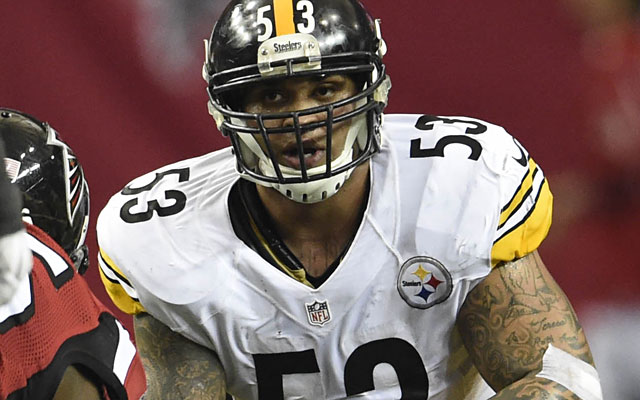 How does the salary cap operate during the regular season?
The top 51 salaries (i.e.; salary cap numbers) for each team count under the salary cap during the offseason. Once the regular season begins on Sept. 10, all players under contract, including practice squad players and players on IR, count against the cap. The change in cap accounting can result in a significant reduction of a team's cap room. This can be problematic for teams with tight cap situations, especially since most teams like to start the season with a nice cushion of cap room to plan for injuries and other roster moves. At least $2 million of cap space is an adequate reserve. Some teams will have upwards of 75 players under contract by the end of the season because of injuries. If a team stays relatively healthy, the excess cap room won't go to waste since unused cap room can be carried over from one year to the next.
---
Joel Corry is a former sports agent who helped found Premier Sports & Entertainment, a sports management firm that represents professional athletes and coaches. Before his tenure at Premier, Joel worked for Management Plus Enterprises, which represented Shaquille O'Neal, Hakeem Olajuwon and Ronnie Lott.
Pick Six Newsletter
Get the day's big stories + fun stuff you love like mock drafts, picks and power rankings.
Please check the opt-in box to acknowledge that you would like to subscribe.
Thanks for signing up!
Keep an eye on your inbox for the latest sports news.
Sorry!
There was an error processing your subscription.
Best bets include the Chiefs covering against the Rams and the Falcons running away from the...

With each passing week it looks like Oakland will have the first-overall pick in the 2019 NFL...

Get ready for football with everything you need to know about the Week 11 lines
The Eagles are being undervalued in New Orleans this weekend

The Buccaneers defensive end is looking forward to playing against his former team on Sund...

R.J. White has his finger on the pulse of Aaron Rodgers and the Packers